Elena and Klaus
General Information
Nickname(s)

Klaulena, Klena

First Met

April 28, 2010 (The Last Day)

Status

Enemies
"
Each one of you truly believes that you can protect her which is simply a delusion gentle men. The worst thing for Elena Gillbert is the two of you!
"
The relationship between Klaus and Elena Gilbert has mainly been antagonistic. Their first real meeting was in The Last Day, when Klaus came to get Elena for the ritual. In The Sun Also Rises, Elena is later killed by Klaus.
They are known as "Klena" or "Klaulena" by fans.
Season Two
Edit
Klaus, using Alaric's body, first met Elena at the decade dance when he pretended to be Alaric, and lead both Elena and Bonnie into a trap by saying that Klaus has Jeremy, even though he himself is Klaus. Elena believes him and she and Bonnie go to rescue Jeremy, but they soon realize that Alaric is in fact Klaus. He tries to trap them but they run and bump into Damon. Bonnie reveals to Damon that Klaus is possessing Alaric.
Eventually, Bonnie locks the doors from the others and battles with Klaus. She is provoked into using too much power and dies. It is later revealed that she faked her death as part of a plan she made with Damon. Klaus is outside the Salvatore Boarding House and he is waiting to collect Elena, back in his own body.
Elena and Stefan reluctantly part ways, sharing one last kiss and professing their love, and Elena goes with Klaus after requesting that Stefan closes his eyes.
When Stefan opens his eyes, Elena is gone. During the sacrifice, Klaus kills both Jules and Jenna before he thanks Elena, and she tells him to go to hell. He bites her and drains her of blood as Stefan watches in horror. Later on in the episode she is resurrected, unknown to Klaus.
Season Three
Edit
After realizing that his plan to create hybrids has gone wrong, Klaus starts to notice that something is wrong and that the doppelgänger may be alive. In The Reckoning, Klaus finds out what Stefan was keeping: Elena came back after the sacrifice. After knowing this, he goes after Elena, in her school. He compels Stefan to drink Elena's blood and then Klaus had an idea. While Tyler was in transformation, Klaus gave Tyler Elena's blood to drink to complete the transformation. It is revealed that in order to make hybrids, the doppelgängers blood is needed.
Klaus realized he needs to keep the doppelgänger alive and decides to take Elena out of town with him but before he could, Damon Salvatore confronts Klaus and tells him that he and Katherine had found Mikael and that he knew where Klaus was. This makes Klaus leave town without Elena, leaving Stefan as Elena's bodyguard.
The next time Klaus meets Elena, is when she is at the Mystic Grill with Damon. In Before Sunset, Klaus comes into a mutual agreement with the Salvatore brothers in order to save Elena from Alaric (being possessed by The Darkness). Later, it is shown how he aids them in order to dessicate Alaric. Elena soon saves him from getting staked with the indestructible white oak ash stake Esther created in order to kill the Originals.
It is then shown that Klaus would kill Elena by draining her blood to create his hybrid army. He questions her about her complicated relationship with Damon and Stefan, asking her which brother she would choose, but Elena tells him to go to hell.
Season Four
Edit
In Growing Pains, Elena to her dismay finds out she has come back from the dead and is in transition to become a vampire, mean while Klaus on the other hand is anxious to get his own body back as he is still using Tyler's and no longer cares what happen's to Elena as he can't make any more Hybrid's since the car crash. at the end of the episode Pastor Young blows up the council by using a lighter after he caused a gas leak, killing them all while they are at a meeting .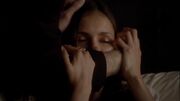 In The Rager, Klaus who now has his own body back works with Damon to catch Connor and to find info to why he is in town, mean while Rebekah throws a party not knowing Connor has poisoned the beer with werewolf venom from Tyler's teeth which both Elena and Rebekah drink from and falls ill.
Klaus finds out later that Connor Jordan is a special kind of vampire hunter that only the Original's know about from their past. From learning this information, Klaus realizes Elena may still be of use to him and with Stefan's pleas, agrees to save her with his blood.
In The Five, Klaus tells Stefan there may be a way to make Elena a human again, from finding out this info Stefan teams up with Klaus.
Season Two
Edit
Klaus: I just had to get away from that dance. The sixties, ugh. Not my decade. (He laughs) I mean, whose call was that, anyway? I much prefer the twenties. The style, the parties, the jazz.
Elena: Alaric. Are you on vervain?
Klaus: Now why would you ask me that question, Elena?
Elena: He's being compelled.
Klaus: Nope. Try again.
Elena: What's going on?
Klaus: Okay, I'll give you a hint. I am not Alaric.
Elena: Klaus.
Klaus: Surprise!
Elena: Oh, no. No, it's not possible.
Klaus: Just relax, Elena. I'm not here to hurt you. You're not on my hit list tonight.
---
Klaus: Thank you, Elena.
Elena: Go to hell!
Season Three
Edit
---
---
Elena: That sounds like a "Klaus and Stefan problem"
Klaus: Ha. Well this is me broadening the scopes, sweetheart.
-- The New Deal.
---
Season Four
Edit
---