Elena and Bonnie
Comments

66
1,299pages on
this wiki
Elena and Bonnie
General Information
Nickname(s)

Belena

First Met

Known each other since childhood

Status

Best Friends; Bonnie is dead.
"
I thought you were gonna bring Jeremy back, but it turned out you were just a brainwashed crazy-person, so technically you're a walking reminder of all the horrible things that have happened to me.
"
This is the relationship between the Petrova Doppelgänger and vampire Elena Gilbert and the witch Bonnie Bennett. 
They have known each other since childhood and became close friends many years before Pilot. Although they have been friends throughout most of the show, their relationship degraded when Elena met Stefan and Damon and then, later, turned her humanity off as a vampire. Just like with Caroline, Elena turning her humanity off has made them enemies.
Season One
Edit
On the first day of school, Bonnie tells Elena that she is a psychic and predicts that Elena's sad and dark times are over and she's gonna be happy again. Elena smiles, touched with what Bonnie just said. In their history class, Bonnie sends Elena a message, saying "HAWT-E. STARING @ U" which makes Elena smile happily. Bonnie is also friends with
Matt
, Elena's ex-boyfriend, she comforts him when he asks about Elena. But Bonnie also wants Elena to be happy that she also supports her being with Stefan.
When Elena and Bonnie are distributing the night of the comet program, Elena shares everything with Bonnie like when Stefan didn't call or text. And tells her that she and Stefan didn't even exchange information like that nor even get into the texting part. When Elena's about to give up, Bonnie makes her realize to give it a chance. At the grill, after all those 'where's Vicki thing', Stefan asks for Elena to Bonnie and Caroline but said they don't know. When he's about to leave, Bonnie gives Stefan Elena's cell number and e-mail.
When Bonnie had contact with Stefan in the previous episode, she had a bad feeling from him. She panicked and changed her mind about pushing Elena to him. Bonnie told Elena what she felt that she's just concerned about her best friend's new boyfriend. Elena then told her that she loved her for that. Later she invites Bonnie to have dinner with her and Stefan so that she can get to know Stefan. During dinner, Elena tries to coax Stefan and Bonnie into conversation. So, she tells Bonnie to share Stefan her family. Bonnie tells Stefan about her family but Elena wants her to share about her witch heritage. Bonnie shares that her family way by way of Salem.  Stefan says that the Salem witches are heroic examples of individualism which opens up Bonnie's heart to Stefan.
At the football match, when Elena saw Stefan got hit from Jeremy-Tyler fight with a shard bottle, she became uneasy. Elena then asks Bonnie about the strange feeling she got when she touched Stefan, and Bonnie tells her that it felt like death to her. Bonnie begins to doubt Stefan again when Caroline tells her what happened between Damon, Stefan, and Katherine.  Bonnie shares her concerns with Elena because she wants to be sure that Elena really knows who Stefan is.
Elena also worries about Bonnie when the mystery of the crystal is bothering her which she threw. Elena invites Bonnie to stay overnight at her place with Caroline and were surprised to find the crystal in Bonnie's bag. Then Caroline suggested to call the spirit of Emily which results in Emily possessing Bonnie's body.
When Bonnie knew that she is really a witch, she tells it to Elena because she is her best friend. And later Elena tells Bonnie that Stefan is a vampire and so is Damon. Bonnie always protects and helps Elena like when they were kidnapped by Ben and Anna or when she agreed about opening the tomb both in Fool Me Once episode. Bonnie also helps Elena by making Stefan calm when he was out of control for blood in Miss Mystic Falls episode and when she saves Damon from the fire in the Founder's Day episode.
Grams died after breaking the seal of the tomb. Since Elena is always with the Salvatore brothers who were the reasons why Grams died, Bonnie chose to stay away from Elena. She told Elena that doesn't want to end up making Elena choose between her or Stefan. But, she later helped them by dispelling the Gilbert device which is harmful for the vampires. Turns out she didn't really dispelled it that led Damon be captured on the Founder's Day. Bonnie decides to save Stefan as he rescuing Damon, who almost died in a fire.
Everything that Bonnie does which involves vampires are all for Elena's sake.
Season Two
Edit
As the season starts, we already know that Bonnie is stronger than before and has the power to manipulate Stefan and Damon. When Caroline was in a critical condition, Damon offers Elena to give his blood to Caroline, that way she will heal faster. When Elena disagreed, Bonnie immediately tells Damon to do it and certain to do it anyway because of Elena. In the Lockwood mansion, Bonnie was pissed because of Damon and ran accidentally to Katherine. She is surprised that she can't take down Katherine, scared and unable to fight, luckily Stefan arrives to rescue.
In the Carnival event at Mystic Falls High School, Elena is in-charge on behalf of Caroline. They both talk about the supernatural things happening in their lives. Bonnie tells Elena that she really looks like Katherine and didn't just resemble her like a family would. Elena doesn't have any good answers to give and just tells her she can't explain it. In the evening, Caroline showed up as a vampire and killed a man. Bonnie arrived blaming Damon of what just happened. When she's about to kill Damon, Elena stopped her saying this is not how they handle things. Elena comforts Bonnie and reminds her who they really are.
Bonnie has been helping Elena and Stefan, Damon to get the moon stone from Katherine. She burnt Katherine's picture frame with her photo in it, into ashes. Bonnie then tells Stefan and Damon that they can use the ashes to throw at Katherine and make her unconscious for a minute or two to get the moon stone and get out.
In The Dinner Party, When Bonnie arrives at the Gilbert House she insists that she needs to talk to Elena about her and Jeremy's relationship first
In The House Guest, At school, when Stefan has gone, Jeremy tries to kiss Bonnie, but she is reluctant. She promises to tell Elena about their romance soon. When Elena, Bonnie, Caroline and Jenna are at the Grill, Bonnie and Elena urge Caroline to do something about Matt as Elena points out that although she is trying to protect him, he is still getting hurt. Elena leaves the Grill toilets and bumps into Bonnie, who asks if Elena would be alright with her dating Jeremy. Elena is shocked, but gives her permission and they hug.
In Know Thy Enemy, However, Jeremy is furious when he later discovers that if Bonnie uses too much power it will kill her. He asks how much power she needs to kill an original and Bonnie admits that she needs all of it. Jeremy refuses to let her do it and says Elena would not let Bonnie sacrifice herself. However, Bonnie claims that she was called to do this and urges him not to tell Elena. She says she is the only one who can stop this and it is her decision. "It's not just for Elena, Jeremy. Its for you, it's for everyone. If I am the only one that can put an end to this, then it'll be my decision. No one else's. Mine."
In The Last Dance, At the beginning Stefan and Damon are shocked to see Elena and Bonnie leaving for  school. Elena points out that she doesn't want to be a prisoner and adds that she has Bonnie to protect her. At school, Elena finds a poster for the '60s dance but Stefan shakes his head. She shows it to Bonnie, who nods and smiles.
At lunch, Bonnie bans Jeremy from telling Elena that killing Klaus would kill her as well. She insists that she will go through with it. Elena arrives and Jeremy storms off angrily. Elena's friend Dana arrives and reveals that a "hot guy" has just asked her if Elena is going to the dance. She reveals that his name is Klaus. Elena and Bonnie are shocked and Bonnie asks if Klaus is in the room. Dana says she doesn't know and Bonnie realizes that she is compelled. Dana explains that Klaus wants Elena to save him the last dance.
Elena and Stefan arrive with Bonnie and Jeremy. Later, throughout the dance, Elena pulls Bonnie outside and  refuses to let her sacrifice herself. However, Bonnie points out that Elena would do it for her. Meanwhile, 'Alaric' tells Bonnie and Elena that Klaus has Jeremy and leads them down a corridor. Elena worries that something's not right and Klaus eventually confirms that he is not Alaric. He tells Elena that she is not on his hit list, but Bonnie is. Bonnie uses her power to throw him across the corridor but Klaus tells her that if she kills Alaric's body, he'll just find another.
Bonnie and Elena run away and Bonnie uses her powers to shut the doors behind them. They meet Damon and explain that Alaric is being possessed by Klaus. Elena runs to find Stefan. Damon tells Bonnie to kill Klaus, but Bonnie admits that he is protected by a spell. She explains that Klaus knows about her powers and is trying to kill her. Damon says Klaus will not get to win tonight and asks if she's still willing to do whatever it takes to kill him.
Soon after, Bonnie finds Klaus, who is sitting with a dagger. He asks if she wants to do this the easy way or the hard way, but Bonnie uses her powers to hurt him. However, she also gives herself a nosebleed. Elena and Stefan find Damon, who reveals that Bonnie is "doing what she has to do". Stefan asks where she is, and Elena runs to find her. They discover Bonnie in a room with Klaus - the lights are flashing, her nose is bleeding and sparks are flying.
Elena and Stefan try to run in but Bonnie slams the doors in their faces. Bonnie and Elena stare at each other and suddenly Bonnie jerks and collapses on the floor. Klaus disappears and Elena runs in, discovering that Bonnie has no pulse. She sobs and Damon arrives, telling Stefan to take Elena away so he can "deal with the body". Elena is furious at his insensitivity, yelling that it is Bonnie he is talking about. Damon tells Stefan to get Elena home now and says he will find Jeremy.
Back at the Salvatore house, Elena sobs and claims that Bonnie's death is her fault. Stefan insists that it was Klaus. Damon arrives and Elena shouts at him, saying he knew Bonnie would die. When Damon admits that he did, Elena slaps him. However, Damon tells her that she needs to listen to him now. He explains that Bonnie had to die - Klaus wasn't going to stop until he knew she was dead. He adds: "He had to believe it." Meanwhile, Jeremy takes Bonnie to the old manor with the spirits of the witches and lights candles around her. Bonnie suddenly wakes up and Jeremy hugs her. Back at the Salvatore house, Damon explains that Bonnie cast a spell and is fine.
Back in the house's basement, Bonnie explains that she is sure she is safe there. Jeremy produces a laptop and wireless Internet and sets it up so that Bonnie can talk to Elena over a webcam. Bonnie sobs that she is sorry as she didn't have time to tell her what was happening, but Elena forgives her and says she just needed to see Bonnie's face to know she is okay.
Season Three
Edit
During the Summer, Bonnie and Elena didn't spend much time together due to the fact Bonnie was visiting her father.
In Disturbing Behavior, Bonnie comes home and greets happy Elena with a hug.
Season Four
Edit
Bonnie searches for a way to return
Elena
back to her human state before her transition is complete. She attempts a spell (the same she performed to resurrect
Jeremy Gilbert
) but it fails. She concocts a plan to travel to the Other Side and bring Elena's spirit back. She proceeds with the spell, though it required the use of dark magic. She finds Elena's spirit but before she could rescue her, Grams interfered and doesn't allow Bonnie to help Elena.
In The Five,
In Stand By Me, Damon stays on the island to find Bonnie for Elena's sake.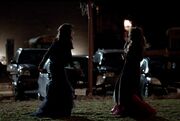 In Pictures of You, Bonnie is shocked to see how different Elena is without her humanity. At the prom, Bonnie and Matt tried their best to be polite as possible towards Elena. However, Elena basically disrespected them by insulting them saying that because Bonnie was unable bring Jeremy back she was a "brain washing crazy person" who caused Elena to remember all the horrible things that has happend to her. After Elena said that to Bonnie, Bonnie loses respect for Elena. When Bonnie won homecoming queen, Elena grew jealous so she attempted to kill Bonnie twice that night. Bonnie's magic was so powerful she almost killed Elena in order to protect herself from her. While Bonnie was using her magic to kill Elena out of revenge, Stefan and Damon reminded Bonnie that Elena is still her best friend. Bonnie gains control and spared Elena her life but Bonnie tells Stefan that what Elena has done is not okay and they are no longer best friends.
In the episode, The Night of The Comet, it was revealed that Elena and Bonnie along with Caroline are cheerleaders.
Elena's friendship with Bonnie is similar to Katherine's with Emily. Since the two are an vampire and witch like the formers. Although Elena is loyal to Bonnie while Emily's relationship with Katherine was more like an master-servant one.
It was said by Bonnie's mom, Abby that her and Elena's mom were also best friends.
The Novels
Edit
In the novels, Bonnie's surname is McCullough and she is a psychic. She is best friends with Elena, Meredith, and Caroline.