Day Walking is an ability that allows the user to walk in sunlight without being burned. This is a skill that Hybrids possess. Original and normal vampires can't walk in daylight without being burned, but they can survive in daylight with Lapis Lazuli which is a stone that witches have been able to enchant to allow the Originals and normal vampires to walk in the daylight, the stones are usually fixed onto a ring, amulets and bracelets. Without the Lapis Lazuli item, the Originals will burn and normal vampires will simply burn to death. This is proven by Isobel who committed suicide during compulsion by exposing herself to sunlight.
List Of Users
Edit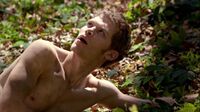 Klaus is the first Hybrid. He is the first known person to posses this ability, but afterhe's mother Esther put a curse on him that would keep his werewolf side dormant he could not use this ability anymore, and had to wear a Lapis Lazuli ring. After Klaus managed to break his curse that kept his werewolf side dormant he no longer had to use the ring and could walk in the sunlight without burning.
---
Tyler was a werewolf of the town of Mystic Falls. After three full moons, Tyler was
converted into a hybrid by one of the Originals, Niklaus. To prevent his death (because the werewolves transformed into vampires died from rabies), Niklaus gave Tyler the blood of a doppelgänger, completing his transfiguration into a hybrid. Tyler is able to transform into a wolf when he wishes and can walk in the sunlight during the day.
---
She was a werewolf, but was transformed into a hybrid by Niklaus. She has not been seen during the day, but it can be assumed that she is able to walk in the day.
---
He was also a werewolf, transformed by Klaus into a hybrid. He was seen jogging in the morning and driving a car during the day.
---
This Hybrid was seen at the Wickery Bridge Restoration Fundraiser where he accompanied Klaus.
---

Werewolves are supernatural creatures that can walk in the sunlight. During the day, as they are much like normal Humans with slightly heightened senses, they have the ability to walk in the sun. Without the gene that allows werewolves to walk in sunlight, Hybrids would not be able to walk in the sun without a Lapis Lazuli stone.