"
I'm sorry. You blame me for who you are, and I'm sorry. I'm sorry that I turned you. I'm sorry that you didn't get to die as a forgotten nobody on a bloody battlefield and that your father didn't get to live another day to be disgraced by you. Damon, I'm sorry that I gave your life purpose, passion, drive, desire. I'm sorry that you are who you are, because I'm the one who taught you how to love.
"
The relationship between cured vampire/human Damon Salvatore and cured vampire/witch doppelgänger Katherine Pierce has been complicated since their meeting in 1864, when Katherine stayed in their estate and Damon was serving in the Confederate army. Damon fell deeply in love with Katherine, but unbeknownst to him, she'd also been seeing his brother Stefan, sparking the brothers' lifelong rivalry. Their relationship ended when the town began eradicating the vampires. She was then taken away, and Damon and Stefan were shot by their own father while in an attempt to save her, causing the latters' turning into vampires. Damon since then, has spent the following 145 years obsessed with freeing her from her tomb, only to find out that she was never in it in the first place.
Katherine returns to his life in The Return. Damon initially acts flippant towards her, however she seduces him before telling him that she never loved him. Throughout the following seasons, Damon's feelings for Katherine have dwindled while Katherine still attempts to seduce him from time to time. It is later revealed that Katherine had in fact loved him and his brother, but would ultimately choose her own safety over them. Damon continued to resent her until Stefan expelled her soul from Elena's body.
They are known as "Datherine" and "Kamon" by fans.
History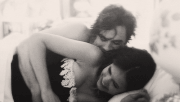 Katherine and Damon's first scene together in Season One was when Damon and Katherine were in bed together in Children of the Damned. Katherine told Damon, "Stop it!" while laughing, and he then said, "Make me". Katherine turned around and showed her vampire face and growled. Katherine's maid Emily then walked in on the two, and told Katherine that her friend Pearl wanted to see her. Katherine told Damon that the "fun was over" then he says "Mmm, no". Then Katherine kissed him. Katherine dressed in a corset and talked with Pearl outside about the townspeople hunting for vampires. After Katherine is exposed in Blood Brothers, Damon becomes desperate to rescue her.
He hits the man holding the key to the vampire wagon over the head, grabbing the key out of the man's pocket and opening the wagon which imprisoned Katherine. He and Stefan took her out, and removed her muzzle. They try to remove the ropes which hold Katherine, but Damon gets shot. Stefan abandons Katherine and rushes over to Damon. He picks up a gun but is shot as well. The two brothers die, and Katherine doesn't care whether or not she ever sees Damon again, but says to Stefan that she loves him and promises that they will be together again, just before he dies.
Throughout The Vampire Diaries
In The Return, Katherine makes her return to Mystic Falls, claiming to have returned to resume her relationship with her love, Stefan. She goes to the boarding house to say goodbye to Damon. He says that he would rather kill than kiss her, and she then says, "Kiss me, Damon. Or kill me. We both know you're only capable of one". He turns away from her, but she super-speeds in front of him, and pushes him to the ground. He pushes her onto the ground and super-speeds on top of her, while holding her neck with his hand. He debates over whether or not to kiss her, and eventually kisses her. She then says, "That's more like it". The two nearly have sex, but then Damon says to Katherine that he has a question. He says that if she tells him the truth, he will forget everything about how he loved her in the past 145 years and they can go back to the fireworks of having sex. She then says that she already knows the question and the question's answer. She tells him that she never loved him- it was always Stefan. This leaves Damon heartbroken, and Katherine leaves the house. Katherine then becomes enemies with Stefan, Elena, Damon and the others.

In Masquerade, Katherine goes to the Lockwoods' Masquerade Ball, impersonating Elena. She kills Aimee Bradley in front of Stefan, and threatens to kill party-goers unless Stefan and Damon give her the moonstone. They fight with Katherine, but Katherine's witch friend Lucy casts a spell to link Elena to Katherine. Pools of blood begin appearing on Elena's back as Katherine gets staked by the Salvatore brothers. Katherine is almost about to get staked by Damon, until Jeremy rushes in, delivering the news that Elena is getting hurt, too. Damon spares Katherine. Lucy comes in with the moonstone after realizing that there was another Bennett at the party. She gives Katherine the moonstone, but Katherine suffocates when the moonstone is placed in her hands. At the end of the episode, Katherine runs around the tomb, and Damon arrives to seal her in. She pleads with him, but he shuts the tomb door, leaving Katherine screaming and crying in the tomb.

In The Dinner Party Damon brought Katherine blood and clean clothes. The episode ended with Katherine waiting for Damon under his shower, not surprised to see him alive.

In The House Guest Katherine, posing as Elena, greeted Damon with morning. Not falling for her, he pushed her to the wall but she continued playing along. In the next scene, she revealed herself.

In As I Lay Dying, Damon has been bitten by a werewolf and is slowly dying something that Katherine finds upsetting and says to Damon, "145 years...no last goodbye?" showing that she did care for Damon which was already evident since her original plan was to turn both Damon and Stefan so they could all be together. Damon remarks that she didn't get a goodbye and to 'enjoy eternity alone'. Later, Klaus gives the cure to Katherine to give to Damon. She arrives in time to give it to him and tells him that she owed him and then, turns to Elena and tells her, "it's okay to love them both. I did" This shows that Katherine really loved both Stefan and Damon.
In The End of The Affair Katherine calls Damon and says she knows where Stefan is and it turns out she was right.
In Disturbing Behavior she returns to Mystic Falls and poses as Elena without anyone knowing, She knocks on Damon`s door making him thinks it's Elena coming to apologize until he realizes it's Katherine . She asks him if he wants to go leave town with her temporarily on a road trip and he says yes.
During the road trip, in The Reckoning, Katherine starts to interrogate Damon about his and Elena's relationship where they eventually make out but Damon stops her by saying that Katherine just doesn't do it for him anymore. Later, Damon discovers that Katherine has kidnapped Jeremy so she can use him to track down Mikael. Damon askes Katherine for his phone, who somehow stole it from him, and finds out Klaus is back in Mystic Falls and gets back in his car to travel back to Mystic Falls. Katherine tries to him by saying that the Damon she knew wouldn't be so stupid, Damon replies that he wouldn't have done it for her which upsets her. While Damon is back in Mystic Falls, Katherine with Jeremy's help discovers the resting place of Mikael.
In Smells Like Teen Spirit, Katherine is still trying to wake Mikael where Damon calls her, telling her to speed up the awakening pocess. In the end, Katherine is attacked by Mikael as he starts to feed on her.
In Homecoming, Katherine returns to town posing as Elena again to help Damon and Elena take down Klaus, but the plan is failed when Stefan shows up to save Klaus. However, in the end, it was reveled that Katherine planned for Stefan to save Damon because Damon would have die along with Klaus. She also confesses to Stefan that she'd loved him, but also loved Damon . Katherine's quote from this scene was "I loved you. I've loved Damon too. Humanity is a vampire's greatest weakness...no matter how easy it is to turn it off- it just keeps trying to fight it's way back in. Sometimes i let it..."
They were reunited in American Gothic. When Damon] and Stefan met Katherine with Rebekah at the restaurant, Stefan finds out that Katherine was using Elijah, Damon gave her kind of sad look. After this scene, we see Katherine in her house together with Damon and Rebekah, to gave them the cure, which was fake. After Rebekah goes upstairs, Damon and Katherine remain alone. We even see Katherine smile at Damon's jokes. When her ex-lover puts his hand in tank full of vervain water, we see fear in Katherine's eyes. But right after that she shoves his head in the very same tank, grabbed the fake cure and went on the run from Rebekah. In the next scene with Katherine, she's trying to convince Elijah into doing a deal with Klaus. After her miserable fail to convince him, she manipulates him with her charm. The one we saw her use on Mason Lockwood. As for Damon, he didn't mention Katherine in this episode after their last scene together.
In The Originals Katherine came happy to Salvatore boarding house and told them that Klaus is gone. But she looked too happy for someone who lost the love of her life.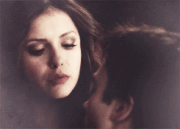 In She's Come Undone we found out that she still has her emotions turned on. She gets angry at Elena, because she turned Elijah against her (he didn't make the deal with Klaus). After that she lets her cell doors open, so her doppelgänger could escape, kill people and then fell guiltiness, after she turns her emotions back on. In the next Damon and Katherine scene, the two are in the library and taunt each other with boyfriend/girlfriend problems. Katherine sits in Damon's lap In the very same scene, Katherine sits in Damon's lap, plays with his hair and uses her sexy voice to talk to him. Before anything else could happen, Stefan interrupted them and she told Damon, that she left Elena out.
In Graduation Katherine tried to kill Elena, but the last one used the cure on her. In her defense of wanting to kill her, Katherine said that it was because Bonnie didn't make her immortal like Silas was and because Elena had a better life. But that was right after Elena chose Damon and we don't know where Katherine was at that moment. Referring to Elena having a better life, may be that Elena got to be happy with Damon, while Damon insisted that he despised Katherine. We don't know yet if one of the reasons for wanting to kill Elena, was jealousy.
In Season Five, Katherine seeks protection from Damon knowing he still has at least has some feelings hidden deep down inside, but he sells her out to Silas who drains her of the cure.
Quotes
Trivia
While Damon claimed many times that his love for Katherine was real, it's unclear if it is true based on two main examples:

The fact that while Damon declared Katherine never compelled him, it proved to be false in a flashback.
Damon may have had a sire bond to her, which would explain his loyalty to her years after they departed. It could have been broken when he turned his humanity off during the 1970's. Julie Plec has said outright that Damon was not sired to Katherine, his devotion was simply love.

Katherine twice admitted that she loved both the Salvatore brothers:
The relationship between Damon and Katherine is actually the most tragic and most complicated relationship. From love to hate just in one second. Also, Katherine once said "Love, hate, such a fine line" referring to Stefan but actually it was more like her and Damon.
Gallery
Videos
See also
Ad blocker interference detected!
Wikia is a free-to-use site that makes money from advertising. We have a modified experience for viewers using ad blockers

Wikia is not accessible if you've made further modifications. Remove the custom ad blocker rule(s) and the page will load as expected.