Damon and Jeremy
General Information
Nickname(s)

Deremy, Daremy, and Jamon

First Met

October 31, 2009 (Haunted)

Status

Good friends, Like brothers, Roommates, Damon is like a father-figure to Jeremy, Damon is Jeremy's current guardian
"
Jeremy! Open your eyes Jer. You do not get to die on me, you hear me?! I'm suppose to be taking care of you, you little punk! Wake up or I'll kill you myself!
"
The relationship between Damon Salvatore and Jeremy Gilbert has not been a creatively close one; however, at points they have bonded with each other. There are times when Damon treats Jeremy like a little brother. As the series progresses, Damon does his best to protect Jeremy for Elena's sake. During season five, they will have a brotherly dynamic. But Jeremy is kind of a mess and it's Damon's job to try to at least contain the fallout while Elena attempts to have normal college experience.
They are referred to as "Deremy" or "Jamon" by the fans.
Season Five
Edit
Damon and Jeremy have become roommates at the Salvatore Boarding House. Damon promised Elena he would look after Jeremy while she was away at school. Turns out, no one at school really wants to be friends with "the freak who faked his own death." Jeremy, of course, gets in a fight on his first day back and fully utilized his hunter abilities, landing him an expulsion. Luckily, Damon compelled the principal to give a lighter punishment. Damon admonishes Jeremy for his actions, although lightens up, telling him not to tell Elena.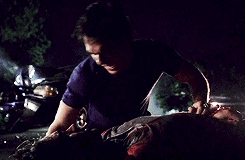 Silas visits Damon at the Grill and as Jeremy approaches and greets "Stefan", he realizes that he's Silas and not Stefan. But not before, Damon lets him know where Katherine is hiding. She's staying at the Salvatores' mansion. They manage to save Katherine before Silas kills her. Then Silas plays lets make a deal. He'll give Damon Stefan's location, if he give him Katherine. Jeremy prepares to return Katherine to the Salvatores' mansion when she causes them to get in an accident. Knowing Jeremy should have been back by now, he goes to look for him and finds him nearly dying. Damon rushes to him and saves him, holding him and telling him that he doesn't care where Katherine is.
In True Lies, Damon tells Jeremy to find Katherine and keep her out of sight.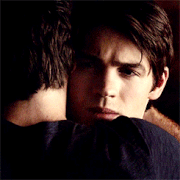 In For Whom the Bell Tolls, knowing that it is becoming difficult to keep Bonnie's secret as everybody is waiting on her return, Jeremy finally decides to reveal the secret. Although Bonnie is demanding him not to, he tells Damon. Damon was the first person he tells, and Damon reacts angrily at first, telling Jeremy not to say it as once he does, everything will change. When Jeremy does 'say it' and tells him, Damon looks angry as if he would hit Jeremy and starts towards him, however instead, he then pulls him into a hug and rubs his neck and hair with his thumb, much like he did in I Know What You Did Last Summer.
In Monster's Ball, Jeremy agreed with Damon to work with Silas to bring Bonnie back to life.
In Handle with Care,
References
Edit