Damon and Andie
Comments

15
1,297pages on
this wiki
Damon and Andie
General Information
Intimacy Level

Compelled her, kind of friends with benefits, dated, cared for her

First Met

2009

Status

dated, kind of friends
"
The point it, I'm in love with her. It's driving me crazy. I'm out of control.
"
The relationship between Damon Salvatore and Andie Star began in Season Two. Their relationship was not complicated because Andie was under compulsion most of the time, while Damon used her. They were first introduced to each other at the Mystic Grill by Jenna. At first, Damon brushed Andie off and walked away, but later decided he needed to talk to someone about his problems and his love for Elena, so he called Andie and invited her to his house.
Season Two
Edit
Damon and Andie are first introduced to each other by Jenna at the Mystic Grill. At first, Damon blows Andie off and walks away when she offers to buy him a drink, but later he decides he needs someone to talk to about his problems and his love for Elena . Andie comes over and they end up in the bathtub. Damon tells her that he kills people. She becomes afraid and he compels her. She then asks why he kills people and he states that he likes it. They talk about his problems before he tells her to be his distraction and then bites her.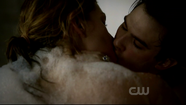 In Crying Wolf, the two are still in a relationship. Damon makes Andie wear a scarf, and she leaves the house promising not to tell anyone that Damon bit her. She leaves the house and Damon tells her to have a great day, even calling her "honey".
In the following episode, The Dinner Party, Andie comes up with the idea to host a dinner party. Damon agrees to host and Andie, Alaric, Jenna and Elijah all attend. While the women are in the kitchen preparing desert, Alaric drives the white-oak ash dagger through Elijah's chest.
Andie and Damon are seen as a couple again in Klaus, as Damon teases Stefan about Elena, saying, "She's your girlfriend. Mine's right here." After a furious fight between Elena, Stefan and Damon, Damon goes to his room and finds Andie in her bra and underwear. She tells him that she loves him and he bites her. Andie screams and tries to get away from Damon, but he holds her there and drinks her blood. Damon eventually lets her go, blood trickling down the corner of his mouth. Andie sits crying on the floor, and Damon comforts her, actually looking like he feels sorry for her. He then compels her to leave and never come back. She leaves, but not before looking at Damon.
Season Three
Edit
Andie is seen with Damon while he is taking a bath, saying that he is dripping as he walks out. Later on, she gives Damon more information on attacks from the news to help him find Stefan. After Damon follows Andie's leads with Alaric, Stefan finds out and uses Andie to get Damon to back off. Later that evening as she is leaving work to go to Elena's birthday party, she is compelled by Stefan to jump of a stage roof, while Damon tries to save her, but is stopped by Stefan. He then rushes to get Andie, but she is dead and you can see in his eyes and face that he cared for Andie and was angry at Elena for Andie.
In The Hybrid, it is shown on the news that Andie died, and when asked by Elena why he didn't tell her, he says he didn't want to spoil her birthday.