Charlie Bewley played the role of Galen Vaughn in Season Four of The Vampire Diaries. Bewley was born January 25, 1981, and is an English actor best known for his role as the powerful vampire and tracker Demetri in The Twilight Saga films.
Biography
Edit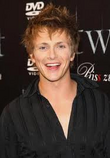 Bewley was raised on a farm in the middle of England and has lived in both Paris and Vancouver before moving to where he currently resides in Los Angeles, California, USA. He was born the eldest of four children and was educated at Loughborough Grammar School and Oakham School.
Filmography
Edit
Stuffed - Jesse - 2009
The Twilight Saga: New Moon - Demetri - 2009
The Twilight Saga: Eclipse - Demetri - 2010
Ecstasy - David Lancer - 2010
The Twilight Saga: Breaking Dawn Part 1 - Demetri - 2010
Like Crazy - Simon - 2011
FMA Weekly - Guest - 2011
Slightly Single in LA - Hayden - 2011
Soldiers of Fortune - Vanderber - 2012
The Outback - Loki (voice) - 2012
Wyatt Earp's Revenge - Sam Bass - 2012
Intersection - 2012
The Twilight Saga: Breaking Dawn Part 2 - Demetri - 2012
The Vampire Diaries - Vaughn - 2013
Hammer of the Gods - Steinar - 2013
Hart of Dixie - Charles Widmore
He has two brothers, James and Andrew, and one sister, Lydia, all of whom are younger than him.
External links
Edit
Ad blocker interference detected!
Wikia is a free-to-use site that makes money from advertising. We have a modified experience for viewers using ad blockers

Wikia is not accessible if you've made further modifications. Remove the custom ad blocker rule(s) and the page will load as expected.