Ad blocker interference detected!
Wikia is a free-to-use site that makes money from advertising. We have a modified experience for viewers using ad blockers

Wikia is not accessible if you've made further modifications. Remove the custom ad blocker rule(s) and the page will load as expected.
"
Aurora: Ooh, I know the answer to that one. It's representational magic. Something in the room represents each one of us.
Tristan: Apparently, it's what allowed Aya's witches to drag you to this chambre de chasse she created for me.
"
A Chambre de Chasse is a magically constructed location that exists on the astral plane represented by a specific mindscape usually depicted as a room. They are created with representational magic using representational totems to draw and anchor the minds of others. Where in the destruction of said totem is destroyed, the person can leave the Chambre de Chasse.
Purpose
"It's a chambre de chasse. A hunt room. It's where witches bring their prey for mental target practice. Our bodies are in the real world, laying dead on the floor, whilst our minds are in here, represented by these creepy animal heads."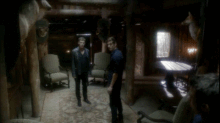 The Chambre de Chasse is a localized "pocket dimension" on the astral plane represented by one's mind created with representational magic. Witches have been known to use it as prisons to hold people's minds, and, according to Kol, to have 'mental target practice'. Although, witches such as the Sisters and Freya have been seen to use such methods for recreation.
Trivia
Gallery
See also