Ad blocker interference detected!
Wikia is a free-to-use site that makes money from advertising. We have a modified experience for viewers using ad blockers

Wikia is not accessible if you've made further modifications. Remove the custom ad blocker rule(s) and the page will load as expected.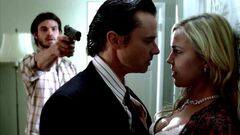 Because of TVD and TO's diverse and large cast, many films and other television shows have had cast crossovers in them. Two members of the cast are considered significant enough to warrant a crossover for TV Show or a movie. They don't have to appear in the same scene, or in the same episode.
For a list of actors/actresses who appeared in both TVD and TO see: Crossovers.
Films and TV Shows
Year
Film/TV Show
Cast Involved - Role
2009
17 Again
2001–2010
24
2008-2013
90210
2001–2006
Alias
2013
Anchorman 2: The Legend Continues
1999-2004
Angel
2007-2013
Army Wives
2012-
Arrow
2015-2016
Aquarius
2013-
Being Mary Jane
2005-
Bones
2011-2012
Breakout Kings
1997-2003
Buffy the Vampire Slayer
2009
Cabin Fever 2: Spring Fever
2007
Cane
2009-2016
Castle
2001–2007
Crossing Jordan
2000-2015
CSI: Crime Scene Investigation
1998-2006
Charmed
2012-
Chicago Fire
2007–2012
Chuck
2015
Containment
2012
Dating Rules from My Future Self
2001-2015
2005-
Degrassi: The Next Generation
Degrassi: Minis
2013-2016
Devious Maids
2006-2013
Dexter
2009-2010
Dollhouse
2009-2014
Drop Dead Diva
2004–2011
Entourage
1994–2009
ER
2006-2012
Eureka
2002–2006
Everwood
2006
Fallen
2002-2003
Firefly
2007-2011
Greek
2011-
Grimm
2001–2005
Grounded for Life
2006-2010
H2O: Just Add Water
2006-2011
Hannah Montana
2010-
Hawaii Five-0
1995-1999
Hercules: The Legendary Journeys
2004-2010
Heroes
2005-2014
How I Met Your Mother
2014-
How to Get Away with Murder
2011
Immortals
2014
Kill the Messenger
2006-2009
Kyle XY
1998-
Law and Order: SVU
2011
Lemonade Mouth
2004-2010
LOST
2010-2016
Lost Girl
2016-
Lucifer
2007
Mean Girls 2
2011-2013
Necessary Roughness
2010-2014
Nikita
2003-2012
One Tree Hill
2011-
Once Upon a Time
1999
Pacific Blue
Person of Interest
2010-
Pretty Little Liars
2011-2015
Revenge
2012-2014
Revolution
2012-
Saving Hope
2006–2008
Shark
2013
Sleepy Hollow
1995-2000
Sliders
2001-2011
Smallville
2000–2006
Strong Medicine
2004-2005
Summerland
2016
Supergirl
2005-
Supernatural
2011-
Switched at Birth
2011-
Teen Wolf
1987–
The Bold and the Beautiful
2010
The Collector
2014-
The Flash
2010
The Glades
2004-2009
The L Word
2008-
The Mentalist
2011
The Nine Lives of Chloe King
2003–2007
The O.C.
1995-2002
The Outer Limits
2011
The Roommate
2011
The Twilight Saga: Breaking Dawn – Part 1
2012
The Twilight Saga: Breaking Dawn – Part 2
2010-
The Walking Dead
2007
Too Young to Marry
2008-2014
True Blood
2014-
Turn: Washington's Spies
2013-2015
Under the Dome
2010
Vampires Suck
2004–2007
Veronica Mars
2001-2002
Wolf Lake
1995-2001
Xena: Warrior Princess
See also