Cassidy Freeman (born April 22, 1982 in Chicago, Illinois) is an American actress and musician. She played Sage during third season. She is known for her role as Tess Mercer in The CW's Superman-inspired action-drama Smallville, which she starred in for three years.
Biography
Edit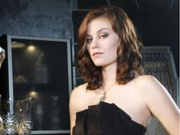 Early life and education
Edit
Freeman was born in Chicago, Illinois to prominent Chicago-area attorneys, who also own a cattle ranch in Montana. She is the youngest of three children with two brothers, voice actor Crispin Freeman and musician Clark Freeman.
Freeman graduated from The Latin School of Chicago and then Magna Come Laude from Middlebury College in 2005 with degrees in Theater and Spanish.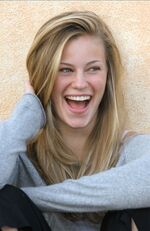 Freeman starred in the thriller film Yellow Brick Road which was written and directed by Andy Mitton and Jesse Holland. She has appeared in several films and television series.
Freeman burst onto the scene as quirky, high-tech thief, Veronica Sharpe, in the award-winning short film, Razor Sharp, which was her first introduction the Comic-Con crowd that would later embrace her character of Tess Mercer on Smallville when the film won "Best Action Film" at the 2007 Comic-Con International Independent Film Festival.
In September 2008 Freeman began starring in the Superman-inspired science fiction drama, Smallville. She played Tess Mercer, Lex Luthor's efficient successor who takes over LuthorCorp when he disappears as acting CEO. Freeman continued this role until the show ended in May 2011.
In October 2009, Freeman appeared in the crime drama
CSI: Crime Scene Investigation
, in Season 10: Episode 4 called "Coup de Grǎce" (French for "Stroke of Mercy"). She played Officer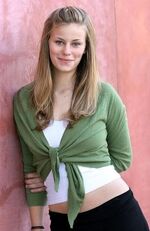 Donna Grayson, who witnessed her partner arrest, shoot and kill a suspect who turns out to be a fellow off-duty officer. On January 13, 2012, Freeman was confirmed to be in the TV series
The Vampire Diaries
as Sage.
Freeman, her brother, Clark Freeman and Andy Mitton formed the band called "The Real D'Coy", where Freeman sings and plays piano.
Personal life
Edit
Freeman's hobbies include hiking, quilting, playing volleyball and waterpolo, singing and playing piano. She has a fifty-pound Swiss Mountain dog named Shasta.
Philanthropy
Edit
Freeman is an active member of the "Heal the Bay" charity, which works toward cleaning up and protecting the West Coast waters and tutors underprivileged children in Santa Monica as a part of the "Virginia Avenue Project".
Filmography
Edit
Film and television credits

| Year | Title | Role | Notes |
| --- | --- | --- | --- |
| 2006 | Razor Sharp | Veronica Sharpe | Short film |
| 2006 | Clock | | Short film |
| 2007 | Finishing the Game: The Search for a New Bruce Lee | Shirley | Feature film |
| 2007 | An Accidental Christmas | Kristine | Television film |
| 2008 | Austin Golden Hour | Charlie | Television film |
| 2008 | Starlet | Courtney | Short film |
| 2008 | Cold Case | Laura McKinney | "True Calling" (Season 6: Episode 2) |
| 2008 | Smallville | Tess Mercer | Regular role, 2008–2011: 47 episodes |
| 2009 | You've Reached the Richarde & Gribbeen | Theresa | Short film |
| 2009 | Shades of Gray | Lisa | Short film |
| 2009 | CSI: Crime Scene Investigation | Officer Donna Grayson | "Coup de Grâce" (Season 10: Episode 4) |
| 2010 | YellowBrickRoad | Erin Luger | Feature film |
| 2011 | CSI: NY | Devon | "Indelible" (Season 8: Episode 1) |
| 2011 | The Playboy Club | Frances Dunhill | "A Matter of Simple Duplicity" (Season 1: Episode 3) |
| 2012 | The Vampire Diaries | Sage | 3 episodes, Season 3 |
External links
Edit
Ad blocker interference detected!
Wikia is a free-to-use site that makes money from advertising. We have a modified experience for viewers using ad blockers

Wikia is not accessible if you've made further modifications. Remove the custom ad blocker rule(s) and the page will load as expected.