Caroline Forbes
Biographical information
Born

October 10, 1992 (Age 17/20)

Turned
Status
Occupation
Species
Gender
Family information
Family Members

William Forbes † (Paternal Ancestor)
Gerald Forbes † (Paternal Ancestor)
Margaret Forbes † (Paternal Ancestor)
Unnamed Paternal Grandfather
Unnamed Paternal Grandmother
Unnamed Maternal Grandfather
Unnamed Maternal Grandmother
Bill Forbes † (Father)
Elizabeth Forbes (Mother)
1st Unnamed Maternal Aunt
2nd Unnamed Maternal Aunt
Uncle Bob
Aunt Mary

Supernatural information
Significant sires
Significant kills

Two Unnamed Cops
Eleven Unnamed Witches (through Aja's death)
Luke Parker (resurrected)

Cause of death
Killed by
Appearance
Played by
Episode Count
First seen
Last seen
.
This article is about Caroline Forbes from the TV Series. You may be looking for Caroline Forbes from the novels.
"
Well that's the problem Elena. Not all of us are okay with pretending. Some of us prefer to face our problems head on.
"
Caroline Forbes is a vampire who is one of the main female characters on The Vampire Diaries. She's the daughter of William Forbes II and Sheriff Elizabeth Forbes.
Prior to her transition into a vampire, she was known for her insecurities, which caused her to be excessively competitive, mainly with Elena.
She is best friends with Stefan Salvatore, Elena Gilbert and Bonnie Bennett. She is also close friends with Matt Donovan and Niklaus Mikaelson.
Throughout the series, Caroline begins dating Elena's ex-boyfriend, Matt Donovan, who encourages her to become more caring, kind and selfless. In the Season One finale, Caroline is severely injured in a car wreck and suffers from internal bleeding.
Because Caroline's situation was looking pretty bleak, Bonnie and Elena agree that Damon Salvatore should heal Caroline by feeding her his blood. Later, after Caroline's health has improved, Caroline is smothered to death in the hospital by Katherine Pierce, who was aware that Damon had healed Caroline, therefore knowingly turned her into a vampire. Katherine plans to use Caroline to her own advantage by manipulating her and eventually giving her to Klaus to kill in the sacrifice. Damon rescues her and Tyler Lockwood, however, and the deal made by Katherine is forfeited.
She had attended Mystic Falls High School, where she was the captain of the cheerleading squad, honor student, head of the dance committees, Mystic Falls beautification committee, head of the recycling program, "Go Green" campaign, Miss Mystic Falls, and one of the most popular girls in the school. She later attends Whitmore College with Elena and Bonnie.
Caroline's new vampire nature adds difficulty to her relationship with Matt and this eventually causes them to break up despite their love for each other. Matt's friend, Tyler, falls for Caroline after she helps him with his first full moon after she witnessed him triggering the werewolf gene when he accidently killed Sarah. After a while, she realizes that she's in love with Tyler too, so they begin a romantic relationship which had ended for good in Monster's Ball. Klaus also falls for her, claiming he fancies her because she's beautiful, strong, full of light, "too smart to be seduced by him", and he enjoys her but in 500 Years of Solitude, Klaus returns to Mystic Falls to see the supposed death of Katherine. While he is in the woods with Caroline, he asks her to be honest about her feelings for him and that as soon as they are done with that conversation, he is going to walk away and never come back. They ended up having sex. Caroline was forced to see her best friend, Stefan die right in front of her. When he comes back to life, she is extremely happy but also sad because his older brother, Damon, who was also her ex-boyfriend, died to save Stefan.
Four months after the deaths of Bonnie and Damon, Caroline has dropped out of college and has been trying to find a way to get vampires back into Mystic Falls as well as teaming up with Enzo in finding a way to bring Damon and Bonnie back to the living.
After the three central characters of The Vampire Diaries, Caroline Forbes is the character that has appeared in the most episodes of all others so far.
Caroline is a member of the Forbes Family.
Early Life
Caroline was born on October 10, 1992, to Bill Forbes and Elizabeth Forbes in Mystic Falls, Virginia. However, her father left and divorced her mother after revealing that he was gay, and later began a relationship with a man named Steven, whom also had a daughter. During her childhood Caroline befriended Bonnie Bennett and Elena Gilbert, and at some point Elena tried to decide which of her traits were the most annoying, her control freakiness or her delusional positivity. Elena told Stefan that in the second grade Caroline had Elena help her build a Barbie castle.
Throughout The Vampire Diaries Series
The Originals Series
Season One
Caroline was mentioned during Klaus and Tyler's confrontation in Bloodletting when Klaus asks Tyler what she would think about what he had become and just how far he was willing to go to have his revenge.
Caroline was referenced in Dance Back from the Grave as Marcel mentioned that Klaus is in a good mood and that he should go back to Mystic Falls more often. This comes after the events in 500 Years of Solitude.
Personality
"It's just a reminder that technically, I'm dead. Look, I didn't even like 17. And the only point to being 17 is to get to 18. It's a filler year; I'm stuck in a filler year."
—Caroline to Bonnie
Caroline is one of the popular girls at school, the captain of the cheerleading squad, and was organizing the parties and always displaying a high degree of leadership among her friends. Beautiful and chic, she was also very strong and determined, much like her mother, Elizabeth Forbes. She is extremely loyal and protective of her friends. She has a sensitive and loving nature. Despite having a confident exterior and high social prestige, underneath it all Caroline was very insecure, neurotic, and upset that she could never say the right thing to make guys fall for her. This tended to make her an overachiever at times, creating flaws and complexities in her character, leading to various matters that factor into her development as she overcomes them. Especially when it came to Elena, as she always felt she was in Elena's shadow. She considers Elena her competition when it comes to life in general. When she started dating Matt Donovan she began to see life in a less shallow manner and Caroline overcame these insecurities and became confident in herself.
"You prefer who you are now to the girl you once were. You like being strong, ageless, fearless. We're the same, Caroline."
—Klaus to Caroline
Becoming a vampire made her see the world in a different light, with her maturing as well. She became much more responsible and protective, which she proves when comforting Tyler on the night of his first full moon and refusing to leave him, despite knowing that one bite would kill her. Ironically, she appreciates life more since becoming a vampire. Moreover, despite having killed a man, she hadn't killed again in several months, thus showing an impressive amount of control for a newly turned vampire. This continues throughout the series: in season 4, Caroline was described as an "expert" in self-control. It seems that she does not desire the cure, as Klaus puts it, "You prefer who you are now to the girl you once were. You like being strong, ageless, fearless." Being a vampire has helped show her what she could do with her life. She could see the world and have a thousand more birthdays. It was Klaus who showed her that she is no longer bound by trivial human conventions and with her immortality and abilities as a vampire, she is free.
Physical Appearance
Main: Caroline Forbes / Appearance
Caroline is a beautiful young woman with a pale complexion, blue-green eyes and medium length blonde hair which she often wears in a variety of different styles; straight, curly, or naturally waved. She has a slim, yet due to her cheerleading, toned and athletic figure. She is also one of the tallest womans in the series. She stand's 5'8.
Since Caroline was introduced, her style has changed drastically, seemingly since her transition into a vampire. As a human, Caroline's clothing style included pinks and yellows, expressively bright colors which would draw attention to herself. Caroline took care of her appearance, always making sure to match her hairstyle and accessories to her daily outfits. Caroline's accessories were very eye-catching; large earrings, small bags, jewelry, and hairbands. The one color Caroline is rarely seen wearing is the color "blue", as she told Damon that her clothes seemed too tight on her body.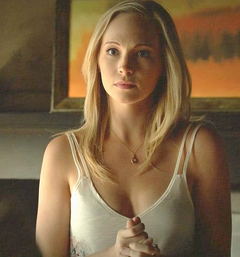 In the later seasons, Caroline's clothing choices change to a laid back, yet much more mature style; preferring to wear pale t-shirts, skinny jeans, high-boots; and the color isn't as bright and attracting as it once was. She sometimes wore short dresses in a variety of colors for occasions such as parties and fashionable skirts with matching tops. Her style in season two wasn't as eye-catching as it was once was, preferring paler colors instead of bright colors. 
In season three, she wore a mixture of floral dresses and skirts with colorful cardigans and sandals, and dark jeans and jackets over bright colored shirts. During the Mikaelsons' Ball, she wore a blue-grey dress with very little makeup and hair pulled back. In Season Four, she chose to wear floral patterned shirts and tank t-shirts underneath biker leather and denim jackets, although on occasion would resort to wearing paler colors, skirts and tops. Her make-up choice has changed somewhat over the seasons, in early seasons, she wore much makeup, particularly lip glosses and lots of black eye-makeup to make her green eyes stand out; however in later seasons, she wears a much more natural look, with little to no make-up.
Powers and Abilities
Caroline possesses all the standard powers and abilities of a non-original vampire.
Attitude towards humans
"After I turned into a vampire, I killed someone. A stranger. I just… killed him. And what's worse is, I liked it. I have blood on my hands too, I mean we all do."
—Caroline to Alaric
As a new vampire, Caroline remains loyal towards humans, despite her blood lust. After murdering her first human, Caroline felt extremely guilty over her actions. Stefan teaches her to adjust to her new life as a vampire and she is now able to feed without severely harming or killing someone. Caroline is the vampire with the fewest attacks on humans in the series, and always has great control with her bloodlust and has been rated as the best vampire among them. Like Damon and Elena, she drinks human blood from blood bags instead of hunting humans or animals.
Relationships
The relationship of Caroline and Liz is not the typical mother-daughter relationship. Caroline has always been distanced from her mother before and after becoming a vampire. At first when Caroline became a vampire Liz showed rejection to her, but then ended up accepting it. Despite not spending much time together, Liz, cares for her and keeps everything in control so that other people wouldn't find out about vampires, especially for her daughter. Caroline cares about her mother and it has been suggested that her mother is the most important to her. Their relationship has improved a lot lately.
The relationship of Caroline and Tyler began when Tyler triggered his
werewolf
curse, she wanted to help him and never left him alone. They began spending a great deal of time together and Tyler fell in love with her ​​despite the fact that Caroline was in a relationship with his best friend Matt. After Caroline and Matt broke up, they began a romantic relationship. Everything got complicated when Klaus turned Tyler into a hybrid and also fell in love with Caroline. After Tyler conspires against Klaus, the latter ordered him out of Mystic Falls to spare his life. When Klaus returned for Graduation, he gave Caroline the gift of Tyler's freedom to return to Mystic Falls. Their relationship completely fell apart and are now
broken up
.
"I've done more than enough. I've shown kindness, forgiveness, pity... because of you, Caroline. It was all for you."
—Klaus to Caroline in Down the Rabbit Hole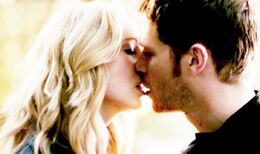 Klaus and Caroline met when Tyler was turned into a hybrid by Klaus. To take revenge on Stefan, Klaus tells Tyler to bite Caroline, he flat out refused but Tyler accidentally bit Caroline. Klaus went to Caroline's house to save her and gave her his blood. Since then, Klaus has expressed a romantic interest in Caroline and began sending her gifts. In spite of the continued rejection by Caroline, he has never given up. Despite the constant attempts of her friends to kill him, with Caroline's help, who was trying to distract him, Klaus still cares about her. Klaus leaves Mystic Falls but he returned for graduation and told her he intended to be her last love, no matter how long it takes. Klaus returns to Mystic Falls and meets with Caroline, after Caroline confesses her feelings in exchange for a promise that Klaus never come back for her, they kiss and have sex.
Bonnie was Caroline's best friend but when Caroline became a vampire, their relationship became strained. Prior to Caroline's transformation, they were cheerleaders in high school and were always hanging out together. Bonnie had been wary of Caroline as a vampire, but gradually their friendship was strengthened. After Bonnie was brought back to life, she enrolls at the same university that Caroline besides being roommates with Elena. Caroline is the first to learn about the sex life of Bonnie with Jeremy, her boyfriend. They have always remained best friends despite the many challenges they have faced. They have been there for each other many times and protect one another when they are in trouble.
"I promise you I will not let anything happen to you."
—Stefan to Caroline in Brave New World
Caroline and Stefan at first had no close relationship. After she became a vampire, Stefan saved her from Damon and promised her that he would never let anything happen to her. Since then, Stefan has been taking care of Caroline like her mentor, helping her to be a good vampire. He has saved her several times and cares about her. Caroline told him that every time he feels he's about to lose control she will be there for him. Their relationship has intensified to the point of being best friends. Caroline has given Stefan pivotal emotional support to the point where they now have a great friendship. Caroline has always supported his relationship with Elena and she was the person who revealed to Stefan that Elena was sired to Damon. By Caroline, Stefan also learned that Elena had had sex with Damon. When Stefan lost his memories for a spell, Caroline was the only person that he trusts immediately, upon learning about Bonnie's death, Stefan told Caroline that he would always be for her as she has always been for him, Caroline helped to Stefan with all his problems lately. After the death of Lexi, she is his best friend.
Caroline and Elena have had a complicated relationship throughout the series. Initially, Caroline had a rivalry with Elena because she considered herself to be in Elena's shadow. After Caroline became a vampire, her insecurities disappeared and they became best friends again. When Caroline was getting in the middle of Elena's relationship with Stefan because of
Katherine
, it distanced them somewhat. When Elena made it clear she had feelings for Damon, Caroline expressed her disapproval, separating them. When Elena turned off her humanity, Elena tried to kill Caroline, creating an even greater rift. They resumed their friendship when Elena's humanity was turned back on. Despite all the problems in their friendship, they always care for one another.
Other Relationships
Appearances
Episode Absence
In Season 1, Caroline doesn't appear in 5 episodes:

In Season 2, Caroline doesn't appear in 2 episodes:

In Season 3, Caroline doesn't appear in 3 episodes:

In Season 4, Caroline doesn't appear in 4 episodes:

In Season 5, Caroline doesn't appear in 3 episodes:
Novels
Main article: Caroline Forbes (novel)
Caroline Beula Forbes
is a female character and a supporting character of The Vampire Diaries novel series. She is the old childhood friend turned rival-enemy of
Elena Gilbert
. She is an eighteen year old human girl living in the supernatural town of Fells Church along with Elena Gilbert, Bonnie McCullough, Meredith Sulez and Matt Honeycutt. She is also love interest of
Tyler Smallwood
. Caroline was also formerly good childhood friends with
Bonnie McCullough
and
Meredith Sulez
since the first grade. Caroline and Elena used to be the closest of friends growing up since kindergarten, but the two girls became intense rivals and each other's competition in terms of popularity, boys and social status at their high school. She is in frequent competition with Elena for the title of "Queen of Robert E. Lee High." Caroline has shown that she is threatened by and extremely jealous and envious of Elena's popularity and beauty. Caroline was very jealous, resentful, envious and angered that
Stefan Salvatore
, the new, mysterious and extremely handsome new foreign student at Robert E. Lee High, whom every girl in all of the high school tried to gain the attention of, chose Elena over her. Because of Stefan's rejection of her, Caroline had plotted to get revenge alongside Tyler Smallwood, by stealing Elena's personal diary to help to expose Elena's thoughts and secrets at the Founder's Day parade. But her plot with Tyler had backfired on her and she ended up humiliated in the end. Stefan first dated Caroline while attending the Homecoming Dance, while he was trying to stay away from Elena due to his intense connection to her. Later on in the books, Caroline became pregnant by Tyler Smallwood (who is a werewolf), she blamed Matt Honeycutt for forcing himself on her and claiming that Matt was the father instead of Tyler. However, she truthfully admits to Bonnie and Meredith that the real father of her unborn children is indeed Tyler Smallwood. She is carrying twin children and she is possessed by
Misao
's
malach
. Caroline Forbes is now a werewolf, in a relationship with Tyler and raising their two children, Lucas and Brianne.
Behind The Scenes
17 years old, a beautiful but slightly manufactured-looking queen bee type, she is friends - and rivals - with Elena. Though she does care about Elena, Caroline is resentful of her relationship with Stefan. When Caroline gets tipsy at a party and throws herself at him, he inadvertently humiliates and angers her with a polite rejection.
Name Meaning
Caroline is a feminine first name of Old German origin, which means "free man".
Caroline is a female form of "Carolus", which in turn is a Latin form of Charles, derived from the German word Karl, that means simply, a free man.
Forbes is a masculine surname which was originally taken from a Scottish place name meaning "Field" in Gaelic.
Tropes
Trivia
Caroline's birthday is October 10 and her astrological sign is Libra.
Caroline thinks Stefan and Elena together are "epic" (My Brother's Keeper) and is a huge supporter of them. However in season five she seemed to become lesser supporter of Stefan and Elena as a couple.
Caroline is one of the first characters in the series to be drained of blood by a vampire.
Many of Elena's characteristics in the novels seem to be given to Caroline in the show. Also in the novels, only Elena becomes a vampire whilst in the series, it's Caroline and Elena.
In the novels, Caroline is an antagonist who first conspires with Tyler to blame Stefan Salvatore for the murders in Fells Church. She later becomes pregnant by Tyler, which turns her into a werewolf. In the series, she is a protagonist and a vampire, and can never get pregnant.
Caroline is unusually strong for a vampire her age, being able to take down Mason Lockwood, a werewolf of considerable size and strength, with minimal to no difficulty at all. She has even taken down Damon Salvatore, a vampire much older than her. 
In the third season, Caroline's cellphone is a HTC Cha Cha. 
In the fourth season, Caroline's cellphone is a Nokia Lumia.
Caroline is the second main character to become a vampire, after Vicki and before Jenna. She is the only one of the three who is still alive: Vicki was killed by Stefan, and Jenna was killed by Klaus.
Caroline was the one to find Vicki Donovan's corpse, who was turned by Damon. Caroline was also turned by Damon.

Unlike Vicki, Caroline wasn't turned into a vampire by Damon intentionally, having been killed by Katherine. Damon turned Vicki out of boredom.

Caroline has interacted with all the main characters.
Stefan has stated that Caroline reminds him of his best friend, Lexi.
In the novels, Katherine manipulates Vicki, but in the series, Katherine threatens Caroline.
The only main characters she hasn't had romantic feelings for, or haven't had romantic feelings for her, are Jeremy Gilbert and Alaric Saltzman. She used to have a huge crush on Stefan Salvatore and has been in relationships with Damon Salvatore, Matt Donovan, and Tyler Lockwood. Klaus is also in love with her.
Caroline's favorite human blood type is B+.

Caroline's favorite blood type also doubles as her personal motto: "Be Positive!"

Caroline is the vampire who has been tortured the most in the series, followed by Stefan, and Damon.
Rose, Damon, Katherine, Nadia, Caroline, Elena and Stefan have all received a werewolf bite. Rose and Nadia are the only ones to never receive the cure, and so died.
Candice Accola is actually the oldest female main cast member.
Caroline along with Jeremy are the only characters besides the main three who have appeared in the most episodes.
Caroline is the only character who has not seen Mikael.
She agreed to go on a date with Klaus in order to help her friends.
Caroline is Klaus' favorite person to draw.
Caroline brings out Klaus humanity and playful side.
Julie Plec said that Caroline is drawn to Klaus, she may not like it, but she is.
Caroline liked Klaus' painting of the snowflake; she said that there was something lonely about it in which Klaus took as a compliment.
Caroline is the first vampiric character in the series to inject her blood directly into a human heart in order to save that character (her mother's) life.
Caroline is the first character in the series to be a victim of mind control/compulsion while having vervain in her system.
Caroline has become more of a woman since her becoming of a vampire.
Caroline has some nicknames:
Caroline is the female character who had slept with the most main male characters in the show. In fact, Caroline has slept with Damon, Matt, Tyler and Klaus.
Caroline drives a Ford Fiesta Titanum.
As stated in The Walking Dead, Caroline ingests vervain, most likely to build up an immunity against the herb and compulsion.
Caroline is the only character not to be part of the main love-triangle to have a birthday episode. Hers was Our Town.
She had sex with Klaus in 500 Years of Solitude.
She shredded pictures of her and Tyler, and the drawing Klaus gave her in Total Eclipse of the Heart.
She told Tyler she saw the good in Klaus in Gone Girl.
She couldn't(didn't want to) kill Stefan's last living doppelganger and later on that night she cuddled with Stefan in Rescue Me.
The episode Rescue Me marked the 90th appearance of Caroline in The Vampire Diaries.
In What Lies Beneath Caroline showed jealousy towards Stefan and Elena who she thought secretly making out.
Caroline is the only person who witnessed Stefan's death at Julian's hands and is last seen by his (Stefan's) side, crying out helplessly for anyone to come to their aid.

She was also the first person to know about Stefan's death.
She was also the only person who cried by Stefan's dead body.

Lexi thinks Caroline is the reason why Stefan stayed in Mystic Falls after he got out of the safe.
Caroline is the only main character that hasn't been on The Other Side or been a Ghost.

Caroline is also the only main character that has died only once, when Katherine killed her and caused her to become a vampire.

In the novels, Caroline's middle name is Beula.
In the novels, Caroline has auburn red hair and cat-green eyes. On the show, Caroline has blonde hair and greenish blue eyes.
In the novels, Caroline takes a significant romantic interest in Stefan at the beginning of the book series and competes with Elena for his affections.
In the novels, Caroline and Elena are rivals. In the beginning of season one, Caroline exhibits jealousy towards Elena, but they are still best friends.
Quotes
Season One
Caroline (to Bonnie) : "His name is Stefan Salvatore. He lives with his uncle up at the old Salvatore boarding house. He hasn't lived here since he was a kid. Military family, so they moved around a lot. He's a Gemini and his favorite color is blue."

Caroline (to Bonnie) : "Oh, please. I got all of that between third and fourth period. We're planning a June wedding."

Caroline (to Bonnie) : "Why is it that the guys I want, never go for me? I try so hard, maybe because I'm inappropriate and I always say the wrong things and Elena always says the right things. I mean, she doesn't even try and he just picks her!"

Caroline (to Bonnie) : "Why didn't he go for me? How come the guys that I want never want me? I'm inappropriate, always say the wrong thing and Elena always says the right thing. She doesn't even try, and he just picks her. And she's always the one that everyone picks. For everything. And I try so hard and I'm never the one."
- Pilot

---

Caroline (to Bonnie) : "Yeah, then you poured Grams another shot and she told you about the aliens."

Caroline (to Elena) : "Ok it's easy Girl like boy. Boy like girl. Sex."

Caroline (to Jeremy) : "You slept with Vicki Donovan? Vicki Donovan slept with you?"

---

Caroline (to Elena) : "I got the other brother. Hope you don't mind."

Caroline (to Damon) : "Elena used to be way more fun. And I'm saying that with complete sensitivity."

---

Caroline (to Damon) : "Why don't you sparkle?"

Caroline (to Bonnie) : "And I'm supposed to care why?"

Caroline (to Liz) : "Yeah because otherwise you'd have approved. Yeah I doubt that."

---

Caroline (to Stefan) : "Stefan? Where's Damon, he has some serious apologizing to do."

Caroline (to Liz) : "Mum if I wanna talk boys I'll call dad. At least he's successfully dating one."

---

Caroline (to Tyler) : "I am gonna drink until someone is hot enough to make out with."

- Haunted

---

Caroline : "Look dungeon boy. I'm done being your little slave girl. You seriously hurt me and I...OMG where have you been? It's really good to see you."

Caroline (to Matt) : "So it's true, I'm shallow. I'm worse than shallow, I'm a kiddy pool."

Caroline (to Matt) : "Do you ever feel like there's no person in the world who loves you?"

---

Caroline (to Matt) : "That's like two 'hey's'. Don't you have any other words in your vocabulary?"

Caroline (to Bonnie) : "This Emily chick has some serious explaining to do."

---

Caroline (to Logan) : "OMG Logan Fell channel 9, is that you?"

---

Caroline (to Elena) : "A lesbian friend necklace?"

Caroline (to Bonnie) : "He's just a washed up jock, who serves drinks for a living."

Caroline (to Matt) : "Big problem, Matt. Because you took the next step, all by yourself. You played the whole thing out in your head and you decided to bail before even give it a shot. So this really great thing that we had, don't worry about losing it, because it's already gone."

---

Caroline (to Matt) : "I want this to work. And I'm scared that you're gonna change your mind. I don't wanna mess it up."

---

Caroline (to Matt) : "We have this entire house to ourselves. I mean, it's practically a bachelor pad."

---

Caroline (to Stefan and Elena) : "Two pairs, out on a Friday night, coupled. Yeah a double date."

Caroline : "This is much better than watching Damon visit cougartown."

Caroline : "I don't like sports cars they're too hard to make out in."

---

Caroline : "Maybe she'll surprise you, people have a tendency to do that."

Caroline : "It's my dad's boyfriend-daughter birthday. We have a not traditional, traditional ritual."

---

Caroline (to Bonnie) : "I want this and I actually deserve this."

---

Caroline (to Tyler) : "You made out with his mother and then beat him to a pulp. You're gonna have to do a little bit better than sorry."
---
Season Two
Caroline: (to Damon) "You manipulated me, you pushed me around, abused me, erased my memories, fed on me. I have a message from Katherine. She said, 'Game on'."

Caroline: (to Stefan) "Bonnie hates me. And what about Matt? I'm a murderer, a monster."

---

Caroline: (to Bonnie) "So, I don't get to choose the ring I have to wear the rest of my life?"

Caroline: (to Stefan) "So you're saying that now I'm basically an insecure, neurotic control freak on crack?"

Caroline: (to Stefan) "Why are you looking at him with your serious vampire look? You know, it's different from your worried vampire look. Neither of which strays far from your Hey, it's Tuesday look."

---

Caroline: "It`s horrible fighting the urge for blood every minute of every day."

Caroline: (to Elena) "The desire to rip out your jugular every time he's with you... trust me, it's there. It's why I had to break up with Matt."

Caroline: (to Damon) "Puppy with a tutu!"

---

Caroline: (to Liz) "You`re gonna pretend to be a mother?"

Caroline: (to Elena) "I can't go home, because I'm scared. Katherine's going to be there and she's gonna want me to tell her everything that happened today. She told me I had to spy on you and report back to her."

---

Caroline: (to Liz) "Good news. Doctor Damon said that the vervain is almost out of your system."

Caroline: (to Liz) "I'm going to take you home. You're going to forget that I'm a vampire. You'll remember you got sick with the flu. You had a fever, chills and sickness, but I made you soup. It was really salty. We bickered. You got better, and then your selfish little daughter who loves you, no matter what, went right back to ignoring you. And all was right in the world."

- Plan B

---

Caroline: "She killed me. Fair is fair."

Caroline: (to Katherine) "I did it. I really didn't think that I'd be able to fool you, but I did."

---

Caroline: (to Damon) "He thinks he blacked out. But I think … I think they were both compelled by Katherine. And that's why I covered for Tyler and said it was an accident."

Caroline: (to Tyler) "Breaking and entering the Sheriff's house? That move will win you an award."

Caroline: (to Tyler) "I know this sounds crazy, but alcohol helps. Or, at least it helps me. You know, with all that inside jittery stuff."

- Rose

---

Caroline: (to Elena) "I'm a terrible liar... I`m even worse at duplicity."

Caroline: (to Elena) "You had to break out the girlfriend code."

- Katerina

---

Caroline: (to Tyler) "I was alone when I turned. I had no control over my body, my urges. And I killed somebody. I don't want that to happen to you. I don't want you to be alone."

---

Caroline: (to Tyler) "Please tell me you read the instruction manual."

Caroline: (to Tyler) "Oh my God. You're not...going to get naked, are you?"

---

Caroline: (to Matt) "Okay, I… Feel… Like I… I love you."

Caroline: (to Tyler) "You can't do that. Everyone just needs to stop kissing me!"

---

Caroline: (to Stefan) "I'm okay. I'm not girly little Caroline anymore. I can handle myself."

Caroline: (to Tyler) "Do you know what they did to me? No, it's too late, because we're not friends anymore. And what happened to me tonight, that will never happen again. So you take that back to your little werewolf pack, and you get the hell out of my house."

---

Caroline: "Just 'cause I talk a lot it doesn't always mean I know what am I actually talking about."

Caroline: "You are going to let me live out my rock star fantasies and you are going to be my backup."

---

Caroline: "You know, this wasn't how it was supposed to happen. I was supposed to tell him[Matt] at the right moment, in the right way, and he was supposed to be okay with it because he loves me."

Caroline: (to Matt) "So after I hurt you in the woods, I made you forget. And I promised myself that I would stay away from you … but I couldn't. Because I love you. I do. I love you, Matt. So much."

---

Caroline: (to Tyler) "Tyler, you shouldn't have come back here"

Caroline: (to Tyler) "I was hurt. You turned your back on me when I needed you. But, I could never hate you Tyler."

---

Caroline: (to Tyler) "Well, instead of just bailing on me again, you could just say, 'Thank you, Caroline for taking care of me. And I'm sorry that I tried to chow down on you again."
---
Season Three
Caroline: (to Tyler) "Just because I tell you things, doesn't mean you are allowed to know them!"

Caroline: (to Tyler) "Wait, you are bringing a date? Slutty-Sophie is your date?"

Caroline: (to Damon) "Hey, you missed the cake."

---

Caroline: "Hello? Mrs. Lockwood? Somebody? Who's that? Mrs. Lockwood? Please!"

Caroline: (to Bill) " Daddy?."

---

Caroline: (to Bill) "Dad, I'm okay. I've learned to adapt. I don't need to be fixed. I can't be fixed."

Caroline: (to Bill) "I don't hurt anyone, I swear. I swear, I can handle the urges ."

Caroline: (to Liz) " Hey mum. Thanks for believing in me."

Caroline: (to Tyler) " He hates me… My dad hates me..."

---

Caroline: (to Elena) "So, you are not like, switching Salvatores, are you?"

Caroline: (to Tyler) " God, you reek!"

Caroline: (to Tyler) "I`m only answering in case it's a friend emergency."

Caroline: (to Bill) "Grow up"

Caroline: (to Damon) " Well, I'm angrier!"

Caroline: (to Elena) "I'm not going to tell you, I told you so."

Caroline: (to Elena) "But I did tell you."

Caroline: (to Bill) "Daddy, I'm going to be ok"

---

Caroline: (to Tyler) "I just want this school year to be great, you know? I just want everyone to be happy. Even in the midst of all the crazy unhappy bits."

---

Caroline: (To Tyler) "Vampire 101. Don't wear your breakfast to school."

Caroline: (to Bonnie and Elena) "Why should I let the fact that my boyfriend was turned into a hybrid put a damper on an otherwise fabulous day?"

---

Caroline: (To Bonnie) "Please tell me that is a recipe for witch cookies."

Caroline: (To Jeremy) "You are an ever bigger idiot than I thought, Jeremy. So wake up before you lose everything."

---

Caroline: (to Tyler) "Matt is an innocent, good person who should not be going to dances with evil blood slu2ts."

Caroline: (to Tyler) "First of all, I finally almost got your mom to stop hating me, so I probably shouldn't get caught in some kind of vampire threesome with her son. And secondly, quit hanging out with Rebekah, the evil blood slut."

Caroline: (to Bonnie) "How did he plan a better party than me so fast? Wait, is that a band outside?"

---

Caroline: "Now it`s just a reminder that, technically, I`m dead. Look, I didn't even like 17. The only point to 17 was to get to 18. It`s a filler year. I`m stuck in a filler year."

Caroline: (to Klaus) "Are you going to kill me?"

- Our Town

---

Caroline: (to Tyler) " Apologize? You bit me! I could have died! I think we are way pas apologies Tyler."

Caroline: (to Bill) "Daddy?."

---

Caroline: (to Elena) "Yeah, he's not here. He was already discharged. And she seems perfectly nice by the way... a little intense, maybe. But... I think it's sweet, you wanna make sure, Alaric's not dating a total psycho."

Caroline: (to Elena) " ."But I can't just let my father die. You know what... I'm gonna force him to feed."

Caroline: (to Elena) " ."I hated him so much for what he did to me, so much, and now all I want to do is save his life."

Caroline: (to Bill) " ." You are strong enough to handle being a vampire. I mean, you are the strongest person I know."

Caroline: (to Bill) " ." How can you hate who I am so much?."

Caroline: (to Bill) " ." Please don't leave me, daddy. Please don't leave me. Daddy, just don't leave me."

---

Caroline: (to Klaus) "I get it. Your father didn't love you, so you assume that no one else will either. And that's why you compel people or you sire them or you try to buy them off, but that's not how it works. You don't connect with people, because you don't even try to understand them."

---

Caroline: (to Klaus) "Just to be clear, I'm too smart to be seduced by you."

---

Caroline: "I totally lucked out. The hospital just had a blood drive, so I got some O negatives, some A's, and my personal favorite B positive."

---

Caroline: "Why do I always have to be Klaus bait?"

Caroline: "I miss well-adjusted Stefan."

Caroline: "Vampire disposal. Not my strong suit. Uck."

---

Caroline: (to Tyler) "Mm, at some point we are going to do this in an actual bed, right?"

Caroline: (to Tyler) "Tyler, I just got you back. I`m not loosing you again."

---

Caroline: (to Elena) "I`m sorry, but Stefan is your epic love. And I`m not going down without a fight."

Caroline: (to Tyler) "Tyler, it doesn't matter how many times I dance with him [Klaus]. I love you."

---

Caroline: (to Tyler) "Since when does sire bond equal move slave?"

Caroline: (to Rebeka) "I'm sorry about your mom. I mean I know you like, hated her and everything, but still. I'm sorry."

---

Caroline: (to Tyler/Klaus) "No, I'm not leaving. I'm staying."
---
Season Four
Caroline: (To Matt) "Because I don't know where to go, Tyler is dead and everything is different now."

Caroline: (To Tyler/Klaus) "But you're miraculously alive. We're fugitives on the run. All signs point to hot hybrid vampire sex."

---

Caroline: (To Tyler) "This is wrong, a bunch of people died and we are having sex."

Caroline: (To Elena) "She's not dead but if you feed on her you will kill her. Look at her Elena. It's April,  April Young, she's not a warm body for you to feed on, she's your friend. She is an orphan, just like you. She's scared, just like you were."

- Memorial

---

Caroline: (To Tyler) "I dished Rebekah's ditching party, what's with all that testosterone?"

Caroline: (To Stefan) "It's because of you Stefan, I'm good at it because of you. Come to me whenever you want, I won't let you lose control"

---

Caroline: (To Hayley) "I know all Tyler's buddies and I haven't heard anything about you so... Why we don't cut the crap?"

Caroline: (To Tyler) "I keep waiting for you to make-up some some dumb stories so at least I can call you a liar. Is that now?"

---

Caroline: (To Tyler) "Brought your stuff, old laptop, your jersey and the charm bracelet."

Caroline: (To Klaus) "I want you to give Elena back."

---

Caroline: (To Stefan) "What do you mean "you're not coming"?,  I don't need to remind you that your Miss Mystic Falls attendance record totally sucks beside you're a founding family, by definition you have to be here."

Caroline: (To Klaus) "You're perfect just so beyond annoying, I can't even look at you."

---

Caroline: (To Elena) "Hmm, so you guys check in text now? What else would you do?"

Caroline: (To Elena) "I didn't know what kind of psychopath narcissist he was."

---

Caroline: (To Klaus) "I'm serious, there's something lonely about it."

Caroline: (To Stefan) "Stefan it's me, that little werewolf lost her mind, go to the Lockwood cellar and make sure Rebekah's body still there. I'm going to find Tyler. Hayley is trying to screw this up."

---

Caroline: (To Stefan) "First of all you were not supposed to know that, and second of all Tyler is already spiraling and he gets priory."

Caroline: (To Rebekah) "What does any of these have to see with the stupid cure?"

---

Caroline: (To Klaus) "How delusional are you? You killed his mother, and let's not forget that we are standing in the house where Elena's aunt Jenna used to live, or did you think that your charm will make us forget how you killed her too? You know what? No I'm not going to engage in this. You're not even worth the calories I burn talking to you."

Caroline: (To Tyler) "You freed them Tyler, and people put their faith in you because you are a leader, don't forget that."

---

Caroline: (To Tyler) "How many times are we going to have to say goodbye?"

Caroline: (To Tyler) "What if we don't? Tell me that you'll never think of me again, tell me that you'll forget about me, tell me that you're going to move on and live a full and happy life without me."

---

Caroline: (To Stefan) "...Use the sire bond to convince her everything is ok."

Caroline: (To Elena) "Elena stop it, you are scaring me."

Caroline: (To Tyler)  "Hey, it's me look, I hate lo leave this at your voice-mail, but I think that you need to know, Jeremy is dead Tyler, I'm so sorry I thought that you will call, then I could tell you, but you didn't so, just call me when you get this Ok?, I need you and there is no way that last night was the last time that I ever going to see you or talk you, it can't be just call me Tyler, please."

---

Caroline: (To Tyler) "Hey Tyler, is me checking in, Elena is not quite there but I'm working on it, look I know that you can't call me back, but I keep thinking, if I just leave these messages when you do come home, it will be like you never left, well that's the hope, well I better go, I love you Tyler."

Caroline: (To Elena) "Stop! This isn't you and you know it, you hurt my mom Elena! How far are you going to take this?"

---

Caroline: (To Klaus) "It did once when I thought it was worth it, but it turns out some people can't be fixed. People who do terrible things are just terrible people."

Caroline: (To Klaus) "I just killed twelve people."

---

Caroline:(To Klaus) "You wanna be friends? Friendship stage one: Show me that I can trust you."

Caroline:(To Klaus) "If Silas can make you of all the people believe that you're dying, what can he do to the rest of us?"

---

Caroline:(To Klaus) "Oh, but I don't want just another dress. (facing Klaus again) I wanna look hot. Like Princess-Grace-of-Monaco-hot. So... could you please go back into your creepy trophy case of family collectibles and dig me out something of royal caliber?"

Caroline: (To Tyler) "Thank you for the best prom ever."

---

Caroline:(To Klaus/Silas) "You. I am afraid of you."

---

Caroline:(To Rebeka) "Bitch!"

---

Caroline:(To Klaus) "Klaus, now is not the time to decide that you are over me. I'm gonna call you every 10 minutes until you get your ass here to save Damon's life."
---
Season Five
Caroline:(To Tyler) Voice Message "Don't worry. I already sent them your application, Tyler. All you have to do is register for classes and show up."

Caroline:(To Elena) "Ok, Elena that pit is called guilt."

Caroline:(To Elena) "Left things in a good place it doesn't mean he hasn't been thinking about you shacking up with his brother all summer long."

Caroline:(To Megan) "Speaking of minding one's own business, let's talk roommate ground rules."

Caroline:(To Megan) "Privacy is very important to me."

Caroline:(To Megan) "I have low blood sugar."

Caroline:(To Megan) "My diet is finicky...so keep your paws off my stuff."

Caroline:(To Megan) "And if I suddenly get up to leave or disappear for a while, don't follow me or look for me."

Caroline:(To Elena) "She has an entire drawer dedicated to organic line."

Caroline:(To Elena) "Maybe if she didn't take such long showers, I wouldn't have time to go through her stuff."

Caroline:(To Elena) "We also need personal space. I mean, what if we suddenly get a craving and I want to eat her? Or our blood bags go bad because we can't store them in the mini-fridge?"

Caroline:(To Megan) "Water just went down the wrong pipe."

Caroline:(To Elena) "Seriously? We share a bathroom with this girl. What if she's a hunter and she stakes us when we're in the shower? Or she steals our daylight rings while we're asleep and then we burst into flames when the sun comes up?"

Caroline:(To Elena) "Did you tell Damon that you're having dreams about Stefan?...See? No relationship is perfect."

Caroline:(To Elena) "Ok. It's settled. When she leaves, we grab her."

Caroline:(To Elena) "Elena, she saw us stuck at the threshold. We might as well have flashed her our fangs."

Caroline:(To Elena) "I'm really glad that you're here."

---

Caroline:(To Elena) " Ugh, college kids are so dramatic...She was on campus for, like, one day. She couldn't have made that many friends."

Caroline:(To Elena) " Sorry, I'm in a mood. "

Caroline:(To Elena) about Tyler" He's deferring from enrolling and deferring from returning my phone calls, so I'm deferring from having sex with him ever again. "

Caroline:(To Elena) " applied what-what? Uh, Elena, we are supposed to be taking intro to communication. What happened to getting drunk and making bad decisions about boys?. "

Caroline:(To Elena) " I am supposed to be a drama major! "

Caroline:(To Jesse) " I love applied...Micro...Biology. It's like my favorite biology. You know, little things are just so cute! "

Caroline:(To Damon) " Damon! Towel! Knock!"

Caroline:(To Damon) " She probably went to the bonfire to get more intel our weirdo professor. "

Caroline:(To Damon) " I thought that Stefan dropped his body in the quarry. "

Caroline:(To Damon) about Jesse " Seriously? That's Jesse! I kind of liked him. "

Caroline:(To Jesse) about Damon " Sorry, this was all I could find out there... Sorry my friend went aggro, he's got anger issues. "

Caroline:(To Jesse) about Tyler " Well, he's supposed to be here. He deferred a semester... You don't have to say anything... I know how these things go. People go to school and they drift apart. "

Caroline:(To Elena and Damon) " I think we need to set some ground rules for when boyfriends come to visit. "

Caroline:(To Elena) about Stefan " You're gonna find him, Elena. "

---

Caroline:(To Elena) about Stefan and Damon " Means that they probably devoured a troop of Girls Scouts by now. "

Caroline:(To Elena) about Stefan " I'm kidding... kind of. Although it's not uncommon for patients with retrograde amnesia or other traumatic brain injuries to turn volatile. "

Caroline:(To Elena) " It's possible I studied up on my chem, biochem, applied microbio, molecular bio, and Gray's Anatomy, the real one and the television show. "

Caroline:(To Elena) " While I'm there, I might as well ring a bell for Tyler and me considering our relationship is on its death bed."

Caroline:(To Jesse) " Togavirus causes congenital rubella, whatever that is. "

Caroline:(To Jesse) " Well, whenever anyone tells me I can't do something, I prove them wrong. "

Caroline:(To Jesse) " I don't know where my boyfriend is. That would require communication and mutual interest and respect, and I invited you here because you're smart and you're nice, and I don't know, I just kind of wanted to hang out with you today. "

Caroline:(To Stefan) " Look. I know that you're hungry, but you don't do people, ok? It just... it doesn't end well. "

Caroline:(To Stefan) " This isn't you, ok? You might not remember, but I do. You are better than this. You are not this person. "

Caroline:(To Jesse) " You'll be ok. I'm sorry. I'm sorry I got you into this, and I'm sorry I let you kiss me when I... I'm just sorry. "

Caroline:(To Stefan) " Please don't ask because then I'm going to have to try to come up with an answer, which means I'm gonna have to actually think about it, and then I'll start crying, and I'm afraid that I might not ever be able to stop. "

Caroline:(To Stefan) " Part of me just wishes that I could trade places with you because without all the memories, maybe it wouldn't hurt so damn much. "

Caroline:(To Stefan) " I'm never gonna see her again, and I have no idea where Tyler is, and I just got so used to them being there all the time, and now what? I'm supposed to just learn to move on without them? How do I do that when all I have is this sadness and this anger and... "

---

Caroline:(To Tyler) " Oh, before I forget, I talked to the registrar, and your major is... drum roll... sociology... "

Caroline:(To Tyler) " Oh, Well, we could talk about the hybrid-sized jerk that you've been for not calling me back ever. "

Caroline:(To Tyler) " Ha, ha, ha! You are escorting me to the Whitmore historical ball. "

Caroline:(To Tyler) " I may have e-mailed them a few suggestions. "

Caroline:(To Tyler) " Well, considering the crowd, I'll take that as a compliment. "

Caroline:(To Tyler) about Stefan " He's James Dean. I went easy on him. I figured, between the blood lust drama, the Damon-Elena drama, the abuser drama, he's been through enough. "

Caroline:(To Tyler) " I know. It's just... a happy by-product of us being in school together. "

Caroline:(To Tyler) " I have been pushing way too hard, and, you know, you need to make your own decisions. Point is, you're back, and we're together. "

Caroline:(To Tyler) " You know what, Tyler? For someone who hates Klaus, you certainly sound a lot like him. "

Caroline:(To Tyler) " I've been thinking about it, and I've decided that... I'm not going to have this conversation again. I can't just sit here while I'm waiting for you to come back. "

Caroline:(To Tyler) " Then stay! Just be the love of my life. Just love me more than you hate him. "

Caroline:(To Tyler) " No. No. No! Don't you dare walk away from me! I swear to God, Tyler, if you take one more step, we are done, ok? No more surprises, no more excuses, no more chances. We are done. "

---

Caroline:(To Katherine) " Don't want to know if Tyler called, so don't even tell me. So, do you want to do small appliances, or toiletries? "

Caroline:(To Katherine) " I mean, I'd compel a cute boy to do it for us, but I don't think I want to see a cute boy ever again. Except for Jesse, who's conveniently not answering his phone. "

Caroline:(To Katherine) " Hello, Dr. Maxfield thinks we're vampires, you know, threatened to expose us, told us to drop out. "

Caroline:(Dr. Maxfield) " We're draining vervain blood out of your system so I can compel you to forget that Elena and I are vampires. "

Caroline:(Dr. Maxfield) " I'm just... I'm trying to do some math. Okay. Uhh. So, if the average male has 5 liters of blood in his system. "

Caroline:(Dr. Maxfield) " You know what? I just broke up with my boyfriend for good. My heart is in pieces. sue me for having a moment. "

Caroline:(Dr. Maxfield) " So, your creepy elitist society also has their own vampire. "

Caroline:(Dr. Maxfield) " You were wrong. Elena Gilbert and I are not vampires, we're just regular freshmen. You're light-headed because you just gave blood this morning. Forget everything that happened here. "

---

Caroline:(Nadia) " Great. Even Katherine's friends are bitches. "

Caroline:(Katherine) " Sorry to interrupt the world's weirdest lunch but you with the doppelgänger blood, duty call. "

Caroline:(Bonnie) " Oh my God! Oh my God! And we can be roommates because we have an extra bed, and we can clear out half the closet! "

Caroline:(Katherine) " Thank you for what you did today. "

---

Caroline:(Bonnie) " Yeah, I'm this supernatural anchor that connects the two worlds together, so... "

Caroline:(Elena and Bonnie) " Which equals a massive cause for celebration! "

Caroline:(Elena and Bonnie) " And given that mine went radio silent after he kissed me, and yours was last seen at a tea party for a vampire-hating secret society. "

Caroline:(Elena) " Funny. That sentiment implies that Damon is actually coming. "

Caroline:(Jesse) " Well look who rose from the dead. "

Caroline:(Jesse) " You're a vampire now. You may have hurt him, but you can also heal him with your blood. "

Caroline:(Elena) " I've been teaching him the art of sublimating vampire hunger via grain alcohol. "

Caroline:(Elena) " I'm fine with you two being together, as long as you can acknowledge the kind of person you are with. "

Caroline:(Jesse) " That's one of the other fun side effects. Everything is heightened. "

Caroline:(Elena) " Because the Elena that I used to know would have given Jesse a chance. "

Caroline:(Elena) " I'm sorry. I didn't mean what I said earlier. It was out of line. It just sucks, you know, cause Jesse was one of the good ones. "

Caroline:(Elena) " I believe you, ok? I believe you want to celebrate the fact that we can go to school and function like regular freshmen. I get that. I want that, too, but, Elena, when are you gonna figure out that the outside world is not nearly as dangerous as the person you're inviting into your own bedroom? "

Caroline:(Elena) " The day that I stop telling you is the day that we're no longer best friends, and I hope that day never comes. "

---

Caroline:(Stefan) " I'm your sober sponsor. And I heard that you needed help. "

Caroline:(Stefan) " Don't worry I sanitized it "

Caroline:(Stefan) " I was thinking it's time for you to deal with the source of your PTSD. "

Caroline:(Stefan) " No. Elena did what she thought she had to do just like she also thought (she faces him) that Damon was good boyfriend material. Now you see where I'm going with this? "

Caroline:(Stefan) " Well I know that you tried to deal with it your own way and you failed so now, we're gonna try it my way. "

Caroline:(Katherine) " Oh god, I'm so not listening to this. "

Caroline:(Katherine) " I'm just trying to help Stefan understand what I'm doing. "

Caroline:(Stefan) " I know it's a little extreme, but the baby steps approach wasn't working. "

Caroline:(Stefan) " little help here. I mean, I know I'm a vampire, but this think is really heavy. "

Caroline:(Elena) " Hey, Elena. I'm probably going to stay at my Mom's tonight. I think I am officially homesick. So I'll let you know when I'm... Oh. My. God. Call me as soon as you get this! "

- The Cell

---

Caroline:(Elena) " Okay. Time to wake up, sleepy head. "

Caroline:(Elena) " This is your breakup breakfast! "

Caroline:(Elena) " As she should! He did say, and I quote, I'm a bad person. I am bad for you. And I'm choosing to let you go. "

Caroline:(About Katherine) " Tyler's werewolf curse got triggered because of her. "

Caroline:(About Katherine) " he did kill me... Although I'm really better off. "

Caroline:(Elena) " Oh my God! I forgot to tell you.. you were kidnapped and hostaged and... "

Caroline:(Bonnie and Jeremy) " Aw! Scandalous sex! Even better! God, how am I the only person on the planet who's not having scandalous sex? "

Caroline:(Klaus) " Sorry. Matt's buried alive. No time to chat. "

Caroline:(Klaus) " I literally just whooshed at the sight of your face, so no. "

Caroline:(Klaus) " So you're here to gloat over her corpse to be, to delight in the closure of 500 years of revenge!... Great! Now I'm even less interested. "

Caroline:(Klaus) " Because I made him choose... Me or his stupid revenge fantasy, and he chose wrong. I suggest that you learn from his mistakes and let Katherine die in peace. Dying sucks enough learn as it is. No need to rub anyone's nose in it. "

Caroline:(Klaus) " You... You can't do this to me. You can't just show up and distract me while my friend is in danger. "

Caroline:(Klaus) " Don't you have a dying girl to go punish for all of her sins? "

Caroline:(Klaus) " I'm in college. I'm building a life for myself. I have plans and a future and things that I want, and none of those things involve you, ok, none of them. "

Caroline:(Klaus) " No, you don't, because yes, I cover our connection with hostility because yes, I hate myself for the truth. So if you promise to walk away like you said and never come back, then, yes I will be honest with you. I will be honest with you about what I want. "

---

Caroline:(Aaron) " : Yeah, you know...all those stressogens. I'm stress-cleaning. I'm stress. So I'm cleaning. Boy drama. Not that you care.... "

Caroline:(Stefan) " : Look. I would love to help; if I thought he was actually good for her, but I don't... "

Caroline:(Stefan) " : I just mean... are you sure this is really what you want? You know.. Elena and Damon.. or Damon and Elena.. I know there's a nickname in there somewhere. "

Caroline:(Stefan) " : He's not out there killing people, which I guess is a plus for mankind. "

Caroline:(Stefan and Damon) " : Okay. So Bonnie took Jeremy to go visit her mom and neither of them have talked to Elena. "

Caroline:(Damon) " : Well..... nobody is perfect. "

Caroline:(Damon) " : I can be unpredictable and incredibly reckless. "

Caroline:(Katherine/Elena) " : There you are! I've been calling and texting. "

Caroline:(Katherine/Elena) " : I did a bad thing.. "

Caroline:(Katherine/Elena) " : You don't even know what it is! "

Caroline:(Katherine/Elena) " : What would you say if I told you that when a certain awful person was in town, I ran into him in the woods and sort of kissed him. He was there and obviously wanted to kiss me, so I thought "we'll just make out," but then, it felt really good to kiss him, so then I kind of, totally had sex with him, but I swear, I didn't plan to do it. Now, I feel terrible "

Caroline:(Katherine/Elena) " : Would I make something like this up? And that is why I need you to tell me what an awful person I am. "

Caroline:(Stefan) " : Yeah. Well, I couldn't find a rock big enough to crawl under.. So. "

Caroline:(Stefan) " : You're my friend. I need you to just give it to me straight. Am I a horrible person? "

Caroline:(Stefan) " : Honestly, I thought "eww." "

Caroline:(Stefan) " : Or maybe, I came here because I know that you see the best in people. "

Caroline:(Stefan) " : Hey! I am vulnerable. Don't be mean! "

---

Caroline:(Katherine/Elena and Bonnie) " : So we all agree? No more moping about life's little failures and no more dabbling the dark arts of boyfriends past. This is a fresh start. "

Caroline:(Bonnie) " : No one likes a bragger, Bonnie. "

Caroline:(Katherine/Elena and Bonnie) " : Today is the dawning of a new era. This is stage one of our metamorphosis into the land of the brave, the free, and the single. "

Caroline:(Katherine/Elena and Bonnie) " : Bonnie's best friends are single, which makes her single adjacent. So she can be our wingwoman. "

Caroline:(Katherine/Elena) " : This is our purge, our cleanse. This is where we rid ourselves from the baggage better known as our tragic and mortifying first semester. "

Caroline:(Katherine/Elena) " : Since when does Elena Gilbert accessorize? "

Caroline:(Katherine/Elena) " : You're not fooling anyone. I know that you're faking it. "

Caroline:(Katherine/Elena) " : Please. It is so obvious. I appreciate it, I do, but you know I'm on edge because of the whole Tyler-Klaus thing, so you are pretending that breaking up with Damon was no big deal. "

Caroline:(Katherine/Elena) " : Look, Elena. You don't have to pretend with me and if you don't want to go tonight, it's all good. I can be bitter, party of one. "

Caroline:(Stefan) " : Do you mind if I borrow her for a minute? She promised me that she'd join me at the shredding station. "

Caroline:(Katherine/Elena) " : Yes. I am making a decision. These relationships are over. "

Caroline:(Katherine/Elena) " : And I'm not going to change my mind just because I'm feeling bored or nostalgic or lonely. "

Caroline:(Katherine/Elena) " : I'm just saying that you've been through a lot lately, and your emotions are all over the place. So are Stefan's. I think that making yourself so available could maybe be confusing things. "

Caroline:(Stefan) " : Come on, You can be bitter with me. "

Caroline:(Stefan) " : You came to a dance of your own free will. Something is up. "

Caroline:(Liv) " : You're going to help my friend. Do I need to say it slower? "

Caroline:(Damon) " : For a newbie witch to learn a complicated spell under massive stress?... I have no idea. Bonnie? "

Caroline:(Damon) " : What are you doing? Damon, call him back right and you tell him to stop. "

---

Caroline:(Stefan) " : You were right. He's off the rails. "

Caroline:(Stefan) " : Check and check, but there's something else. All of the victims were found inside their homes without their head... and their skin was desiccated. "

Caroline:(Stefan) " : No. Uh uh. No, You are not turning Damon's roosting chickens into a Stefan Salvatore guilt trip. No one could've stopped him from going after Wes the other night. "

Caroline:(Stefan) " : Good news, bad news. Bad news is that when this happened to Jesse, we had to kill him, but the good news is... I'm sorry, usually there's some good news. "

Caroline:(Katherine/Elena) " : Oh. Stefan who doesn't go to college. "

Caroline:(Tyler) " : No, I know, I think that we can figure this out together. I'll see you soon. "

Caroline:(Katherine/Elena) " : You deal with Damon. We can handle this. Besides, it's time we move into the next phase of our post-break-up, pre-friendship relationship timeline. "

Caroline:(Stefan) " : It'll be fine.. We both have weird ex-friend situations. "

Caroline:(Stefan) " : Come on, Stefan! First, she tells you she's going to fight to get Damon back and then she re-breaks up with him and now she's here, with you, her ex "studying." "

Caroline:(Stefan) " : Well, look, I'm just saying that Elena and Damon's break-up is messy and you are not messy. You're stable and sane and..." "

Caroline:(Tyler) " : Thank you. mm.. good coffee. Although I usually take mine with a little more awkward silence. "

Caroline:(Matt) " : Yes because she's compelling you! "

Caroline:(Matt) " : Fun? Oh come on! Just like the time when she buried you alive. WOOAHH. Pop open the champagne. "

Caroline:(Nadia) " : and what the hell is that supposed to mean? "

Caroline:(Tyler) " : She's just trying to get under our skin to distract us. "

Caroline:(Nadia) " : What are you doing to him! Tell me! "

Caroline:(Tyler) " : Look. We can get past this together. Okay. I just want us to be good again, you know? "

Caroline:(Tyler) " : Of course. Obviously. I mean, Rome wasn't built in a day. "

Caroline:(Tyler) " : Okay. You made your point. "

Caroline:(Stefan) " : Ahh.. About one and half of these ago. "

Caroline:(Stefan) " : You were right. I brought this on myself. I knew the Klaus thing was gonna come with consequences. Guess now I just have to deal with it and learn from my mistakes. "

Caroline:(Stefan) " : So... You and Elena. What's the verdict? "

Caroline:(Stefan) " : Woah, woah, woah, woah. You guys got a hotel room? With a shower? "

Caroline:(Stefan) " : Yeah, but she could?! I just.. I don't get it. She knows that this would destroy him, what does... what is she doing? "

Caroline:(Stefan) " : No. I mean, she may be mad at him, but she would never want him dead. "

Caroline:(Stefan) " : Yeah, but that didn't happen because Katherine had a change of heart. No... No. You don't think that... It's impossible that she'd be... We would have noticed! It's Elena. We know her... Oh my God... "

- No Exit

---

Caroline:(Matt and Tyler) " : Remember that time Nadia's ex, Gregor, hitched a ride in your head? Yeah, well, it's kind of the same thing. Katherine is a passenger in Elena, except it's worse because none of us seemed to notice! "

Caroline:(Matt and Tyler) " : Because it's Katherine and she's smart, and conniving, and sneaky.. and.. we're the worst friends ever. "

Caroline:(Matt, Bonnie, Jeremy and Tyler) " : I was sleeping three feet away from her! She picked out my Bitter Ball dress. And I let her use my toothpaste. "

Caroline:(Matt, Bonnie, Stefan, Jeremy and Tyler) " : Wait, you guys! This is Katherine we're talking about. She's going to see a sneak attack from a mile away. We've got to get her to come to us. Get her guard down, corner her. "

Caroline:(Matt, Bonnie, Stefan, Jeremy and Tyler) " : Hey guys. Focus. Tyler's right. Katherine's not going to leave Nadia's side unless not leaving compromises her identity. "

Caroline:(Matt, Bonnie, Stefan, Jeremy and Tyler) " : We've got to invite her to something that Elena can't say no to. "

Caroline:(Jeremy) " : We've got to invite her to something that Elena can't say no to. "

Caroline:(Katherine) " : Of course she does! So when can you get over to Stefan's to help us set up? "

Caroline:(Katherine) " : Of course, no, that's really nice of you! "

Caroline:(Stefan) " : Of course. The farther she gets, the worse our chances of ever seeing Elena again. It's bad enough that we didn't recognize Katherine, we also blew our only advantage. "

Caroline:(Tyler) " : Hey ready for the changing of the...oh my god "

Caroline:(Katherine) " : Good bye, Katherine "

Caroline:(Tyler) " : Sad. I know that Katherine is a horrible person but... "

Caroline:(Tyler) " : You mean Klaus. Because I saw the good in Klaus. "

Caroline:(Tyler) " : Your hybrid bite just killed someone and no one even batted an eye. I sleep with the wrong guy weeks ago and I don't hear the end of it. How is that fair? "

Caroline:(Tyler) " : Why? Because "being good" comes so easy to me? Well guess what, Tyler, it doesn't! I am a vampire. I have the same impulses as you. So I'm allowed to make some mistakes along the way! Yes, I slept with Klaus. But after you walked away from me. That was my choice and I'm living with it and I don't need to be hearing about it every five seconds. So just get over it or get out of my life, but I'm done feeling guilty. "

---

Caroline:(Enzo) " : Ha. Alright, other Enzo. I don't know what it is you're doing here, but I don't want any part of it. "

Caroline:(Enzo) " : Why? You want your killing buddy back? Is killing innocent people not as much fun when you're alone? "

Caroline:(Enzo) " : Ugh. Just stay out of it. We don't need any more problems. "

Caroline:(Stefan) " : Bad news... It's not the same virus. "

Caroline:(Stefan) " : Dr. Creepenstein was working on the next phase of the virus. When Nadia was sick, he was experimenting on her blood and he figured out a way to extract werewolf venom from her blood and put it in the virus. "

Caroline:(Stefan) " : Dr. Creepenstein was working on the next phase of the virus. When Nadia was sick, he was experimenting on her blood and he figured out a way to extract werewolf venom from her blood and put it in the virus. "

Caroline:(Stefan) " : Hello! You don't think I would just drop this on you without a silver lining! There's an antidote. It just requires you to come meet me. I'll text you the address. "

Caroline:(Stefan) " : No. You have to go there. And don't ask me why, because I can't tell you. "

Caroline:(Stefan) " : If I could tell you, don't you think I'd be there right now to help Elena? I'll text you the address! "

Caroline:(Stefan) " : The travelers don't want anyone to know what they're up to, and by "anyone," I mean "newbie, emo, witch" types, with bad attitudes. Just get there fast, okay? "

Caroline:(Stefan) " : Look, I know there's a lot of them, but between you, me and Enzo, I bet we can take them "

Caroline:(Stefan) " : Ugh. Sorry. I'm desperate. "

Caroline:(Stefan) " : Yeah, until you lose your memory again. "

Caroline:(Stefan) " : Who volunteers themselves for witchy electric shock therapy? "

Caroline:(Stefan) " : I'll kill them... "

Caroline:(Enzo) " : No. I'm going to stay with Stefan. "

Caroline:(Sloan) " : Wait! You said you weren't going to hurt him. "

Caroline:(Sloan) " : Good! That's great! You found him! "

Caroline:(Sloan) " : You said you know where he is! What are you doing? "

Caroline:(Sloan) " : You're pushing him too hard! he's going to lose everything. Stop! "

Caroline:(Sloan) " : Tell them to stop. There's a way we can all get what we want. "

Caroline:(Stefan) " : It was funnier the first time. "

Caroline:(Stefan) " : Sloan was going to fry your brain to kill your . . . other you. I wasn't about to let that happen, so.. I may have volunteered to help Enzo deal with it. "

Caroline:(Stefan) " : They only want one alive, remember? It's you or him. "

Caroline:(Stefan) " : I'll be fine Stefan. Besides, you'd do the same for me, right? "

Caroline:(Stefan) " : Don't worry. I don't either. I'll be safe, I promise "

---

Caroline:(Sloan) " : We had a deal. I find Stefan's last living doppelgänger. "

Caroline:(Sloan) " : Tom. I-I take care of Tom and in return, you stop using Stefan to psychically doppelbomb him. Because every time you link the two, you are frying Stefan's brain. "

Caroline:(Sloan) " : Well, I don't fail at things. So do it again and I'll kill you too. "

Caroline:(Enzo) " : So, the receptionist doesn't know Tom personally, but I compelled him to call someone who does. "

Caroline:(Enzo) " : Yeah, well that doesn't mean I trust you. I still don't understand why you're even here. "

Caroline:(Enzo) " : Dear God. Please don't tell me that I am the real reason you're here. "

Caroline:(Enzo) " : Mhmm. Arrogant, tactless, completely unable to take a hint. "

Caroline:(Enzo) " : You mean, she tortured you? I can definitely relate to that. "

Caroline:(Enzo) " : And let me guess, she made you want to be a better man. "

Caroline:(Doctor) " : Yes. We need to see him as soon as possible. It's a matter of life or death. "

Caroline:(Sloan) " : Your stupid doppelvisions gave us bad information. Put Stefan on the phone. "

Caroline:(Sloan) " : No. No No. If he's blacking out it means the link is destroying his memories. "

Caroline:(Stefan) " : Hey, Listen to my voice. Can you hear me? I'm right here, okay? Just hold on. "

Caroline:(Stefan) " : Can you hear me? Just say something, please! "

Caroline:(Stefan) " : Thank you. I won't let you down. "

Caroline:(Enzo) " : These look old. Like, four months old. "

Caroline:(Enzo) " : Why did you do that? She was our only lead! "

Caroline:(Enzo) " : You don't think that I'm up for this? "

Caroline:(Enzo) " : I'm sorry, is this supposed to be easy? You barely know me. So let me reintroduce myself. Hi. My name is Caroline Forbes and I am a good vampire and I just don't go around killing people! "

Caroline:(Enzo) " : Well, last time I checked, this isn't war and I'm not a soldier, but Stefan is one of the best people that I know and when it comes to saving his life, yes, I will do just about anything... "

Caroline:(Enzo) " : Four months ago, Silas died: The original Stefan-ganger. "

Caroline:(Enzo) " : No! I'm the one who made the deal. This is on me, no matter what. "

Caroline:(Tom) " : Calm down. You can trust me. "

Caroline:(Enzo) " : Let me do this my way. "

Caroline:(Tom) " : Good. Now, I promise, you won't feel a thing. "

Caroline:(Tom) " : I'm getting you out of here. "

Caroline:(Tom) " : She kidnapped you that night.. locked you up ever since -- hid you away from anyone that knew magic. "

Caroline:(Tom) " : It's because I compelled you to. And to stay calm and not worry. "

Caroline:(Tom) " : I just want to make sure you're a good guy.. no skeletons in the closet.. that sort of thing. "

Caroline:(Tom) " : And.. you are just about one of the nicest people I've ever met. "

Caroline:(Tom) " : Ugh. Em. What I need from you isn't something I can take. "

Caroline:(Tom) " : Well, you don't have to. You just remind me of someone who's really important to me. "

Caroline:(Tom) " : So are you because after this, you are going to get on a train, ride until you find a place you like; meet a pretty girl; settle down; be happy for the rest of your long, long life. "

Caroline:(Tom) " : Just go easy on the carbs. They're a killer. "

Caroline:(Tom) " : Yeah. I don't think anyone has. "

Caroline:(Enzo) " : Well, if she's anything like me, she just lost all respect for you. "

Caroline:(Stefan) " : A big fat failure? Yep. But on the bright side, I'm also exhausted and very cranky. "

Caroline:(Stefan) " : I just did. I failed. I couldn't kill him, Stefan. Not even to save you. "

Caroline:(Stefan) " : No, I'm feeling guilty because you're still being held prisoner. "

Caroline:(Stefan) " : Well, you're even more important now. Enzo killed Tom. "

Caroline:(Stefan) " : I should've seen it coming. That whole flirty "oh, I'm so charming because I want to distract you" thing. I-I practically invented that. What do we do now? "'

Caroline:(Stefan) " : You knew? That's why you let me go, because you knew the whole time, didn't you? "
Caroline:(Stefan) " : What the hell is that? "

---

Caroline:(Elena) " : Well I guess my mom's not here yet. I'm gonna get us some coffees. "

Caroline:(Elena) " : My mom's five minutes away. Elena? Hello? Elena! "

Caroline:(Elena) " : Uh, you walked? Hang on. Did you just have one of those dreams, like, right here? "

Caroline:(Elena) " : It's Psych 101. Actually, it's whatever comes before 101. You told Damon that you couldn't see him anymore, and now you're having dreams about Stefan? "

Caroline:(Stefan) " : Even though most of the time I am. "

Caroline:(Stefan) " : I take that back. Actually, you're not crazy at all. Something's going on. "

Caroline:(Matt) " : he was supposed to meet me here and now she's not texting me back. If you see her, you'll just let her know that something came up? "

Caroline:(Enzo) " : Can you tell Damon that there's something going on with Elena and Stefan? "

Caroline:(Damon) " : Well, you know how we all laughed of an ocean that the universe is drawing Stefan and Elena together? "

Caroline:(Damon) " : Now that Stefan's Doppel-him "

Caroline:(Damon) " : Now that Tom's dead, Stefan and Elena are the last pair of Doppelgängers, which might explain why Stefan and Elena are suddenly having vision type situations of each other. "

Caroline:(Damon) " : Yeah, they're more like romance dreams. "

Caroline:(Damon) " : He went to the Traveler Camp to see if anyone's still there that can tell him what's going on. "

Caroline:(Damon) " : Look, all we know is that Tom is dead, the Travelers just committed a mass-suicide and now Stefan and Elena who are clearly not together anymore are having intense visions of each other. "

Caroline:(Enzo) " : We said we'd call her, we didn't say we'd pick her up. "

Caroline:(Enzo) " : So bad. They're fishing for smalltalk. We should do something. "

Caroline:(Enzo) " : Yeah, but no offence, but even if she was still alive, wouldn't she be like really old? "

Caroline:(Enzo, Elena, Luke and Damon) " : Stefan just called. He said the scrap yard's been completely cleared out. "

Caroline:(Enzo, Elena, Luke and Damon) " : Wait. I don't get it. "

Caroline:(Tyler/Julian) " : I gave her my blood, but what do I do? She's still unconscious. "

Caroline:(Tyler/Julian) " : What are they doing here? This is our home. We can't let them take over. "

Caroline:(Tyler/Julian) " : I got to go. She's waking up. "

Caroline:(Liz Forbes) " : You missed lunch. "

---

Caroline:(Stefan and Elena) " : Good news! So we don't have to be invited in, which is actually super sad if you think about it. "

Caroline:(Stefan and Elena) " : For a couple of doppel-targets, you two seem to be taking this all in stride. "

Caroline:(Damon) " : Shhh, I'm thinking. "

Caroline:(Damon) " : You're ruining the game. "}

Caroline:(Damon) " : Charades. Our theme is secrets that people think they're getting away with. "

Caroline:(Damon) " : Well, I'm sure team "Stelena" will figure it out. "

Caroline:(Damon) " : Well, don't you think that Stefan and Elena have been a little... You know? "

Caroline:(Damon) " : Secretive? I caught them being all hushed and whispery at the car this morning, and now they're getting firewood out of the shed together, which apparently takes 20 minutes. "

Caroline:(Damon) " : No, no. I'm not talking about Enzo. I'm talking about Stefan and Elena. "

Caroline:(Damon) " : Come on! She's single now, you two are on the outs. "

Caroline:(Damon, Elena and Stefan) " : I'll go first. Never have I ever died. "

Caroline:(Damon, Elena and Stefan) " : Never have I ever kissed a Salvatore brother.... today "

Caroline:(Stefan) " : So my powers of deduction really suck. "

Caroline:(Damon) " : And their secret really was about Enzo. "

Caroline:(Damon and Stefan) " : It doesn't make any sense. If Enzo wanted to kill Elena, drowning her wouldn't have worked. "

Caroline:(Damon and Stefan) " : Maybe he's just trying to scare us. "

Caroline:(Elena) " : I'm not upset. Just looking for Luke, you know, Luke, who was here to protect you and Stefan, Luke, who's now missing because you and Stefan lied about where Enzo was, and now the Travelers can find you, do their spell, and wipe us all off the face of the earth! "

Caroline:(Elena) " : Because it wasn't awkward when I accused you and Stefan of being makeout buddies again? "

Caroline:(Stefan) " : We're friends, right? We tell each other things, we trust each other. "

Caroline:(Stefan) " : No. It's just that you trust Elena more, and I get it. Of course you would. Still sucks to be left out of the loop, you know? "

Caroline:(Stefan) " : Oh, please! You're delusional. "

---

Caroline:(Damon) " : Yeah! He helped me open my first savings account! He gave me a lollipop. "

Caroline:(Mr. Sikes) " : If you know where Markos took Stefan and Elena, you need to tell us. "

Caroline:(Damon) " : What the hell is going on? Who are all these people? "

Caroline:(Damon) " : So you think drawing Markos to your house is the best idea? "

Caroline:(Damon) " : Julian is not Tyler. Therefore, he has no reason to help us. So until I figure out a way to get Tyler back, he's just extra baggage "

Caroline:(Damon) " : You know what? Your whole "too cool to care" thing is really starting to get old. Don't think for one second that I believe your mood has nothing to do with Elena. "

Caroline:(Damon) " : Fine! Just keep your torture happy hands away from Tyler until I figure something out. I don't abandon the people I care about. "

Caroline:(Julian) " : You're like.. permanently inhabiting the former love of my life. Let's debate the level of weird. "

Caroline:(Julian) " : Because he's a person... whose life you stole without asking. He deserves to be fought for. "

Caroline:(Julian) " : but that's just.. wrong. "

Caroline:(Bonnie) " : So Julian is trapped inside Tyler forever, or until he dies. So, I was thinking.. what if he does die? You, know, maybe that's how we do it! That's how we get him out! "

Caroline:(Bonnie) " : He'll go to the other side and then, when Liv does the spell to help you and Enzo, Tyler can come back. "

Caroline:(Bonnie) " : And speaking of, shouldn't you be, like, preparing, or talking to Liv? Or doing anything other than packing up our dorm room? "

Caroline:(Bonnie) " : Right, but I think the other side falling apart is slightly more pressing than late housing fees. "

Caroline:(Bonnie) " : What are we even suppose to take? Photos, clothes, hair products? No that any of that matters when we're all dead. "

Caroline:(Bonnie) " : Well, think while you pack. Death is literally on its way. You said a vampire appeared to you, who died on old Miller road, which means the spell is moving past Mystic Falls. So, whatever will fit. The rest, we'll never see again. "

Caroline:(Bonnie) " : Hello! Bonnie! Which part of "we're about to die" isn't registering? "

Caroline:(Stefan) " : Where's Bonnie? She was right behind me! "

Caroline:(Julian) " : It wasn't Stefan's fault. "

Caroline:(Screaming) " : Help me Please! Oh my god! Oh my god! Somebody help! Somebody help! "

---

Caroline:(Damon and Elena) " : I didn't know where to bring him, and I just couldn't leave him outside. "

Caroline:(Damon and Elena) " : Bonnie has a plan, right? She--she said that she could bring people back. Tell me that she can bring him back! "

Caroline:(Luke) " : Stefan saved your life. "

Caroline:(Liv) " : Your brother's officially on the Other Side. Think you can risk it now? "

Caroline:(Damon) " : Hey, Professor Salvatore, not everyone can see the map. "

Caroline:(Damon) " : How? We can't lure anyone anywhere stuck out here. "

Caroline:(Tyler) " : You're not healing. "

Caroline:(Bonnie and Elena) " : Wait? What's going on? Who are we missing? Where's Stefan?! "

- Home
Videos
Gallery
See also