Name
Candice Rene Clark Accola-King
[1]
Birthplace
Houston, Texas, U.S.
Birth date
May 13, 1987 (age 28)
Occupation
Actress/Singer
Show(s) Status
Core Main Cast Member
"
My favorite thing about playing a vampire is the stunts. It's just a new, fun thing to do. Especially as a girl, being able to be all dolled up in heels and little outfits and be able to kick boys' butts, I think it's a really fun, make-believe world to play.
"

— Candice Accola

Candice Rene Clark Accola-King (born May 13, 1987) is an American actress, singer and songwriter who plays Caroline Forbes on the TV show, The Vampire Diaries. Accola is married to musician Joe King.
Early life
Accola was born in Houston, Texas, the daughter of Carolyn (Clark), who was an environmental engineer before becoming a homemaker, and Kevin Accola, a cardiothoracic surgeon.[1][2] She has Romansh-Swiss, French, and Norwegian ancestry.[3] She grew up in Edgewood, Florida and attended Lake Highland Preparatory School.[4] Both her parents are active members of the local Republican political party.[5][6]
Music career
In December 2006 Accola released her debut album, 
It's Always the Innocent Ones
, independently in the United States. Accola co-wrote thirteen of the fourteen tracks on the record. The album failed to make an impact. In 2008 the album was re-released in Japan and achieved greater success. Accola toured as a backing singer for 
Miley Cyrus
's 
Best of Both Worlds Tour
. Accola appeared as herself in the 2008 3D concert film 
Hannah Montana & Miley Cyrus: Best of Both Worlds Concert
. In February 2011, Accola performed a cover of 
The Bangles
' "
Eternal Flame
", on 
The Vampire Diaries
.
[7]
[8]
 Accola has yet to announce plans for a sophomore album. She has a younger brother.
Acting career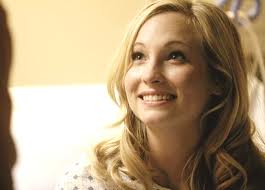 Accola has guest appeared in a number of television series such as 
How I Met Your Mother
, 
Supernatural
 and 
Drop Dead Diva
. In July 2009 Accola starred in the Independent Horror film 
Deadgirl, 
which centers on two high school boys who discover an immortal woman in an abandoned asylum. That same year again Accola had a bit-role in 
The Hannah Montana Movie
. In 2009 Accola was cast in 
The CW
 television series 
The Vampire Diaries
 as 
Caroline Forbes
 a teenage vampire. The series was an immediate success with the series premiere reaching 4.91 million viewers.
[9]
Critical reception was positive. In June 2012 Accola joined the Dramedy 
YouTube
 series 
Dating Rules From My Future Self
 as Chloe Cunningham a 26-year old girl who believes love does not exist.
[10]
 The series centers on a girl receiving romance advices from herself ten years in the future via text message.
[11]
 The first season of the series went on to receive over 14 million views.
Personal life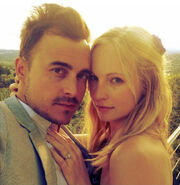 On May 29, 2013, Accola became engaged to musician 
Joe King
.
[12]
Along with her The Vampire Diaries co-stars Michael Trevino and Ian Somerhalder, Accola is a supporter of the It Gets Better Project, which aims to prevent suicide among LGBT youth.
Candice and other individuals (including TVD's Kayla Ewell and Katerina Graham) are participating in the fight to raise awareness regarding Lyme Disease, a disease that many people suffer from but many more are uneducated about.
On October 18, 2014, Candice and Joe got married in New Orleans. She also became a stepmother to her new husband Joe King's two daughters.
Filmography
| Year | TV/Movie | Role | Notes |
| --- | --- | --- | --- |
| 2007 | How I Met Your Mother | Amy | TV |
| 2007 | Pirate Camp | Annalisa | |
| 2007 | Juno | Lab Partner | |
| 2007 | On The Doll | Melody | |
| 2007 | X's & O's | Gwen's Friend | |
| 2008 | Deadgirl | Joann | |
| 2008 | Hannah Montana & Miley Cyrus: Best of Both Worlds Concert | Herself / Background Singer | |
| 2009 | Supernatural | Amanda Heckerling | TV |
| 2009 | Greek | Alice | TV |
| 2009 | Hannah Montana: The Movie | Herself / Background Singer | |
| 2009 | Kingshighway | Sophia | |
| 2009 | The Truth About Angels | Caitlin Stone | |
| 2010 | Drop Dead Diva | Jessica Orlando | TV |
| 2012 | Dating Rules from My Future Self | Chloe Cunningham | TV |
| 2009 — | The Vampire Diaries | Caroline Forbes | TV |
| 2013 | Whose Line Is It Anyway | Herself | TV |
Discography
It's Always The Innocent Ones
Our Break Up Song
Some Girls
Mercy of Love
Voices Carry
Welcome to the Real World
Started
Sweet Jealousy
Why Don't You Stay
Yesterday Is Gone
Wrong to Be in Love
Perfect Tragedy
Hard to Say Goodbye
Drink to my freedom
Awards
Year
Award
Category
Nominated
Result
2012
Teen Choice Awards
Choice TV Female Scene Stealer
The Vampire Diaries
Won
2013
Teen Choice Awards
Choice TV Female Scene Stealer
The Vampire Diaries
Nominated
2014
Teen Choice Awards
Choice TV Female Scene Stealer
The Vampire Diaries
Won
2015
Teen Choice Awards
Choice TV Actress: Sci-Fi/Fantasy
The Vampire Diaries
Nominated
Choice TV: Liplock (with Paul Wesley)
The Vampire Diaries
Nominated
External links
Trivia
In The House Guest, she sang Eternal Flame by The Bangles with S.O.Stereo.
She has a star tattoo on her right foot and a bird tattoo on her left wrist.
She and Kat Graham are friends with Tyler Hoechlin (Derek from Teen Wolf).
She dated her co-star Steven R.McQueen, from June 2011 to October 2011.
She dated her co-star Zach Roerig in 2012.
She is currently married to her husband, Joe King, as of October 18, 2014.
She originally auditioned for the role of Elena before getting the role of Caroline.
Candice is a Taurus.
Candice is 5'8" and is the tallest female on the show.
She is best friends with Kayla Ewell and Kat Graham.
Her trademark are her big, blue, expressive eyes.
Close friends with her Vampire Diaries co-stars Nina Dobrev, Kat Graham, Kayla Ewell, Paul Wesley, Ian Somerhalder, Joseph Morgan, Claire Holt and  Michael Trevino.
Her mother is named Carolyn, which is a form of Caroline, the name of Accola's character in The Vampire Diaries.
Candice's natural hair is blonde but she had dyed it red to get more noticed in LA for her music career. She dyed it back to blonde before she auditioned for The Vampire Diaries. Interestingly the Caroline from the books is a red-head. [13]
Candice Accola along with Rick Worthy, Lauren Cohan, Nathaniel Buzolic, Sebastian Roché, Grace Phipps and Sara Canning appeared in Supernatural.
Ironically, Candice got married to Joe King in New Orleans.
Her husband, Joe, has already two daughters from his first marriage.
Candice is Team Delena
Gallery