Birthplace
Houston, Texas, U.S.
Birth date
May 13, 1987 (age 26)
Occupation
Actress/Singer
"
I feel like it's paralleled my own evolution in the sense that this role opened up a whole new world of opportunities and was quite a challenge. It's been a blast though! Caroline became such a strong character this year and yet she's still vulnerable and makes mistakes. But she always picks herself up. I've adored the woman she's become this season.
"

— Candice Accola
Candice Rene Accola (born May 13, 1987) is an American actress, singer and songwriter who plays Caroline Forbes on the TV show The Vampire Diaries.
Biography
Edit
Candice Rene Accola was born on May 13, 1987 in Houston, Texas, U.S.A. She is an actress, singer, and songwriter. Accola was born in Houston, Texas but she grew up in Edgewood, Florida and attended Lake Highland Preparatory School. Her father, Kevin, is a cardiothoracic surgeon and her mother, Carolyn, was formerly an environmental engineer before becoming a homemaker. Both her parents are active members of the local Republican political party. She has one younger brother. She provided back up vocals for Hannah Montana: The Movie, as well as touring with the "Miley Cyrus/Hannah Montana Best of Both Worlds" tour in 2008. An accomplished singer and songwriter since the age of 14, Candice Accola achieved success in her music career after she was signed to a record deal at the age of 16. Candice Accola's music has garnered international success, and she continues to record and write her own music. Candice has guest starred on various television shows, such as How I Met Your Mother, Supernatural, Greek, and the most recent, Drop Dead Diva. Her film credits include Pirate Camp, Juno, On The Doll, X's & O's, Deadgirl, The Truth About Angels and Kingshighway. Candice Accola currently stars as Caroline Forbes on the hit CW television show, The Vampire Diaries, and resides in Georgia.
Lyme Disease Awareness 
If you are following Candice on Twitter, it's likely that you've seen her many mentions of the disease called the Lyme disease. Candice and other individuals (including TVD's Kayla Ewell and Katerina Graham) are participating in the fight to raise awareness regarding Lyme Disease, a disease that many people suffer from and that many people are uneducated about.
Filmography
Edit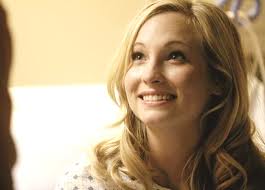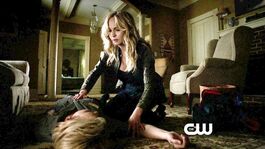 | Year | TV/Movie | Role |
| --- | --- | --- |
| 2007 | Pirate Camp | |
| | How I Met Your Mother | |
| | Juno | |
| | On the Doll | |
| | X's & O's | |
| 2008 | Deadgirl  | |
| 2009 | Supernatural  | |
| | Greek | |
| | Hannah Montana: The Movie | |
| | Vampire Diaries | Caroline Forbes |
| | Kingshighway | |
| 2010 | Drop Dead Diva | |
| 2011 | The Truth About Angels | |
| 2012 | Dating Rules From My Future Self  | |
In addition to her acting, Accola is also a singer. Her debut album, It's Always The  Innocent Ones was released independently  in the US in December 2006  with little success. The album released in Japan three years later, where she became a huge hit. She has yet to record a follow up album. However, Candice has also been featured singing a cover of The Bangles hit Eternal Flame on The Vampire Diaries
Discography
Edit
It's Always The Innocent Ones
Our Break Up Song
Some Girls
Mercy of Love
Voices Carry
Welcome to the Real World
Started
Sweet Jealousy
Why Don't You Stay
Yesterday Is Gone
Wrong to Be in Love
Perfect Tragedy
Hard to Say Goodbye
Drink to my freedom
External links
Edit
In The House Guest, she sung Eternal Flame by The Bangles with S.O.Stereo.
She has a star tattoo on her right foot and a bird tattoo on her left wrist.
She is friends with Tyler Hoechlin (Derek from Teen Wolf).
She dated her co-star Steven R.McQueen, who plays Jeremy Gilbert, from June 2011 to October 2011.
She dated her co-star Zach Roerig, who plays Matt Donovan in 2012.
She is currently dating guitarist Joe King.
She originally auditioned for the role of Elena before getting the role of Caroline.
Candice is a Taurus.
Candice is 5'8" and is the tallest female on the show.
She is best friends with Nina Dobrev.
Her trademark are her big, blue, expressive eyes.
Close friends with her Vampire Diaries co-stars Nina Dobrev, Katerina Graham, Paul Wesley, Ian Somerhalder and Michael Trevino.
Music Gallery
Edit