This article is about Bonnie Bennett, a character from the TV series. You may be looking for Bonnie McCullough, a character from the novel series.
Bonnie Bennett
Biographical information
Born
Status
Occupation
Titles
Species
Gender
Family information
Family Members

Qetsiyah † (Distant Maternal Ancestor)
Qetsiyah's Child/Niece or Nephew(s) † (Distant Maternal Ancestor)
Qetsiyah's Relatives † (Distant Maternal Ancestors)
The Witch of The Five † (Maternal Ancestor)
Ayana † (Maternal Ancestor)
Ayana's Child † (Maternal Ancestor)
Emily Bennett † (Maternal Ancestor)
Emily Bennett's Unnamed Brother † (Maternal Ancestor)
Emily Bennett's Unnamed Children † (Maternal Ancestors)
Sheila Bennett † (Maternal Grandmother)
Unnamed Maternal Grandfather †
Sheila's Unnamed Sibling (Maternal Great Aunt Or Uncle)
Abby Bennett Wilson (Mother)
Amelia Bennett † (Maternal Great Grandmother)
Ernestine Bennett † (Maternal Ancestor)
Marie Bennett † (Maternal Ancestor)
Pauline Bennett † (Maternal Ancestor)
Joanna Bennett (Distant Maternal Aunt)
Lucy Bennett (Distant Maternal Cousin)
Rudy Hopkins † (Father)
Rudy's Unnamed Family (Paternal Relatives)
Jamie (Adoptive Maternal Half-Brother)

Supernatural information
Significant spells
Significant kills
Cause of death
Killed by
Physical Appearance
Height
Hair color
Eye color
Appearance
Played by
Episode Count

113 (including 1 voice footage episode)

First seen
Last seen
.
Bonnie Sheila Bennett is a powerful witch and one of the main female characters of The Vampire Diaries. She was, until recently, the Anchor to The Other Side. While she filled the role of counselor and confidante to all of her friends, Bonnie is also a feisty, yet empathetic witch, who discovered her powers just in time to help out her family and friends. At the beginning before Bonnie discovered her true heritage as a witch, Bonnie had self described herself as a psychic.
She is best friends with Caroline Forbes, Elena Gilbert, Matt Donovan, Damon Salvatore, and her ex-boyfriend, Jeremy Gilbert. She has known Caroline, Elena, Tyler and Matt since childhood. She is also close friends with Stefan Salvatore and Tyler Lockwood.
Bonnie is noted for having many heroine tendencies. She is seen to be very compassionate, empathetic, helpful, very selfless (to the point of martyrdom) and self-sacrificing. Bonnie is repeatedly ready to sacrifice herself for her family and friends without any hesitation or without a second thought. As her powers have increased, Bonnie stepped up at every opportunity to trade her life for those of her friends. Luckily, when Bonnie was alive and well, her spell-casting abilities most definitely came in handy when the Originals came to Mystic Falls.
Since gaining the power of Expression, which is considered to be a form of Dark Magic, later on in the series, Bonnie had become one of the most powerful characters in the series universe. She was able to take down two members of the Original family with much ease. Bonnie was also powerful and strong enough to take down the very first immortal being in the world, Silas.
Bonnie attempted to use spirit, Expression, and dark magic all at once to bring Jeremy back from the dead. Her Grams warned her that no magic was strong enough to challenge the will of Nature, but Bonnie refused to listen. It was too much for her and while she managed to bring Jeremy back it killed her in the process.
Qetsiyah, her very ancient and powerful ancestor, transferred the status of Anchor to the Other Side from Amara to Bonnie, allowing her to exist on both sides of the living and the dead. However, Bonnie was forced to feel the pain of every supernatural death, and no longer had access to the powerful magic she once had.
After Markos violently tore his way out of The Other Side with the help of The Travelers, it began falling apart as his unnatural resurrection unbalanced it. The blood of the last living doppelgängers of Silas and Amara (Stefan and Elena) used in the spell also reversed the magic that was holding the Other Side together, which then began imploding on itself. This threatened Bonnie with permanent death seeing as she was The Anchor to this supernatural purgatory.
Despite great effort on both her and her friend's part to save the Other Side, it finally destroyed itself completely, and with it, Bonnie, together with Damon, also died together on the same day. Both of them were the last people left on the Other Side as it fell down around them. Bonnie spent her last moments with him and finally, their deaths were marked by a white light that surrounded and engulfed them.
Bonnie and Damon found themselves living through the same day, the day of May 10, 1994, for the past four months. Though Damon retained his vampiric abilities, Bonnie wasn't able to do magic in this unknown dimension that they were trapped in. Certain clues began to arise that suggested that the two were not alone, which culminated in the appearance of Kai, a very powerful witch who was a member of the Gemini Coven and was imprisoned back in 1994, for the heinous crimes that he committed against his own family. When Kai was about to kill Damon by attempting to stake him, Bonnie arrived just in time and regained her magic at the prospect of losing the only friend, companion and loved one she had with her, entrapping Kai within walls of fire and giving Damon the opening to take Kai down himself. Upon capturing Kai, he revealed that Bonnie's magic is the key to escaping wherever the three have found themselves in.
Later on, Bonnie and Damon gain the key to what they need to get back home, which is an artifact that is called the Ascendant. Bonnie and Damon attempt to finally go home and escape the dimension without Kai, however, Kai interferes with Damon and Bonnie's plan to go home. Kai ends up shooting Bonnie in the stomach with an arrow, mortally wounding her. Kai then threatens Damon with an ultimatum: either he takes the Ascendant, goes home and leaves without Bonnie forever or he chooses to save Bonnie, leaving the chances of him and Bonnie going home lost forever. Damon chooses the latter and decides to save a mortally wounded Bonnie with the use of his vampire blood. However, Kai then interferes again and Kai stabs Damon with an arrow. While Damon is distracted with Kai as Kai is holding him down, Damon begs for Bonnie to get out of the dimension herself without him and Kai while she has the chance. However, Bonnie chooses to use her magic to get Kai off of Damon, then throws the Ascendant into Damon's hands, forcing him to go home without her. An upset and distraught Damon ends up looking on at Bonnie in horror at the thought of leaving her behind with Kai. Bonnie sacrifices herself once again and chooses to get Damon back home, saving him from Kai as she is left behind.
As of now, Bonnie has escaped the prison world. At first, she was stuck there with just Kai, who spent his time emotionally, mentally and physically torturing Bonnie. Kai ended up regaining magic through his sister's blade, in which she had hidden her magic all the way back in 1994. And Kai, also ended up getting a Bennett witch's blood after stabbing Bonnie with the same blade, leaving her alone to die, while he escaped the prison world for the first time in 18 years. Bonnie eventually freed herself from the prison world(s) using the power from Qetsiyah's blood/Slias's tombstone. She is most likely much more powerful as a result of trading her magic for Qetsiyah's.
Following her return from the prison world, Bonnie changes drastically and puts herself first, however, she also displays several signs of PTSD, such as being unable to adjust to other people. With time, Bonnie falls back into her old life, but Kai's guilt leads to him trying to apologize to Bonnie, who seeking revenge eventually imprisons Kai in the 1903 Prison World. Following this, Kai frees himself and as revenge for her betrayal, he links Bonnie's life to Elena through a powerful curse, that will keep Elena in a coma as long as Bonnie is alive.
Bonnie is a member of the Bennett Family.
Throughout The Vampire Diaries Series
Bonnie was born on February 5, 1992 to Rudy Hopkins and Abby Bennett in Mystic Falls, Virginia. Some time when Bonnie was a young child, her mother had abandoned her, after taking down the Original Vampire, Mikael and losing all of her powers, in order to protect her best friend Miranda Sommers-Gilbert's adoptive daughter Elena, who is a Petrova doppelgänger needed to break Klaus' Hybrid curse. Because of her mother abandoning her and her father almost never being a part of her life, Bonnie experienced severe parental abandonment. It could be assumed that since her mother abandoned her, that it was her Grams that had raised Bonnie for most of her life. Even though it isn't implied, it appears that her father, Rudy, gave Bonnie Abby's maiden name "Bennett", although the reasons for this are unknown. During Bonnie's early childhood, Bonnie became best friends with both Caroline Forbes and Elena. When Bonnie was nine years old, she lost her favorite teddy, Ms. Cuddles.

In December 22, 2007, Bonnie is fifteen years old and a freshman at Mystic Falls High School and is also helping her town prepare for the Mystic Falls Tree Lighting Ceremony. Bonnie threw a snowball at Elena and also revealed that her father is taking her on a trip and that she'd miss Christmas with her friends, so Elena revealed that she was going to convince her parents to let Bonnie stay for the holidays as they've never spent an holiday apart from each other.

In December 22, 2008, Bonnie is a sophomore at Mystic Falls High School, at this point.

Her maternal grandmother Sheila Bennett at one point tried to explain to Bonnie about her witch heritage, although Bonnie dismissed this because she thought that her grandmother was drunk and before the beginning of the series, she tried to explain to Bonnie about her witch heritage again (even though Bonnie said that she was psychic). Unseen, during the events of Season One and December 22, 2011, by this time Bonnie would have told Elena about her heritage. Bonnie and Elena watched Elizabeth Forbes' speech during the Tree Lighting Ceremony and also Bonnie and her friends did secret Santa and Stefan Salvatore gave Caroline a key-ring snow globe of Mystic Falls, which disappointed her and she also gave Bonnie a gift.
In Pilot, as Bonnie began her junior year at Mystic Falls High School, she, along with every other girl in the school, fell under the charm of Stefan Salvatore; a new, handsome and mysterious student at school. Bonnie also revealed to Elena that she is a descendant of the Salem sorcerers, and that she and her grandmother are supposedly witches. As Bonnie continues to joke about her preternatural powers, during the Back to School Party, Bonnie inexplicably reads Elena's past.

In Family Ties, Bonnie and Caroline arrive at Mystic Grill. Bonnie is worried about Caroline seeing Damon but Caroline assures Bonnie that Damon is safe and that he just has lots of issues with his brother, Stefan. Bonnie encourages Caroline to give away the secret that Damon revealed to her about Stefan. Soon at the Ball Bonnie alone at a table notices a candle being blown out. She relights it just by staring at the candles, but instantly she blows it out. When Carol Lockwood complains about the unlit candles in the uncrowded room and the waiter goes to get the matches from the kitchen, Bonnie amazes herself by lighting one and the one lite candle lighting the unlit candles and the lights with her powers.

In You're Undead To Me, Bonnie is seen at Caroline's house on her bed. As she listens to her,she tries to light a candle. Caroline asks what she's doing with the candle. And Bonnie, as if she woke up from a sleep says "Nothing". Bonnie trying to light candle. She puts the candle down and takes The Bennett Talisman and asks what it is. Caroline explains that Damon was going to give it to her, Bonnie comments "It's ugly" right before Caroline snatches it. Then At school when Stefan comes up to Bonnie and Elena, Bonnie instantly flees saying "Hey you know, I gotta go, be somewhere right now". Afterwards Bonnie attends The Sexy Suds Car Wash. A man arrives with his car, hoping it will get washed, and Tiki comments that they can wash the car, but it will always be a "POS".

Bonnie, angered with Tiki's attitude, makes the hose run with her powers and Tiki gets wet in the process.Tiki later is in charge of the car wash and makes Bonnie sweep the pavement because it has the be dry. Bonnie in anger burns the pavement and the fire travels up along the water and along with the car is set alight, Stefan runs over to Bonnie and shakes her. Bonnie asks what happened and whether she did it or not. When Stefan says yes, Bonnie asks him not to tell anyone. Later, Bonnie arrives at Sheila's house. When Sheila opens the door, Bonnie is crying, and says that she doesn't know what's going on.

In

Haunted

, Bonnie learns more and more about witchcraft from her grandmother,

Sheila

. Sheila talks about the history and how serious witchcraft can be. Halloween is coming, and

Caroline

gives Bonnie a witch Halloween costume.

Bonnie finds The Bennett Talisman and asks if it's the one that Caroline got it from Damon. At the Halloween Party Bonnie is front of a cauldron filled with candies. Damon approaches to her, and asks her where Caroline is. In respond Bonnie warns him to stay away from her. Damon notices the Bennett Talisman Bonnie is wearing and asks where she got it from. He easily figures that Caroline gave it to her, notes that it's his and wants it back. Bonnie says that she's not going to give it, she says she's going to give it to Caroline, and if Caroline feels like giving it to Damon, he can have it. Damon tries to pull it off her neck, but the necklace burns his hand. Bonnie runs away and comes home as soon as possible. And tells Sheila everything. Sheila says that the necklace belonged to one of the most powerful witches in their family, and she shows Bonnie an old picture of a woman who is also wearing same the necklace: Emily Bennett. And also it is revealed that she is Bonnie's great-great-great-great-grandmother.

In 162 Candles, Bonnie decides to pack up at her grandmother's and go home. Knowing that her father doesn't like her to be gone for long. Bonnie tries to give her grandmother, Sheila the necklace back but she says no and that it belongs to Bonnie. It is a talisman that has been passed down from generation to generation and it has found its way back to Bonnie. Bonnie decides her grandmother is right and leaves the necklace on, but just wishes it was a little bit prettier. Bonnie pays an early visit to Elena in her room. She apologizes to Elena for being an absentee friend these past few days. Feeling that she can trust Elena, Bonnie swears her to secrecy and shows some of the things her grandmother taught her. She rips open her feather pillow to Elena's surprise and proceeds to make the feathers fly up into the air. Elena is shocked but happy that Bonnie shared this with her. Back at the Mystic Grill, Caroline spots Bonnie and asks her about the necklace. Bonnie refuses to give it back. When Caroline reaches out to grab the necklace, she gets a shock from the necklace. Bonnie senses that it isn't actually Caroline who wants the necklace but Damon. She tells Caroline to have Damon asked for it back himself. Bonnie walks off, upset.

In History Repeating, Bonnie dreams of her ancestor, Emily asking Bonnie for help. She is scared when she wakes from what she thought was a dream and finds herself at the ruins of the old Fell's Church. She senses that her relative "Emily" keeps trying to tell her something and feels that the necklace has a lot to do with it. Later, at school once again and without luck again, Damon confronts Bonnie about the necklace. She still refuses to hand it over to him.

He tells her that he would not hurt her and in fact, he can help her get rid of Emily. Damon tells Bonnie that the next time she sees Emily, to tell her "a deals a deal". Driving home from school, Bonnie tells Elena that she feels the necklace is causing all of this situation with Emily. Pulling off the road suddenly, Bonnie gets out and throws the necklace far into a deserted field. Elena is shocked but knows that it will make Bonnie feel more relieved. Elena invites Caroline and Bonnie to dinner so that they can try and be friends again. When Bonnie arrives, she tells Caroline that the "necklace" drama is all over and that she threw it in a field.

They decide to do manicures and Caroline goes into Bonnie's bag to get the kit out. Seeing the necklace in the bag, Caroline calls her a liar. Bonnie tries to convince her that she was telling the truth and that the necklace shouldn't be in there. Realizing that she over reacted, Caroline apologized to Bonnie. Suddenly, Caroline has the idea to have a séance to see what "Emily" wants from Bonnie. During the séance, the threesome start to get scared when a breeze blows through and the candles begin to flicker. The candles begin to flicker some more and Bonnie decides it's enough. She throws the Bennett Talisman down by the candles.

A moment later, the necklace is nowhere to be found. Once again, Bonnie and Elena believe that Caroline has taken it. Caroline convinces them that it was not her. Looking for the necklace, Bonnie, Caroline and Elena are about to give up. Soon, Bonnie is surprised to see the necklace laying on the bathroom floor. Bonnie enters the bathroom and suddenly the door shuts after her. Caroline and Elena rush over to help her but they can't seem to open the door. Finally after a struggle, the door opens and Bonnie appears calm and slightly different. Telling them she's fine, Bonnie walks away towards the door. Passing by the mirror, the reflection is not that of Bonnie but of Emily instead. Fearing for Bonnie, Elena yells for Bonnie not to leave. Noticing that Bonnie doesn't even hear her, Elena calls out "Emily" and immediately Bonnie stops. Bonnie/Emily tells Elena that she is going to destroy the necklace and that Damon will never get it back. Having had enough drama, Caroline decides to head on home.

Bonnie/Emily leaves and not knowing what to do, Elena calls Stefan. She tells him what's happened and that Bonnie/Emily is headed to Fell's Church. Overhearing this conversation, Damon rushes to the church.Once at the church, Damon sees Bonnie/Emily and demands that she honor her side of the bargain. Reaching out to grab the necklace, Damon is thrust back against a tree with a wooden stake in his side. Bonnie/Emily steps in a pentacle/pentagram on the ground and it begins to burn.

Luckily for Damon, Stefan shows up just in time to save him. Bonnie/Emily tells Stefan what Damon forgot to mention. Apparently, she would not just be releasing Katherine but she would be releasing the other 26 Vampires locked in there with her. Chanting a spell, Bonnie/Emily throws the necklace into the air and it explodes into a burst of sparks. Devastated and fangs bared, Damon rushes for Bonnie and attacks her. He bites her and nearly kills her. Not knowing any other way, Stefan opens his wrist to allow his blood to flow and had Bonnie drink from him. Immediately, her wounds started to heal. Watching on, Damon tells Stefan that Katherine never compelled him to love her. That they really loved each other. Not knowing what to do anymore, Damon tells Stefan that he will leave town.Seeing that Bonnie is fine, Elena tries to once again convince Stefan that she cares for him and that she wants to be with him. Making her even more upset, Stefan tells her that they can't be together and that he too must leave town. Later at the Gilbert House Elena explains Bonnie everything,from the existence of vampire to Stefan and Damon.

In Bloodlines, Stefan finds Bonnie at the school asks her to help him. Bonnie finally agrees to help him since it involves Elena and she wants to help her friend. The two go sit down and Stefan gives Bonnie Elena's necklace to hold and see if she can find out if Elena is okay or not. Bonnie tries but discovers that her powers are blocked. Feeling scared and not knowing what is going on, Bonnie rushes off to her grandmother's house. There, Bonnie begins to try and find the answer to why she's blocked in books. Sheila arrives at home and tells her that she won't find her answer in a book. She tells Bonnie that she must go to the place where she was scared and face it.

Bonnie heads out to the rubble of the old church and looks around. Soon, she senses that someone else might be there too. Calling out, Bonnie suddenly falls through the ground into a secret chamber. Bonnie tries but fails to get a signal on her phone down in the chamber. She begins to hear something and she puts her head to the wall and soon hears the voices on the other side. Suddenly Stefan is there and he tells her to close her eyes and flies with her to the outside. Opening her eyes, Bonnie is happy to see that it really was Stefan. Bonnie asks Stefan if the people are suffering down there. He tells her that they are no longer suffering and that only blood can bring them back. Seeing that she is scared, Stefan reassures her that it will never happen since Emily destroyed the crystal. Bonnie arrives home safe, happy to see Sheila.

In Unpleasantville, Bored with the dance, Bonnie and Caroline decide to go to the Mystic Grill. Proving to Caroline to go after what you want, Bonnie heads over to Ben to strike up a conversation. The two seem to hit it off and decide on going on a date.

In Children of the Damned, Ben and Bonnie seemed to be enjoying their date together but Bonnie decides to talk to Elena real fast. After a brief few words of encouragement from Elena Bonnie decides to go back out there to Ben and give him a big kiss. Suddenly, during the kiss, Bonnie gets a strange vibe and knows what he truly is. Recovering fast, she talks Ben into staying there longer but that she needs to use the ladies room. Approaching the bathroom, Bonnie is suddenly grabbed by Ben and take away.

In Fool Me Once, Bonnie was found laying by Elena in the bathtub where they got locked up. At the motel, Elena tries to help Bonnie wake up by using a cool towel. Finally Bonnie comes too and is shocked to see Elena there too. Elena explains to Bonnie that Anna wants Bonnie to use her powers to unlock the spell on the tomb. Anna makes arrangements to meet Stefan and tells Ben to use violence if necessary when dealing with Elena and Bonnie.

Once alone, Elena asks Ben for a glass of water. Just before Elena drinks it, Bonnie asks Elena for a sip. Elena hesitatingly gives her the water. Bonnie catches Ben off guard and throws the water at him. Bonnie lights his arm with magic where it's wet by the water.Ben panics and pats the fire off and just makes it in time to catch Elena before she escapes.Bonnie, who was by the door without a choice had to go back in.

He soon recovers but has a little more to deal with when Stefan kicks down the door. Stefan opens the curtains and tells the girls to leave..Back at her grandmother's house, Bonnie and her grandmother Sheila agree to help open the tomb. Thinking this will be the only way to get Damon to leave them all alone. Of course, they will need Damon to bring the Grimoire. Stefan doesn't think that Damon will ever agree to trust them again. Elena steps up and says that she thinks she can get him to.

Bonnie and her grandmother soon begin the ritual of chanting the spell. After a few moments, the tomb opens. Damon grabs Elena and takes her in as leverage. He knows that if he goes in there alone, they would close the tomb again. Anna also arrives to enter the tomb. Bonnie tries to stop her but her grandmother tells her to go on in. Her grandmother explains to Bonnie that the seal has not been broken and that any Vampires entering the tomb will not be allowed back out. Only humans will be allowed out.Bonnie tries to stop Stefan from entering the tomb knowing that he would not be able to come back out. He sees no other choice and proceeds inside to save Elena anyways.

Bonnie pleads with her grandmother to help break the seal. Sheila tells her that she may not be strong enough but with Bonnie's help, maybe it will work. They both proceed to chant the spell.Once outside, Elena turns around to see that Stefan is stuck on the inside due to the spell. Bonnie explains to her what happened and Elena realizes that Stefan risked his freedom to save her. Bonnie continues to chant in hopes of freeing Stefan.They only have a few minutes before it closes again so Elena runs back inside to find Damon and Stefan. Stefan is there trying to convince Damon to leave the tomb. Damon is upset because he knows now that Katherine was never in the tomb.Finally convincing them to leave, Elena, Stefan and Damon escape before the tomb is closed again.

Bonnie and her grandmother finally arrive home exhausted. Bonnie notices that her grandmother seems more than just exhausted. Not wanting to be fussed over, Sheila tells Bonnie she's fine and that she just wants to lie down. Elena soon arrives to check in on them. Bonnie enters her grandmothers room and notices she's not breathing. Racing to the bed, Bonnie begins to cry and tries to get her to wake up. Elena calls 911 but Bonnie knows that her grandmother is dead.

Lost in despair, Bonnie had temporarily left Mystic Falls. During her absence, Bonnie took her ancestor's Grimoire, in order to better herself in the arts of magic and witchcraft. Later during the season, Bonnie returned to Mystic Falls, with a newly distant relationship with Elena and Stefan. Finding Damon and Stefan responsible for Sheila's death, Bonnie has since then, grown a bitter hatred towards vampires.

In Miss Mystic Falls, Bonnie is back, and Elena is overjoyed to see her. Right away though, Elena notices that Bonnie is acting very distant and she does not know why. Outside of school, Elena asks Bonnie why she never took her calls while she was gone and Bonnie tells her that she just wasn't in the mood to talk. Of course when Caroline shows up and embraces Bonnie, Elena hears that Caroline had talked to Bonnie every day on the phone. Since Matt had to work, Bonnie steps in to be Caroline's partner.

Once again, Bonnie gives Elena the cold shoulder. Seeing this, Elena asks Bonnie if they could talk for a minute privately. Bonnie tells her that since the Vampires escaped from the tomb, it means that her grandmother died for nothing. She blames both Stefan and Damon for this. Bonnie tells her that she knows she can't expect Elena to take sides but as long as she's with Stefan, she can no longer be her friend. Later at the event Bonnie gives Stefan an aneurysm to stop him from hurting Amber.

In Isobel, Bonnie is seen sitting in the cafeteria with Caroline discussing about the Founder's Day Parade. Caroline says that everyone around is having a fight, which includes Bonnie and Elena. Bonnie, apologizing, refuses to talk about it. Afterwards when Elena is at the Grill, she sees Bonnie at the door. Bonnie sees that Elena is really upset and fights the urge to go to her. Deciding against it once she sees Stefan behind Elena. Bonnie turns around and leaves without saying a word. Later at the Gilbert House there is a knock on the door, Elena opens the door at home and is surprised to see Bonnie standing there. Seeing how upset she is, Bonnie embraces Elena. Elena fills her in with all that has happened.

Meeting back at school, Bonnie tells Elena that she has been reading Emily's spell book. She also tells her that Jonathan never actually invented these magical devices but that Emily had put spells on them so he thought he had.Bonnie informs her that the device Isobel wants is actually a weapon. It was meant to kill Vampires.At the Salvatore house, Damon, Stefan, Elena and Bonnie discuss how they can save Jeremy. Elena tells them that Bonnie can reverse the spell on the device and then they can hand over the device to Isobel. It would be useless now but Isobel would have no idea. Damon of course doesn't trust Bonnie.

Seeing they have no choice, Bonnie begins the chanting spell. After some flashes of the lights and the fire flickering, Bonnie tells them it has been done.Bonnie and Caroline are down at the Mystic Grill and Caroline is still trying to get Bonnie to tell her why she's upset with Elena. Bonnie finally tells Caroline that she did something really bad. Bonnie tells Caroline that she lied to Elena and told her she did something but she really didn't. Once Elena finds out, Bonnie tells Caroline that Elena will never forgive her.

In Founder's Day, the parade is underway and Bonnie sees Elena and Caroline on the Miss Mystic Falls float. Waving to them until Damon steps in and waves back at Elena. Telling him to go away, Bonnie walks off. Convincing her to listen to him, Damon wants to sincerely thank her for her help in undoing the spell on the device. Seeing he is truly thankful, Bonnie begins to have doubts about not actually doing just that.

Before Damon walks off, he tells her that he owes her one. At the back entrance to the basement, Stefan runs into Bonnie who warns him not to enter. He tells her that he needs to save his brother and doesn't listen to her warning and enters the burning building. Elena tries to also follow but Bonnie stops her. Bonnie begins to chant a spell that makes the flames low, long enough for Stefan to save Damon. Since then Damon and Stefan are alive thanks to her. After everything Stefan approaches Bonnie and tells her how thankful he is that she helped them. She tells him that she did it for Elena. Bonnie tells him that Damon needs to change his ways. She tells him that she knows who she is now and understands her powers. She warns him that if Damon spills one drop of innocent blood, she will kill him.
In The Return, a concerned Bonnie arrives at the Mystic Falls General Hospital, worried about Caroline's condition, after being involved in a fatal car crash. Later that afternoon, after convincing Damon into feeding Caroline his blood, Bonnie pays her respect to the Lockwood Family, after the tragic death of Tyler's father, Richard Lockwood. At the Lockwood's, Bonnie confronts Damon and tells him that if he makes one wrong move, she will take him out.

Proving her power, she uses her abilities and soon Damon is holding his head in pain. Bonnie walks away and bumps into Elena/Katherine to complain about Damon. Touching her arm, Bonnie soon realizes that it is Katherine and not Elena. Once alone, Bonnie calls Elena and verifies that Elena is not yet arrived. Turning around, Bonnie is confronted by Katherine. Using her abilities once again, Bonnie soon discovers that they don't work on Katherine. Katherine reaches for Bonnie's throat and begins to choke her. Using her powers, Bonnie has the doors to the party open. Once exposed, Katherine lets her go and walks away.

In Brave New World, as Bonnie makes preparations for the annual Carnival Fair, she is horrified to discover a newly undead Caroline. Ever since Bonnie becomes a little distant from Caroline. Blaming Damon for what has happened to Caroline, using her powers, Bonnie soon has Damon on the ground clutching his painful head. She than has a river of gasoline heading towards him. Elena watches on in horror as Bonnie sets the gas on fire. She screams for Bonnie to stop when she sees the fire reach Damon. Elena jumps over the fire and shakes Bonnie out of her trance. The fire stops and Damon is okay.

In Bad Moon Rising, at the Mystic Grill, Stefan asks Bonnie to help Caroline out and put a spell on another ring so Caroline could walk in the sun. At first, Bonnie refuses because she saw Caroline kill a man and is afraid she will do it again. Soon, Stefan convinces her to help out. Later, in Caroline's room, Bonnie prepares to put a spell on the Lapis Lazuli ring. Caroline complains that the ring is ugly and Bonnie almost refuses to help again. Caroline keeps her mouth shut and Bonnie proceeds to place a spell on the ring.

In Plan B, at the Lockwood's, everyone is volunteering to help set up for the Lockwood's annual masquerade ball. Elena sees Bonnie and approaches her. Bonnie is upset that Elena has chosen to take Caroline's side instead of hers. Bonnie is having a difficult time letting Caroline back into her since she is now a Vampire. Elena pulls Bonnie aside to talk more privately about exactly what's been going on with Katherine and Caroline. Elena hopes that maybe now Bonnie can try and give Caroline another chance and be her friend. On his way to leave, Mason accidentally bumps into Bonnie.

Stefan immediately sees that Bonnie senses something. Questioning her, he finds out that she saw Mason kissing Elena. Stefan realizes that it was Katherine and not Elena Bonnie saw. Later, Stefan and Damon bring Bonnie off to the side to try and get her to help them with Mason. At first she refuses but finding out that it will in the end protect Elena, Bonnie agrees. A moment later, Bonnie tries to appear as though she is having trouble getting a table down from a truck so that Mason will come over to help.

Once Mason is next to her, Bonnie uses her abilities and soon Mason is grabbing his head in pain. Damon and Stefan step in to help put him into the truck and they drive off.Back at the Salvatore house, Bonnie reluctantly helps Damon tie up Mason. Bonnie begins to lay her hands on his head and try to read his thoughts. She soon discovers that the Moonstone is hidden in a well on the Lockwood property. On her way out, Bonnie bumps into Caroline. Not knowing what to say, Bonnie prepares to leave but seeing Caroline's face, Bonnie decides to invite with her to look for the well.

In Masquerade, Bonnie shows up at the Salvatore house to help out with trapping and destroying Katherine. Bonnie also sees Alaric and Jeremy there and they all begin to plot out a plan to kill Katherine and rid Mystic Falls of her once and for all.Bonnie and Jeremy arrive at the Lockwood mansion and find an empty room to set up for the trap. Bonnie proceeds to put an isolation spell on the room. Once done, they both head out to the party. Walking around the party with Jeremy, Bonnie begins to have a strange feeling.

Not being able to shake it, she follows her senses and comes across Lucy. Bonnie asks Lucy if they know each other and Lucy tells her that she knows no one at the party and walks off. Outside, Elena is in severe pain and Bonnie decides she can help out by putting a spell on her that takes away the pain. Discovering that there is another Witch, Bonnie has Jeremy watch over Elena while she runs off to discover who it is.

Bonnie finally finds Lucy and confronts her about what she's doing there. Lucy tells her that she owed Katherine and had to help her. Bonnie tries to convince Lucy to break the spell but Lucy tells her she can't unless they hand over the moonstone. Grabbing her arms to stop her, Bonnie instantly feels a connection to Lucy. Sensing the same strange feeling, Lucy tells Bonnie that she can trust her. Bonnie hands over the moonstone. Before Lucy leaves the party, Bonnie stops her to try and figure out who she is. Lucy tells her that they are related and are cousins. Lucy thanks Bonnie for giving her a wake-up call and that she no longer wants to mess with Vampires. Bonnie tries to tell Lucy that she too doesn't want to be in the middle of Vampire drama. Lucy tells Bonnie that she is a good witch and that in the middle is exactly where she belongs. In this episode Jeremy and Bonnie's relationship gets deeper.

In Rose, Stefan approaches Bonnie about trying to remove the curse on the tomb so that they can get Katherine's help. Bonnie tells Stefan that there is no way she could do it. Bonnie does however have another idea that might work. Using Alaric's empty classroom, Bonnie uses a drop of Jeremy's blood, Bonnie begins the spell and soon she has the exact location where Elena is. Bonnie nose begins to bleed but she tries to hide it. After Stefan and Damon take off to find Elena, Bonnie and Jeremy wait together in his room.

Feeling helpless, Bonnie remembers a spell she learned that might help Elena. Asking Jeremy for a hair from Elena's hair brush, Bonnie begins another spell. She begins by writing a message on a piece of paper and proceeds with the spell. After a moment, Jeremy starts to see that Bonnie's nose is bleeding. He tries to stop her but suddenly she passes out. Bringing Bonnie a glass of water after she wakes up, Jeremy questions her about what had happened. Bonnie tells him that witches too have a weakness. If they use too much witchcraft, the magic will push back. She makes him promise not to ever share that information with anyone. If someone knows her weakness, she can be in serious trouble. Bonnie opens up and tells Jeremy that she feels all alone and he admits that he feels the same way.

In Katerina, Bonnie gets out of her car and accidentally drops her books. Jeremy shows up and gives her a hand. Bonnie is shocked next when he asks her to join him later at the Mystic Grill. Hesitant at first, Bonnie soon says yes. Walking towards the school, Bonnie and Jeremy bumped into a new kid looking for the office. He introduces himself as Luka and seems to be only interested in Bonnie. Jeremy heads off with Luca to show him the office while Bonnie looks on.In the Mystic Grill, Bonnie runs into Luka and his father Jonas Martin.

They invite her to sit with them and seeing that Jeremy had not arrived yet, Bonnie sits down. Bonnie finds out that they just moved there from Louisiana. Jonas tells Bonnie that he knew some Bennetts in Salem and asks her if she is related? Bonnie tells him yes but before she can say anymore, Jeremy arrives and they head over to the pool tables. Bonnie and Jeremy are enjoying a game of pool when Luka once again joins them. Soon Luka joins Bonnie at her table while Jeremy plays pool. Luka starts by apologizing if his father was being too much of a snoop but that they just needed to be careful. Not understanding what he's talking about, Luka shows her a little trick he can do with the salt. Bonnie asks if he is a witch but he admits he is a warlock.

In The Sacrifice, Bonnie and Luka's friendship seems to grow every day. She opens up and explains to Luka that lately the spells have been too hard on her. Grabbing her hands in his, he shows her how to channel his energy. He explains that together they can be strong. Bonnie agrees to help Damon and Stefan break the spell on the tomb long enough to get them in there to retrieve the moonstone. Jeremy of course is upset because he knows that it will be too much for Bonnie.

Jeremy tries to convince Bonnie that she is not strong enough to carry out this spell. Bonnie of course will not listen. After they have done the spell and have the ashes from Katherine's picture, Bonnie turns her back to retrieve something to put the ashes in. While her back is turned, Jeremy places some of the ashes in his wallet so that he can go to the tomb and grab the moonstone himself. At the tomb, Bonnie channels Luka's energy to try and get Jeremy out but she ends up passing out. Taking matters into his own hands, Stefan races into the tomb and tosses Jeremy out. Now he too is locked in the tomb with Katherine.

In By the Light of the Moon, Elena and Bonnie discuss how to remove the curse from the moonstone. Elena is desperate to help free Stefan from the tomb. Telling her they will figure it out, Bonnie shoves the stone into her purse and walks away. Elena heads on down the stairs but runs into Bonnie. Bonnie can see that Elena is hiding something and demands to know what she is up too. Elena is caught and confronted when as they suspected, she had taken the Moonstone. When Elena attempts to leave the house, she discovers that Bonnie has put a spell on the home that will not allow her to leave.

Bonnie arrives at Luka's to give him back his necklace. After apologizing for using it, Luka allows her to enter. He shows her into a room where she sees old Grimoire's. Luka explains that his father has been collecting them for years. Bonnie asks Luka if he knows how to break a bind between a talisman and a spell. They both begin looking through the old Grimoires to find an answer. Up on a roof top, Luka and Bonnie prepare to break the curse on the moonstone. Placing the moonstone in both of their hands, they begin to chant together. After a few minutes, the moonstone lifts up out of their hands and bursts into tiny sparks.

In Crying Wolf, Bonnie brings a mocha over to Luka at the pool table as a gift to try and smooth things over between them. Little does he know, Bonnie had put a spell on his drink that would knock him out. After a few sips, he is ready to fall over. Jeremy and Caroline are soon there to help him up and back to Caroline's house. Setting up many candles at Caroline's house, Bonnie prepares to try and get information regarding Klaus from Luka.

Resisting at first but soon Luca starts to talk. They soon discover that Elijah promised Luka and his father that if they help him, he will get Luka's sister back from Klaus. After Caroline leaves to bring Luka back to the Mystic Grill, Bonnie decides to tell Jeremy why they shouldn't be together. Not wanting to hear her reasons, Jeremy takes Bonnie's face and begins to kiss her passionately, making her realize that he isn't a little boy or Elena's little brother anymore.

In The Dinner Party, at the Mystic Grill, Jeremy sees Bonnie and joins her at the table. Excited to see her again because of the kiss they shared the night before, Jeremy wants to ask her what she thinks of them being together. Not having a chance though because they are soon joined by Luka. Luka gets in Bonnie's face and demands to know what had happened to him. Pleaded innocence, Bonnie tells him that they had a coffee and played some pool. Luka of course feels differently, considering he woke up in the men's bathroom. Before he has a chance to get too loud, Jeremy steps in and asks him to leave.

Bonnie arrives at Jeremy's to work on some spells. When she walks in, she is shocked to see candles lit everywhere. Figuring out what Jeremy's plan was, Bonnie tells him that until she speaks with Elena, their romantic relationship can go no farther. Understanding, they both settle in for a quiet evening working on her spells. Dr. Martin storms through the Gilbert's front door after a visit from Elijah. With one movement from his hand, he throws Jeremy up at the wall and keeps him there. He then approaches Bonnie and takes her head in his hands and demands to know where Elena is. He also tells her that if anything happens to Luka, she will answer to him. Chanting a spell before letting her go, Dr. Martin leaves. Jeremy races over to Bonnie to check on her. She is crying and tells him that he took her powers away.

In The House Guest, Bonnie along with Caroline and Elena decide to have a girls night. Jenna walks in depressed and they soon convince her to stay and join them. Trying to decide what to do, Caroline tells them about the band playing down at the Mystic Grill and they all decide to head on out. Elena bumps into Bonnie who asks her how she would feel if she started seeing Jeremy. Elena tells Bonnie that Jeremy has had so much pain in his life that he deserves to be happy with someone as amazing as her. Later Bonnie sees Jonas enter the Grill and walks over to him to try and convince him that it wasn't their fault and that she wants to help him get his daughter back.

Dr. Martin doesn't hear her and soon the lights up above start to explode. People begin to scream and leave. Placing his hands on her head, Dr. Martin makes Bonnie collapse. Afterwards Bonnie kneels beside Jonas and attempts to close his eyes. Seconds later, he sits up straight and grabs her head between his hands. Holding her motionless for a minute until Stefan pulls him off and falls to the floor dead this time. Up in his room, Jeremy tries to talk to Bonnie about being in denial about losing her powers. She puts her hands to his chest and soon the lights flicker. Going up to his ear, she whispers that Dr. Martin gave her powers back. He also told her how to kill Klaus.

In Know Thy Enemy, Bonnie works with Jeremy and Damon in order to find the spell they will need to gather the power of the witches killed in the massacre. Damon takes them to the site where the witches were burned. Damon knew where it was because he had tried to save Emily. Inside the house Damon finds that he cannot move. His ring then stops working and he begins to burn. He tells Bonnie to help and she closes her eyes and starts muttering a spell. Bonnie tells him that she doesn't think that the witches like him being there. Stefan and Damon realize that Bonnie is their new secret weapon because neither Isobel nor Katherine knew that Bonnie had her powers back and the power of the massacred witches.

Outside the Witch House Jeremy asks how much power Bonnie can channel. Bonnie closes her eyes and shows how much:Winds blow hard,thunder roars,they sunshine disappears. Bonnie and Jeremy are at Elena's house when Jeremy reads the warning the witches gave to Bonnie and is upset because if Bonnie uses too much power she will die. He asks her how much power she will need to kill an Original and Bonnie tells him that she needs all of it. She tells him that if she dies it was to save Elena, him, and everybody else.

In The Last Dance, Bonnie is at the safe house with Elena, Stefan and Damon. Bonnie goes to the school decade dance with Jeremy. Jeremy confronts Bonnie again on why she wants to kill herself for Elena and they are overheard by Damon. Elena and Bonnie follow who they think is Alaric to help him. When Klaus leads them to an empty hallway Elena finally guesses who Alaric really is. When Bonnie notices that Klaus´s plan is to kill Bonnie by provoking her into using too much energy she and Elena flee and bump into Damon.

Damon tells Elena to find Stefan and then asks Bonnie if she is willing to do what has to be done to kill Klaus. When Stefan and Elena return they find Damon alone and Bonnie fighting with Klaus. After a few striking blows at Klaus Bonnie sinks to the ground and Stefan and Elena can´t find a pulse. Damon cuts in and tells them to leave and that he would take care of the body, since the sheriff shouldn't find out about it. He takes Bonnie to the house, where she had received her power and she wakes up there and Jeremy promises to stay there with her. At the Salvatore House Elena grieves the loss of Bonnie, when Damon tells her, that if they want a chance to win Klaus must believe Bonnie is dead. So he had planned everything with Bonnie.

In The Sun Also Rises, Over at the old witches' house, Jeremy and Bonnie look through the Grimoires to find a way of stopping Elena becoming a vampire. Meanwhile, Elijah Alaric and Stefan arrive to speak to Bonnie. Elijah explains that the sacrifice will happen in stages - the Werewolf will be killed, then the Vampire, and then the Doppelgänger. He says that once Elena dies, the curse will be broken and Klaus will become a Hybrid. However, this will also be when Klaus is weakest and Bonnie will be able to deliver him to the brink of death. Elijah says he will finish the job. Inside, Jeremy reveals that he thinks he's found a spell that might help and decides to ask Stefan to bring Jonathan Gilbert's journals for more information. Alaric appears and asks to speak to Jeremy alone. He explains that Jenna has been taken. Upstairs, Bonnie is willing to kill Klaus now to save Jenna, even though it would mean killing herself. However, Stefan refuses and explains that he has a plan - he will offer himself as the vampire instead.

Later, Bonnie and John explain that they have a spell that could save Elena. John's life for Elena. John explains that in Jonathan Gilbert's time, a woman had a sick baby but bound her life force with the child's. When the child died, the mother's life flowed through her and restored the baby's life. John explains that he will not let Elena become the thing he spent his life protecting her against.

Bonnie casts the spell on John and Damon, Bonnie and Elijah leave for the sacrifice. Jeremy wants to accompany them, but Bonnie kisses him and casts a spell to make him pass out. Meanwhile, Alaric is furious when he discovers that he is unable to leave the house because of another spell Bonnie has performed to keep him safe.Bonnie uses magic against Klaus.

Bonnie then appears where the sacrifice is being held and throws Klaus across the ground. Greta heads over towards them, but Damon breaks her neck. He picks up Elena and pulls the stake out of Stefan's back. Stefan tells him to get Elena out of there and reveals he won't leave until Klaus is dead. Bonnie continues to cast the spell and as Klaus is weakened, Elijah approaches him. He starts to kill him, but Klaus croaks that he did not bury the family at sea - the bodies are safe. He promises to take Elijah to them if he saves him. Bonnie threatens to kill them both if Elijah doesn't slay Klaus, adding that she doesn't care if she dies. However, Elijah apologizes and dashes away before Bonnie could stop him. Bonnie later pays her respect to The Gilbert Family by attending John and Jenna's funeral.

In As I Lay Dying, Stefan and Bonnie go to the Witch House and Bonnie explains that she will try to summon Emily. Bonnie chants a spell and Emily ends up possessing her body and Stefan asks how to heal a Werewolf Bite. Emily refuses to give him an answer, explaining that there is a natural balance to everything and maybe Damon deserves to die. She does hint that there is a cure, though. Suddenly, Bonnie screams and clutches her head. She explains that the Witch'es don't want her there as she is abusing their power. However, she reveals that she heard them saying that Klaus is key to the cure.

Later, Alaric calls Jeremy, who is at the Gone With The Wind screening with Bonnie and Caroline. Jeremy admits that Elena went to see Damon and Alaric warns that he's in bad shape and the cops are after him. He advises Jeremy to get Elena somewhere safe if he finds her. Bonnie tells Jeremy to wait behind, but Jeremy refuses, saying that for once they can't stop him from getting involved. Liz arrives and shoots at Damon, but he rushes off quickly and the bullet hits Jeremy.

Liz is shocked and, at that moment, Caroline and Bonnie arrive. Bonnie points out that Jeremy's ring won't work because he was hurt by a Human, not a supernatural creature. Caroline feeds Jeremy her blood - much to her mother's shock - but it doesn't work. Bonnie realizes that she knows what to do and takes him away with Alaric, who has just arrived. Alaric and Bonnie take Jeremy to the witches' house and Bonnie tries to use the power of the old witches to revive Jeremy. She casts a spell but begins to worry as the other witches are angry at her for returning and don't want to help.

She says there will be consequences, and Alaric tells her to get them to shut up as Jeremy is just a kid. Bonnie continues to cast the spell but her nose begins to bleed and she sobs. She calls to Emily, begging her to help as she loves Jeremy. However, the candles go out. Bonnie sobs as she believes Jeremy is dead for good, but then he wakes up. Bonnie hugs him and thanks Emily for helping. Later, she calls Caroline, who informs Liz that Jeremy is alive.Jeremy returns home and searches on the internet for "back from the dead". Bonnie speaks to him on webcam and he admits that he feels weird, but Bonnie points out that he has just been brought back from the dead and it's bound to feel strange. She jokes that he can thank her "tomorrow and the next day and the next day". They say good night and Alaric appears, explaining that he's going to head off. However, seeing how Jeremy looks, he decides to stay the night. Jeremy thanks him for everything he has done. However, Alaric teases Jeremy by revealing that he overheard Bonnie's suggestion that he thank her "tomorrow and the next day and the next day".
In The Birthday, Bonnie only makes a small appearance. She is seen video chatting with her boyfriend Jeremy in the episode.

In Disturbing Behavior, Caroline shows up on Elena's doorstep and announces that she had brought her a surprise. Suddenly Bonnie appears and gives Elena a big hug. Seeing Jeremy on the stairs, Bonnie goes running into his arms. Hugging her close, Jeremy looks into the mirror behind Bonnie and sees Anna watching them. Later, Caroline tries to help Elena pour her chili into a pot for the party when she lets out a tiny scream of pain. Pulling her necklace from her neck, she sees that it had burnt her skin. Taking the necklace off, Bonnie goes to touch it and it burns her too.

She tells them that there is some kind of magic with the Elena's Necklace. The Founder's party seems to be in full swing when the girls gather to see if Bonnie can figure out what kind of magic is attached to the necklace. Caroline takes this time to question Elena about her relationship with Damon. Hearing Bonnie's intake of breath, Caroline and Elena watch as the necklace floats into the air all on its own. Looking through old spell books, Jeremy and Bonnie try to figure out what to do about the necklace. Suddenly Anna appears and warns Jeremy that the darkness was there. Moments later, the books catch on fire., Chanting and shouting "Sutas Incenda!" Bonnie is able to put out the fire. Later, when they clean the ashes that which were burned Jeremy opens up to Bonnie, telling her about the ghosts.

In The Reckoning, Bonnie is placed under extreme stress, where she must find a way for Klaus' hybrids to live, and not die or turn rabid. Matt and Bonnie figure they need Jeremy's help, as he can contact the dead. Because Jeremy is missing, Matt puts his life on the line to try and get help from his dead sister, Vicki. Bonnie rushes to save drowning Matt, and he relays her the message, that the doppelgänger must be dead for Klaus to create hybrids: an outright lie, as Elena's blood actually creates the hybrids. Bonnie explains to Matt that what he did was too risky and foolish. Matt cuts her off and tells her that he saw Vicki. Telling her that Vicki has a message for her. The message was that as long as Elena was alive, the transition cannot take place and Tyler would die.

In Smells Like Teen Spirit, first day of school and Bonnie, Caroline and Elena reflect on the fact that they were all seniors now and how much their lives had changed.Later,Bonnie is discussing the fact that Jeremy is seeing Anna. Later, it is revealed that Jeremy knows that another witch from the other side is helping Vicki.

Bonnie doesn't like it and heads to Matt's to help him with his "dead" sister. Matt explains what had happened and Bonnie soon finds a spell that might help break the spell and send Vicki back. Bonnie begins to read the spell. Vicki appears and she begs Matt to stop Bonnie. Matt asks Bonnie if the spell is working. Bonnie in respond says that Vicki is here because of him and that he should let Vicki go. Matt says to Vicki goodbye and Vicky vanishes.

In Ghost World, seeing Caroline and Bonnie hanging up lights for the festivities, Damon pulls over and demands Bonnie to figure out a way to send these ghosts back. Reaching down to pick up her book bag, it comes open on her Grimoire. Reading what it opened too, Bonnie discovers that is was a manifestation spell. A spell used to reveal veiled matter which is ghosts.Needing some privacy to perform the spell, Bonnie and Caroline head over to the old mansion where the 100 witches had all died a horrible death.

Soon Bonnie begins to chant the spell and Caroline senses the change in the atmosphere. Bonnie gets a great shock when she suddenly feels and sees her grams holding hand. Looking at Bonnie, Grams tells her to dry her tears because they had some work to do. She explains that when Vickie was sent back, an old witch managed to keep the door open and now any ghosts with unfinished business could come and go. She needs the necklace in order to close the doorway for good.Bonnie later finds out that Jeremy kisses Anna After getting the necklace from Anna to Jeremy from Jeremy to Bonnie is ready to cast the spell in front of a fire.

She throws the necklace into the fire. Just when she is about to begin the spell, Grams appears and they chant the spell together. During the spell the necklace is burned and cracked. After the spell Sheila says that Bonnie is "You are stronger than all of this. I'm so proud of you" and vanishes sadly. Later when Bonnie alone stands in the room the fire that which was still burning flickers a lot. When she goes to see what's wrong, she sees the necklace undamaged.

In Ordinary People, Bonnie helps Alaric and Elena by figuring out the marks and the symbols on the walls in the caves.

In Homecoming, Bonnie is at The Gilbert House still figuring out the marks and the symbols from photos. She suggests not to go to the Homecoming Dance and figure out the symbols, when Elena says that she doesn't have anything to wear. Bonnie refuses to talk about Jeremy, when Elena asks her about it. Later, at the dance when Tyler is about the bite Damon, and when Damon tries to kill Tyler, Bonnie appears giving both of them aneurysms. She takes Tyler down.When Damon recovers and takes the White Oak Stake Bonnie asks what it is.When she gains the knowledge of it she gets into a shock.

In The New Deal, Bonnie slowly approaches the old mansion and walks in. Once inside, she hears the whispers of the ancient witches pulling her towards the cellar. In there, she sees a coffin. Opening up the lid, she sees Klaus's body and wrapped around his fingers is the necklace. Before she has a chance to reach for the necklace, she awakens and discovers she is in her bed. Later, at The Mystic Grill Elena and Bonnie discuss about latest news including her dreams about the Four Coffins. Once again Bonnie finds herself back at the old mansion but this time it's not a dream.

Hearing the whispers of the ancient witches again, she is lured into the cellar. There, she sees she is not alone. Stefan is waiting there for her. She sees the coffins and Stefan tells her that he needs her to put a spell on the coffins so they will disappear. Calling Bonnie, Elena tells her what almost happened to Jeremy. She asks Bonnie if she could use a locator spell and find Stefan. Bonnie agrees to help and tells her where she could find Stefan.Afterwards Bonnie again arrives at the Witch House and discovers about the fact that the fourth coffin is closed with a spell.

In Our Town, Bonnie proceeds on opening the coffin, using different spells but they don't work. At school Elena tells her that Jeremy has been compelled by Damon to leave town and is shocked. Together with Elena and Matt she shows up at Caroline's house to surprise her with a birthday party. After Caroline states she will forever be 17 and is technically dead, they decide to make Caroline a funeral and they go to the cemetery. After Caroline goes with Tyler, Bonnie angry leaves after telling Elena she doesn't want Jeremy to leave town. Before he does so, she comes to say good bye to him.

In The Ties That Bind, Bonnie dreams about the coffin and her mom. She thinks her mom, Abby Bennett can help her open that coffin and tells Elena where the coffins are so she can get her help in finding her mom. With the help of Damon, they find her. She finds out that her mom is raising a guy named Jamie and the reason why she left her. When Abby tells that because of locking Mikael away in the 90's, she's lost her magic, she believes her mom is unable to help her solve the problem.

Later she hears a gunshot, following in her mom making Bonnie unconscious and giving her herbs that take away her magic temporary. It appears one of Klaus's hybrids compelled Jamie to kill himself if they don't tell the location of the coffins. With the help of Abby, Bonnie is still able to warn Damon on time to get one coffin out of the Witch House. Abby also tells her that if Bonnie wishes so, she'll try to get her magic back.

In Bringing Out The Dead, Stefan guides Bonnie and her mother through the caves until they come upon the room where the coffin is being kept. Stefan demands that they work together to try and open the coffin quickly before Klaus discovers them. Looking through her mother's Grimoire, Bonnie tells her there didn't seem to be anything in there to help. She soon comes across a ripped out page and asks her mother about it. Abby tells her that it was the spell she used to bind Mikael into the coffin.

On the next page, she notices a rope with two knots. Abby explains that it means that if 2 witches did it together, it might possibly unlock the coffin. In the cave, Bonnie and her mother try again to chant but it doesn't work. Seeing her mother about ready to give up, Bonnie tells her that she was not opening up herself up enough. Seeing the truth in what her daughter was saying, Abby once again holds her hands and they begin.

Soon the candles flicker and they feel the coffin slightly give way. Bonnie stops and walks out to go call Damon. Hearing a noise, Abby looks at the coffin. Seconds later, the coffin flies open. Stefan and Damon finds an unconscious Stefan and Damon head into the cave to see how Bonnie and her mother were doing. They soon see Bonnie and her mother knocked out. Making sure they were still breathing, they look at the coffin and are shocked to see it was empty.It is later revealed that Esther was in the fourth coffin.

In All My Children, Bonnie tells Elena that Esther had stopped by that morning and asked for her and her mother's help. Further explaining, she tells Elena that Esther wants to channel all of her families power to complete the spell that night during the full moon,meanwhile they try the privacy spell Esther used at the ball by letting Caroline out of the room and see if she can hear with her vampire hearing with the burning sage. Bonnie and her mother Abby meet up with Esther and Finn at the old mansion.

Calling them sisters, she grabs their hands and tells them that tonight they will restore the balance of nature. Seeing Klaus, Elijah and Kol approach the circle for the ritual, Esther tells Bonnie and Abby to leave. Bonnie and Abby enter the mansion for protection. Bonnie tells her mother that they will be safest in the basement. Once in the basement, Bonnie realizes that her mother is no longer behind her. Stefan steps out of the shadows and Damon steps up behind Abby. Stefan tells Bonnie that they have to kill one of them in order to save Elena. Damon grabs Abby and breaks her neck. Showing up at Caroline's home, Elena asks to see Bonnie but Caroline tells her that Bonnie wants to be alone. She is sitting with her mother while she goes through the transformation. Understanding, Elena leaves in tears.

In Break On Through, Bonnie is seen in Abby's house. Caroline tries to help Abby deal with her new status as a vampire. Bonnie is very worried and Caroline tells her Abby needs time to adjust. Bonnie says that she "doesn't know how to help her". Later, she is seen in the kitchen and when Jamie comes in, he said he had a talk with Caroline, which Bonnie answers to by saying that "Caroline lectured him". Jamie tells Bonnie that since Abby's been here for him, he needs to be there for her. A while after when he hugs Abby, her vampire instincts take over and she bites him. Bonnie saves Jaimie by giving her an aneurysm.

When night comes, Abby is very upset and says to Bonnie she should leave before somebody gets hurt. Bonnie says that if Abby leaves again, it'll be more painful, expressing her desire for her mother to stay and make things work. Later in the episode, Elena asks Bonnie to cast a spell to hold Alaric's murderous instincts in. She agrees and hangs up quickly. The next day, Bonnie and Elena have a conversation in the kitchen which starts off with Alaric and ends with Elena apologizing about Abby. Bonnie forgives and hugs her. By the end of the episode, Abby decides to leave even if Caroline tries to convince her to stay.

In The Murder of One, Klaus threatens Jeremy. Klaus abducts Bonnie to force her to cast a spell and undo the linking spell Esther used to bond her children in death. Bonnie tries to stall but he blackmails her by threatening Jeremy's life with the help of his brother Kol. Klaus tells her he will keep hurting her loved ones until she does what he wants. Bonnie reluctantly unlinks The Originals. On her way out of Klaus' mansion, Bonnie sees Damon chained up and, while she seems moved, she chooses to walk away. Once outside, a distraught Bonnie calls Elena. She tells her what she did and says she did not have a choice and hangs up, obviously upset. Bonnie is then seen crying against her car.

In Do Not Go Gentle, Bonnie is seen attending the 1920s Decade Dance with Jamie. Her and Jamie are seen dancing when Jeremy accidentally bumps into Jamie while trying to follow Stefan, Elena, and Damon. Things are awkward between them but it dissipates when Bonnie sees him still wearing the Gilbert ring. She questions him about it but he tells her that he would take it off when Elena stops hanging around vampires. Later on, the two are seen in an empty classroom and Jamie questions her about her circle of friends.

They end up kissing, but were interrupted by Damon who needed Bonnie's help in lifting the spell that Esther placed in order to keep the vampires in the school. In the teacher's lounge, Bonnie attempts to break the spell and Klaus threatens killing Jamie. Stefan intervenes by saying Bonnie cares only about Caroline and Elena and the rest of them she says can go to hell. Klaus releases Jamie and watches over her with Damon as she attempts to do a locator spell to find Elena. Damon says that she is still mad for what happened to Abby and he semi apologizes but says he didn't have a choice. Bonnie counteracts by saying there's always a choice and every choice he makes someone ends up suffering because of them.

After Esther is stabbed by Alaric, Bonnie breaks the spell and Stefan thanks her. She says that she didn't do it for him and walks away. Bonnie is then seen crying with the rest of the group as Alaric decides not to complete his transition into a vampire. Jamie takes her home and Bonnie breaks down in front of him. He stays over and the two of them share a bed when Bonnie has a dream where Esther tells her that the witches need her to finish what she started. After it seems that Alaric has fell asleep, Damon walks out of the tomb to see Bonnie walking towards him. She ignores him and he stops her, asking if she's sleepwalking. She gives him an aneurysm then gives Alaric her blood, completing his transitioning into an Enhanced Original Vampire.

In Before Sunset, Damon helps a bleeding Bonnie into the Gilbert household. Damon tells Stefan that Bonnie fed Alaric her blood in order to complete his transition. Bonnie reveals that the spirits wanted Alaric to turn for some reason. She also reveals that a witch cannot make a true immortal creature and that he has to have a weakness. After Stefan gets a call from Alaric saying that he would kill Elena and Caroline if Klaus doesn't turn himself in, Bonnie tells them that she may be able to desiccate Alaric just as Abby desiccated Mikael. Bonnie is then seen at the Boarding House with Damon as they wait for Abby to arr rive. When she does, Bonnie has a cold attitude towards her because of her recent departure. Abby then tells her that the desiccation spell is dangerous because it taps into the dark magic that comes from within a witch, not from nature which is pure. She also reveals that Bonnie has to stop a human heart in order to stop a vampire's heart.

Bonnie is then seen walking towards the school with Damon and meets Stefan, Jeremy, and Klaus. She then gives them her blood to drink in order to bind them to her. Klaus tries to desiccate Alaric but fails when Alaric overpowers him. Bonnie then tries again, this time she is successful by stopping Klaus' heart and effectively desiccating him. Towards the end of the episode, Bonnie is celebrating along with Jeremy, Elena, Tyler, and Caroline in the Gilbert household at a victory party hosted by Caroline. They celebrate the finality of a Klaus free life.

In The Departed, Damon takes Bonnie to Klaus and she secretly, without anyone knowing, transfers Klaus's spirit into the body of Tyler Lockwood in order to protect her friends and her mother. Telling him: "The spirits don't get to tell me what to do anymore. I am done being pushed around by all of you. I did it because I wanted to."
In Growing Pains, Bonnie searches for a way to turn Elena back to her human state before her transition is complete. She attempts a spell (the same she performed to resurrect Jeremy Gilbert) but it fails. She concocts a plan to travel to the Other Side and bring Elena's spirit back. She proceeds with the spell, though it required the use of dark magic. She finds Elena's spirit but before she could rescue her, Grams interfered and does not allow Bonnie to help Elena.

She stated that Bonnie had crossed the line using dark magic and if she continued on the path, Nature would punish her. Bonnie is later confronted by an angry Klaus (trapped in Tyler's body) who demands she restore his former self, threatening to kill Tyler if she refused. Unfortunately, the spell required Bonnie to tap into dark forces and she was once again confronted by an angered Sheila. However, the Spirits of Nature decided to retaliate but surprisingly punished Sheila instead, leaving Bonnie distraught and guilt-ridden.

In Memorial, Stefan goes to Bonnie to ask her about the wooden bullets Connor used to shoot Tyler with and if she recognizes the writing on the bullets. She informs him that the writing is not magic and tells him she still feels guilty about Sheila and that she hasn't been able to do any spells without reliving what happened. When she loses her power there is someone who can help her.

In The Five, Bonnie and Elena, with Damon, visit Whitmore College, where they meet Professor Shane. Bonnie receives a flyer from Shane to a fraternity murder house party. When the three go to the party, Shane digs up some of her Grams' items. Shane inquires Bonnie on whether she practices like her Grams did. Bonnie replies that she lost control of herself and there were consequences. Shane offers to help Bonnie, only if she's up to it. Later, while Damon and Elena are dancing and feeding off college students, Bonnie enters and is shocked at what she sees. Bonnie and Damon later argue, and Bonnie says, "Is that what you want? Her to be like you?" Damon replies that Elena is already like him and that he can make it fun, unlike his brother.

In The Killer, Shane helps Bonnie get past her guilt and fear. Shane tries hypnotism, but Bonnie says she doesn't think hypnotism would work, as witches are naturally immune to any sort of manipulation. Later, Bonnie and Shane are shown to have their eyes closed, but Bonnie opens them, saying that it isn't working. As it turns out, they have been doing what they were doing for several hours. Shane tries to get Bonnie to light a candle. Bonnie concentrates, but the candle in front on her hasn't been lit. Shane looks around the room and Bonnie sees that all the other candles in the room have been lit.

In We All Go a Little Mad Sometimes, Bonnie is first seen with the Salvatores, talking about Elena. Bonnie says she would help if she could, and that she can ask Shane for help, and that he knows "everything and everything." Bonnie and Damon head to the Mystic Falls High School, and see Shane giving a lecture on artifacts. The two find out from Shane that until a new hunter is awakened and their legacy is passed on, Elena's hallucinations will continue. The two use Jeremy in order to help Elena. Later, Bonnie and Shane are shown together in Shane's office. Bonnie asks Shane how he knows all this stuff and he says that he is Bonnie's biggest ally. Also, when Jeremy completes his mark, she will want to come to him, since he is the only one that can help. it has been seen that Shane has been teaching bad magic to her.

In We'll Always Have Bourbon Street, Bonnie is concerned with Elena, and with Caroline show up for a Girl's Night at the Salvatore Boarding House. Elena and Caroline are up in arms and Bonnie tries to cheer them up with some "magic tea". The girls have fun drinking the Salvatores' expensive Don Perignon, but the night turns sour when Caroline blurts that Elena is sired to Damon. Bonnie informs her friends the kind of magic Shane has been teaching her is called Expression.

In O Come, All Ye Faithful, Bonnie went to the Gilbert Family Lake House with Jeremy and Shane to help Jeremy control his urge to kill vampires and his sister Elena. When Elena and Damon arrived, Jeremy looked at them a bit angrily, but Bonnie comes from behind him and tells him it's okay, and takes him inside. Bonnie was left in shock when Elena was invited in by Jeremy, but than almost killed by him. Later, Shane was helping Jeremy to not want to kill Elena, and Bonnie was with them. When Elena tried to tell Jeremy about the nice things they had, Jeremy looked at Bonnie and she smiled at him, but he said he wanted to kill Elena. Later, Bonnie went to tell Jeremy that Shane wanted to try again, but Damon said that he needed to find someone he can attach his warm and fuzzy feelings on, and Jeremy chose Bonnie. She was later seen when Caroline called her to ask her if the plan to put Klaus' in Rebekah's body would work, and she said that it should. She told Caroline that Elena was there with Damon, leaving her shocked and she hung up on Bonnie.

After Bonnie was helping Jeremy, she went with him to talk to Elena, and she told Elena not to move, despite Jeremy having a wooden weapon in his arm, which he later gave to Damon. Jeremy hugged Elena, meaning that Bonnie was successful with her help. She was later seen with Jeremy and Elena seeing the Christmas decorations that Elena and Jeremy used to have. Finally, as she is about to leave the lake house, Bonnie hugs Jeremy. Jeremy embraces her back and closes her eyes as he holds her. Jeremy and Bonnie pull apart and Jeremy smiles at her. Bonnie gets in the car and Jeremy closes the door for her.

In After School Special, Bonnie is first seen at the Mystic Falls High School where a gathering is being held in honor of Carol Lockwood, who had been killed last episode. Bonnie's father, Rudy Hopkins is Mystic Falls' new mayor and he makes it his priority to protect Bonnie and the town. Bonnie, angry with her father, vents out her frustration to Shane, who gives her Qetsiyah's Talisman as a gift. When Bonnie leaves Shane's office, she saw Kol approaching his office. It takes her a moment to realize who Kol is, and she runs back to Shane's office, only to find that he had abducted Shane.

Bonnie rushes to the Mystic Falls High School and finds April in one of the science classroom. April is surprised and asks Bonnie how did she know everyone (that being Elena, Stefan and Caroline, who are trapped in the library with Rebekah) was here. Bonnie says that she came to find Shane and April reveals to Bonnie that she knows she is a witch, much to her shock. Bonnie does not know what is going and April tells her that Rebekah and Kol have Shane. This makes Bonnie cast a protection spell on Shane, knowing that he could now be compelled. However, Bonnie accidentally links April to Shane and while Shane is being tortured by Kol and April is able to feel Shane being pushed underwater by Kol and having a pipe shoved into his stomach. Bonnie pleads for someone to help and that is when Stefan and Elena enter. Stefan feeds April his blood and instructs Bonnie to get April out of the school and to safety.

Later, Shane is at his office safe and sound, and Bonnie is furious, telling Shane that she can't do black magic anymore, as she almost had April killed. Shane proceeds to tell her that Expression is not black magic and it's up to her to determine whether it is good or bad. He tells Bonnie that she is the key to everything and he will not let anything bad happen to her.

In Catch Me If You Can, Shane is teaching Bonnie how to control all of her power until they are interrupted by Sheriff Forbes, who arrests Shane for connection with the death of the Town Council. Bonnie asks what is going on and Sheriff Forbes tells Bonnie to talk to her father about it. At the police station, as Shane is being questioned by Sheriff Forbes, Bonnie asks her father why he had Shane arrested and he tells her that Shane is responsible for manipulating Pastor Young to kill him and eleven other people. Bonnie asks her father for a few moments alone with Shane, which he accepts. Shane then admits to Bonnie to orchestrating the explosion at the Young residence.

Bonnie questions Shane on how he got the pastor to massacre eleven people and Shane tells her that it wasn't a massacre, but a ritual to resurrect Silas and that he would bring them all back anyway. Bonnie says that Shane is crazy, but Shane offers Bonnie something that she just cannot refuse: information on her Grams and if she would like to see her again. Shane starts to minimize Bonnie and she starts using Expression on him. Rudy tried to intervene, but Bonnie created a wall of fire to prevent her father from coming any closer. Shane convinces her to calm down, but Shane tells Rudy that Bonnie is a "ticking time bomb" and only he can help her. He also said that with his help, Bonnie could go on to become the most powerful witch in the world.

At the Mystic Grill, Rudy and Bonnie talk and he tells his daughter how she lost control of her powers and she needed help. Bonnie insisted that she didn't need help, but Rudy said that the fact that she thinks she didn't need help only meant that she needed help even more.

In A View To A Kill, Bonnie is in charge of setting up the school's 1980s Decade Dance, when she is called by Elena. Elena tells Bonnie that she has a plan: to have Jeremy kill Kol, who had been causing all kinds of trouble for Jeremy and Klaus and Damon, whom he had under his compulsion. Elena said that if they killed Kol, Damon would be free of his compulsion and Jeremy would have his Hunter's Mark complete.

Bonnie finds out that moments later, her father had put vervain in the water system and not only that, but cancels the Decade Dance. He orders Bonnie to come home for a family meeting. As she leaves, Bonnie has a frightening encounter with Kol, who wants to kill her, knowing that if she is dead, no one would be able to get to the Cure. Bonnie, however, uses Expression on him, causing balloons to pop and lockers to open, leaving Bonnie for a chance to escape.

Later, Bonnie is at her house and Jeremy enters, telling her that Kol is in their house and they need her help. When Rudy says that she can't leave, she breaks a lamp and tells her father to stop telling her what to do. She tries walking out the door, but Abby blocks the way, saying that no one is going anywhere.

Bonnie is shocked by her mother's arrival and Abby asks Bonnie who is Professor Shane and what has he been teaching her. Jeremy tells Bonnie that they don't have time for this and Rudy replies by saying that this is a family matter. Jeremy tells Bonnie's parents that his sister is in trouble and they need Bonnie's help, but Abby says that her daughter is done with helping Elena Gilbert. Jeremy tries to attack Abby, and Bonnie tells him not to and to leave. She promises Jeremy that she will be right behind him. When he leaves, Bonnie looks at her parents and says, "You wanna talk? Let's talk."

The Bennetts are talking and Abby tells her daughter that she had warned her about dark magic before. Bonnie replies that Expression isn't dark magic and she reveals that she needs it. Bonnie tells Abby that they found a Cure, which could be used to save her and that she can do the spell to access it. Bonnie tries to leave, but Abby drugs her and tries to contact some witches to wipe Bonnie's mind of the things Shane taught her, when she suddenly wakes up and uses her powers on Abby. She exclaims that she no longer belongs to the spirits, but to herself and she leaves the house to save Elena and Jeremy.

Bonnie arrives after they have just killed Kol and Klaus is there, telling the Gilbert siblings how he would have killed them all once the Cure was found and that he doesn't care about his hybrids. Bonnie uses Expression on Klaus and orders Jeremy to invite Klaus in, which he does. Bonnie traps Klaus in the Gilbert living room and they are safe, until the spell wears off in 3 to 4 days.

Finally, Bonnie is with Elena and Jeremy at the Salvatore Boarding House. Jeremy is wondering why his mark isn't growing and Bonnie says that it will take time for Kol's line to die. Damon appears, free of his compulsion as Kol is killed and Stefan arrives with Silas' headstone. Moments later, Jeremy's mark grows, allowing everyone to see it.

In Into the Wild, Bonnie arrives at the island where Shane claims that the Cure is along with Stefan, Elena, Damon, Jeremy, and Rebekah. Bonnie takes pictures of Jeremy's tattoo which also tells the story of Silas and Qetsiyah, who was in love with him. Qetsiyah made Silas immortal and when she found out he made his lover immortal and not her, she freaked and killed his lover. Then she buried Silas and made the Cure for immortality, which she buried with Silas in hopes he would take it and die.

Bonnie comes to Shane and tells him that she doesn't see a spell in Jeremy's tattoos, after studying them. He tells her that he will help her access Expression once she needs it and that he needs her to stay in control.

That is when he tells Bonnie that his wife was a witch, who died trying to use Expression.

This angers Bonnie and she yells at him, "You taught me the same magic that killed your wife!" Shane says that the upside is that he knows the warning signs and can keep it from consuming her. Damon has entered Shane's tent at the point and states the obvious: "The downside is you turned her into a time bomb that only you can dismantle." Shane tells Damon that he knows once they find the Cure, he will try and kill him, but Bonnie has to keep him alive so that she can stay alive.

Sometime later, during the night, Jeremy is abducted by a strange man, leading Bonnie to do a locator spell to find him. She lights a fire and she follows its trail into the woods, the wind blowing around her, hearing voices as well. Bonnie later finds Shane, with Silas' headstone, which he stole earlier, and Jeremy bound a gagged. He introduces Bonnie to Massak and that if she tries to escape, he will ensure that she never find her way back. He says to the three, "So the gang's all here. Silas awaits."

In Down the Rabbit Hole, Bonnie, Jeremy and Shane arrive at the well where Shane claims Silas is. Massak claims that he will not go any farther and Shane gives him Silas' Headstone, which is not actually needed to open Silas' tomb, just to pay Massak with. They proceed their journey into the well where Bonnie promises Jeremy that she won't let Shane raise Silas and she will kill him if he tries to hurt anyone. Bonnie begins a spell which "vacuums" up Jeremy's Hunter's Mark (meanwhile, another hunter of the Five, Galen Vaughn, has his own tattoo disappear as well). She successfully opens up the passageway, also causing a cave in, which causes Shane to break his leg. When he asks Bonnie and Jeremy to help him, they refuse, and advance into the passageway.

Suddenly, Sheila Bennett appears and tells her granddaughter that they have to raise Silas and feed him so that she can be brought back. Jeremy realizes that it isn't her Grams at all and tells her that it isn't real; that it is Silas and he is getting inside her head. Later, the two find Silas, frozen in a vampire state. Bonnie says that in order to get the Cure, Silas has to be fed their blood, as it is in his grip. That is when Vaughn appears and stabs Bonnie, where she falls onto the cave floor.

Katherine Pierce suddenly arrives (disguised as Elena, who she attacked earlier) and saves Jeremy from Vaughn, who was about to kill him. "Elena" is actually revealed to be Katherine when she calls Jeremy a brat for insisting that she save Bonnie first before getting the Cure. Katherine slits Jeremy's wrist open and feeds him to Silas, who grabs Jeremy, giving Katherine an opening to grab the Cure, and with that, she takes off. Silas then snaps Jeremy's neck and Bonnie watches from the cavern floor, unable to do anything, as she is dying.

In Stand By Me, Bonnie awakens in the forest and realized that her wound has healed. Shane/Silas came up and told her that he found a few revival herbs nearby to heal her. Bonnie asked him how he is healed and came to know that it was Silas who fixed his broken leg. Shane mentions Jeremy's death and that he was there when Silas awoke and, in order to gain strength he needed to feed on Jeremy.

Bonnie is emotionally devastated at the news of his death and was angry at Shane. Overwhelmed with emotion, Bonnie shows lack of control over Expression when she makes the fire grow. Shane/Silas then tells Bonnie that Silas can help her bring back Jeremy.

Silas/Shane also explains that three massacres are needed in order to complete the Expression triangle and another 12 people have to be sacrificed. Bonnie, who abhors the idea of killing 12 more innocent people ran away before she tripped and fell over an illusion of Jeremy dying and pleading for help. Bonnie attempts to revive him but it doesn't work. Bonnie then agrees to do what Silas wants.

When Bonnie is reunited with Damon on the island, they both return to Mystic Falls where Bonnie explains Silas' plan. Shane/Silas had told her that the Other Side was a purgatory for Supernaturals created by Qetsiyah. She had intended on Silas taking the Cure and ending up on Other Side with her for all eternity. Bonnie told Elena, Caroline, and Matt that she needed to complete the Expression triangle in order to gain enough power to drop the Veil between the living world and the Other Side, causing all supernatural creatures to return; allowing everyone to reunite with everyone that they have ever lost but also the enemies they have killed over the years.

Bonnie was dropped at her home by Matt who insisted she needed to rest. When she was about to open the front door Silas/Shane asked if she told her friends the plan, to which she replies that they are unwilling to help and he tells her they are just afraid. She inquired to Shane/Silas if the 12 people died in Young Farm were humans and aren't supernaturals. Shane/Silas said their sacrifice was necessary and that they found peace and moved on. Silas/Shane said to Bonnie that they are going to work together in this.

In Because the Night, Bonnie is now aware that Shane is in fact Silas, although he won't reveal his true form to her. He manipulates her into attempting a massacre of 12 witches - the final sacrifice necessary to complete the triangle. Silas explains that if witches are channeling one another, the death of one will result in the death of the rest. Bonnie meets with Aja, a witch friend of her mother's who she tricks into believing that she wants to be cleansed of expression. Aja's coven joins them and they begin the process of cleansing Bonnie by linking with one another. Stefan arrives to warn the witches about Bonnie's true intentions, but to his horror Aja prepares to slay Bonnie, fearing that after Silas' intervention she's "lost" to them. Stefan tries to intervene, but Aja gives him a massive headache.

Klaus and Caroline appear, and Klaus said they couldn't stop the witch now because she's linked to the others. Klaus is more than willing to let Bonnie die - but Caroline can't stand for that and rushes forward, stealing the head witch's dagger and turning it on her. Caroline stands back in horror as each witch slowly falls to the ground, dead. Caroline just murdered 12 people and completed the expression triangle - now all Silas needs is the Cure.

When Bonnie wakes up, Stefan's surprised to discover that she remembers nothing since being in the cave, forcing him to tell her once again about Jeremy. Stefan attributed the memory loss to the witches' work on her mind. Your heart sunk when it became clear that Stefan would have to tell her that Jeremy was dead.

In Pictures of You, Bonnie was visiting Jeremy's grave to say goodbye and something better than her last words to him, "We did it." Jeremy appeared and told her to wake up. She'd been dreaming and set the room on fire. Next, Bonnie was with Caroline telling her about her dreams of Jeremy/killing time while shopping for prom dresses. Caroline, Matt, and Bonnie are going together as friends. Elena and Rebekah showed up and Bonnie noticed that there was something different about Elena. At prom, Elena is mean to Bonnie telling her that she was a walking reminder of all the tragedy in her life.

Silas, in the form of Jeremy, shows up and says he needs to help Bonnie before she hurts herself. But Bonnie says Silas just wants to bring down the wall and release all the monsters. Bonnie warned the Salvatores and she was announced Prom Queen as Matt was announced Prom King.

After Bonnie and Matt took their yearbook photos, Rebekah warned Matt that Elena was up to something regarding Bonnie. She could have been a tad more specific, right? Strange. Elena followed Bonnie into a special beaded-off VIP section and prepared to bite her. But Bonnie worked her magic, bringing wind and smashing some lights. She ran out. Bonnie start car alarms in the parking lot and scream at Silas to get out of her head as he awkwardly shouted "Control! Control!" at her. Bonnie succeeded in getting Silas out of her mind, and then Elena swooped in and bit her. But Bonnie's neck healed and Elena projectile-vomited the blood back up. Bonnie rose and started making Elena's bones break. Damon and Stefan stopped her from killing Elena.

The episode's final moment brought us our first look at Silas' real face. Bonnie had sought him out. He was hiding in the dark because Qetsiyah had made sure no woman would love him if he wouldn't love her. She'd disfigured him.

In She's Come Undone, Caroline was trying to call Bonnie, and finally she answered the phone. Caroline asked her if she could come over to help her will turning Elena's humanity back on, but Bonnie said she wasn't going to forgive her that quickly and told her she needed to study for the final exam. Bonnie hangs up as Katherine sits down across from her at the table and picks up a menu. Bonnie told her she needed her help by giving her Silas' tombstone. Bonnie wanted Katherine to help her but at first she refused, but then Bonnie told her that if she helped her she would give her what she always wanted, freedom. Bonnie didn't give her much details in case Silas got in her head and found out about them working together.

Later, Silas kept attacking Caroline and told her that he wanted her to find Bonnie. After he threatened that he would kill her mother, Caroline called

Elizabeth Forbes

and told her to go home and lock the doors and Caroline soon arrived home with her. They were in the living room trying to call Bonnie when she finally arrived. Caroline went to talk to her, and at first she didn't unlock the door since she was afraid that she was Silas. Then Liz walked in behind Caroline, but Bonnie quickly told her that that was not her mother. Bonnie is able to enter with her magic while Caroline went running to help her mother who in reality, was unconscious on the living room floor. Silas told Bonnie that she was wrong thinking that she could hide from him, but Bonnie said that she wasn't. Silas told her that she better not betray him, and she said that she wouldn't, but told him not to hurt her friends. Silas ordered her to leave the house immediately, and she left, and Silas followed behind her.

Bonnie was later seen at the diner again talking to Katherine. She told her that if she helped her, she would talk to Qetsiyah to learn the spell she used to turn Silas truly immortal, and she would do it on her. Katherine told her that they had a deal.

In

The Walking Dead

, Bonnie is sitting in the forest with her legs crossed, when Katherine hears voices and starts to ask Bonnie why they need to be here. Bonnie tells Katherine that if she wants to be truly immortal she needs to drop the Veil and talk to

Qetsiyah

. Then Katherine asks why they are in the forest, and Bonnie explains that they are standing in the expression triangle, and that she needs to channel all of the energy from

Silas' Tombstone

Then Katherine asks her what she wants, to which Bonnie replies that she is going to need help "putting him down." Katherine realizes she is referring to the one person who has been able to do this- Qetsiyah. Bonnie explains that if she can contact her she can ask her how to do it, and that she will need the tombstone to contact her. Katherine then explains that she's not letting Bonnie flood

Mystic Falls

with dead supernatural creatures so that she can ask not one but two favors, and that she's taking her business elsewhere. Katherine intends on leaving but is unable to because Bonnie has linked them and that they are in forced proximity with each other for the day. Bonnie doesn't want Silas getting into Katherine's head and finding out she doesn't need a full moon to drop the veil.

Bonnie and Katherine are walking towards the Lockwood Cellar, and Katherine says to Bonnie that she'll be staying up on land rather than in the cellar, Bonnie says to Katherine "You obviously don't know how this works" and as Bonnie starts to walk down the stairs Katherine is forced to follow, as if an invisible force is pushing her against her will. Once in the cellar Katherine explains that she is a vampire and that she can kill her, Bonnie then says "Whatever happens to me happens to you, do you really think I want you here?" Bonnie then starts to use her magic and the weather goes all hectic, and the power goes out.

Then Bonnie and Katherine are at the Pastor's Ranch and Bonnie says "12 humans died here, they died in vain for Silas", then the lights go out at the farm, and Bonnie tells Katherine that she linked the final 'hotspot', It's time to drop the veil."

Bonnie and Katherine are at the center of the triangle, which is underneath the school. Bonnie tells Katherine that she is

ready and that the stone contains the calcified blood of

Qetsiyah

, one of the strongest witches in the world.

While Bonnie has hold of the rock Qestiyah's blood starts to seep out, then Katherine asks Bonnie whats going on and Bonnie tells Katherine shes channeling the expression triangle. Then all the candles light and Bonnie says to Katherine, "It's done, the veil's down."

Katherine then tells Bonnie to hurry up, Bonnie tells Katherine that she can't reach out to Qetsiyah while Katherine is breaking her concentration every 5 seconds. Katherine then tells Bonnie that she can hear someone coming and that Bonnie needs to unlink her while she stalls then, Bonnie says no so but Katherine asks for some slack which Bonnie gives. While Elena is torturing Katherine, its also hurting Bonnie until Caroline and Stefan come and Caroline tells Bonnie to unlink her. Caroline then asks is Bonnie alright and Bonnie replies "Yes, now that I unlinked her." Caroline then asks what is she doing down here Bonnie then tells Caroline that she is waiting for Qetsiyah. Then Caroline tells Bonnie that she may be waiting a while. Then Caroline disappears and Silas appears and tells Bonnie Qetsiyah isn't coming. Bonnie then says to Silas "But I saw Caroline...How? I thought you couldn't get inside my head." Silas then tells Bonnie that's what he wanted her to think and he could make her see whatever he wanted her to see. Then he asks Bonnie is he really a disfigured monster, Stefan then appears and says "Of course not, a monster is what I wanted you to see.", Stefan then disappears and Caroline appears and says "That's the beauty of all this, you have no idea who I am." Caroline disappears and Stefan appears again and says "Or what I look like. Then Silas appears and says "Or how deep I am inside your head." Stefan appears and says "You thought you were more powerful than me?" Caroline appears and says "I'm stronger than you can imagine, I defeated the hunters curse in minutes You thought that you could betray me? You can't I will always be one step ahead." Bonnie then tells Silas who is posing as Caroline to stay away from her, Silas says "Gladly after you finish the spell, then when the veil is dropped completely the I can take the cure and die, I just want to pass on Bonnie I'll even let you kill me, I'll be out of your life for good" Bonnie replies "But every dead creature will be roaming the earth" Silas says "well if you don't help me, I'll be roaming the earth" Bonnie replies " I was never going to drop the veil". Silas walking towards Bonnie says "I'm curious what was your plan, pow-pow with Qetsiyah, brainstorm ways to put me down , Qetsiyah's not coming she wants me on the other side with her for eternity" Silas then turns into Alaric and says "that sounds familiar, maybe Damon can convince you" "I won't let you" Bonnie says before Silas cuts her of mid-sentence by saying "You won't let me what?" Bonnie then starts to gasp for air as Silas says, "You feel that Bonnie, the air thinning barley enough to breath?"

Bonnie is grasping for air when her grams appears and says "Bonnie, this isn't real Bonnie, feel the air in your lungs break through" Bonnie interrupts her by saying "Silas." "Would Silas try to save your life, now breath child, there" Shelia says. Bonnie gets up to hug Shelia and says "I was so worried about you" Shelia replies by saying "I know, but I'm ok, I've been watching over you". "I messed up, I'm sorry" Bonnie says, "you can still stop Silas" Shelia says encouraging Bonnie, "I can't Qetsiyah was able to immobilize him so he couldn't feed and get into peoples heads, I can't do that I don't know how to do that I don't know how to put him down" Bonnie replied. Sheila tells her, "You can do that, expression is a manifestation of your will, you can do anything, I don't like it but sometimes there are no choices, but you are strong enough, you can do this".

Bonnie walks in on Damon strangling Silas who has taken on the form of Alaric. She says, "I may not be able to kill you but I will stop you." Then Bonnie starts to use magic and Silas starts to find it hard to move as Bonnie says "I will make the blood clot in your veins, I will make ever bone muscle and joint in your body turn to stone, you won't have power over us anymore." Silas starts to walk away but soon can't walk anymore and stops as Damon asks "What the hell is happening" Bonnie replies "He can't hide behind his mind control anymore he's becoming his true self." As Silas stops and turns to stone Damon asks, "Who might his true self be?" Bonnie replies "I guess we'll never know."

"We need to get rid of Silas' body", Bonnie says and Damon replies "Well there's a slight problem their Medusa, even though you turned him into stone, if he gets one more drop of blood hes back to his old mind tricks." Stefan replies "So, lets do what we were going to do to Klaus drop his body in the middle of the ocean."

Bonnie lets Elena and Jeremy know that she'll give them some before she has to put the veil back. Inside the cave, Bonnie is placing candles around as her Grams tells her it is time to put the veil back up. Bonnie reveals that she will put the veil back up after she brings Jeremy back from the dead. Sheila tells Bonnie that Jeremy's death was the will of Nature. Sheila warns her that, "There is no magic in this world strong enough to challenge it." Bonnie tells her that she has every magic, the spirits, expression, and the "darkness". Bonnie then attempts to cast the spell as Sheila warned her to stop. Bonnie then collapsed to the ground. After a while, Bonnie came to and stood up. Sheila eventually touched her shoulder. "I'm sorry, Bonnie. The spell, it was just too much," she said. Bonnie turned to see her body was still on the ground. The episode ends with Bonnie's death.

Graduation finally arrives. We see Bonnie calling Caroline to tell her that she needed to wait until that night to have enough power to raise the veil again. Bonnie suggested they cancel graduation, but Caroline was having none of that. Bonnie wasn't ready to tell anyone that she was dead -- they'd been through so much, she said. Grams just told her to make sure she said her goodbyes before it was too late. When Bonnie went to school, Katherine popped up at the school demanding the immortality that Bonnie promised her, and threatened Elena's life. Bonnie was about to crush her skull but stopped when other students walked in the hallway and Katherine bolted.

Bonnie and Caroline were already there when Matt showed up. Then Elena and Stefan followed. Caroline couldn't believe they'd all made it. Bonnie teared up but still said nothing about her death. She didn't even tell her father, who presented them with their diplomas, the truth. She just thanked him -- for everything. When Bonnie sat down, Kol appeared in the seat behind her. Kol told Bonnie about his army of angry ghosts and no one noticed her sneaking off with him. Kol didn't want the veil to come back up -- he wanted it down so he could live on this side. She took him down to her body, and said that's what she wanted, too -- but you can't always get what you want. She trapped him in that room.

It was time for the veil to go up, so Jeremy wrote Elena a letter before coming to look for Bonnie. He wanted to be with her when she sealed it. He eventually told her there was so much he wanted to say to her but nothing seemed right. She told him not to speak. Instead, they kissed. When the veil was up, Jeremy gasped for air. That's when Bonnie knew: The spell that had killed her had worked. He was alive. He was so happy, until he realized he couldn't feel her hands on his face. Then knew she was dead. She made him promise to tell Caroline and Elena that she was staying with her mother for summer. She told him she'd be okay -- she had Grams, who was there to walk off with her hand-in-hand, and the other witches.
In I Know What You Did Last Summer, Bonnie is a ghost but is still around, keeping an eye on her friends and family. The only ones who can see her are Jeremy and Matt due to their own gifts of being a medium. She has been delaying the knowledge of her death by getting Jeremy to send post cards from "The Grand Canyon" and various letters and emails throughout the summer. The only ones who know that she is dead are Jeremy, Stefan and Silas.

Later at the Mystic Grill, Jeremy senses that something is wrong with Stefan and Bonnie informs Jeremy that the spell she performed on Silas is no longer in place. Jeremy then confronts Damon and tells him that the man who looks like Stefan has to be Silas. At the Mystic Falls' "End of Summer" party, Bonnie is present when Rudy is giving a speech. Silas interrupts and performs mind control on the entire crowd of people after revealing his true identity. Bonnie screams in anguish when Silas slits her father's throat. She rushes to the stage and kneels next to her father's body while Silas demands that the town finds Katherine.

In True Lies, Bonnie tells Jeremy about her dad's death and how she feels about it. She explains the strength of Silas' power about controlling the entire town. She informs him about the fact that he is looking for Katherine and compelled all the town to find her. Later, when Matt dies, his soul temporarily goes to the Other Side and finds Bonnie. She tells him that he is on the Other Side because he died wearing the Gilbert Ring and to go back, Matt has to reconnect to his body. Matt surmises that if he is on the Other Side, how Bonnie is able to see him. She answers with, "There is something you should know..." and informs him of her death and only Jeremy is aware of it. Then Bonnie and Matt find his body. Just before he leaves her, he tells her to tell everyone that she's dead, that her and Jeremy can't keep hiding this. Matt reconnects with his body and Jeremy sees Bonnie. She tells him that she's not ready to be dead yet and that she doesn't know what to do about her dad.

In For Whom the Bell Tolls, Bonnie is watching Jeremy who is working out. She's making jokes about being on the Other Side. Then Matt calls Jeremy because he needs Bonnie's help. Elena and Damon also ask for Bonnie's help about the lost memories of Stefan. Jeremy does not know what to do and if he should continue to lie about Bonnie's death. Bonnie insist he shouldn't tell the others, but Jeremy tells Damon about it, adding that no one can be brought back from the dead without consequences, that Nature found a balance- meaning Bonnie died to bring Jeremy back to life. Damon then tells Elena about her best friend's death. Just before her funeral, Bonnie is watching Elena crying on Damon's shoulder about her death.

In the forest, a memorial is organized for Bonnie. Everyone leaves something for Bonnie, anything that represents their friendship with Bonnie on the Parent Tree. For Caroline, it was cheerleader pompoms, Matt; a whistle, Elena; feathers and Damon; her grimoire. Jeremy tells everyone that Bonnie looked after all of them during the summer. Then she has Jeremy tell a little something to everyone.

To Elena : "The summer of your life... And I saw you happy. And I know you think now that you can't have a normal life, that you have to be here for everyone. But you don't. Everyone will find their way. So you are gonna repack your things. You'll gonna go back to college and you are gonna live it up."

For Matt : "You didn't do anything wrong, Matt. You know I would send you 300 e-mails back if I could. I miss you."

And for Caroline : "I watched you decorate that dorm room like your life depends on it. And I know that college isn't everything you expected. But you fell like if something missing... Tyler..."

Tyler shows up and puts a white rose on the Parent Tree. Bonnie tells Jeremy that it is what she needed, that she is now ready to be dead. Her memorial was what everyone needed to accept her death, including her.

In Monster's Ball, Bonnie is watching over Elena at college and she tells Elena she misses her too. Later on Bonnie is listening conversation between Jeremy and Damon. She thinks that Silas wants to destroy the Other Side. She says that the spell that was used to made the Other Side is probably bound to something very powerful, because it still exists. Although she disagrees with using Silas' dead to bring her back to life, Jeremy says she is in. After that she and Jeremy are fighting about working with Silas to bring her, because Silas is dangerous. Jeremy tells her that being able to see her and hear her is not enough anymore. He also tells her that she needs to let Damon try to bring her back. At the end she agrees to try.

In Handle with Care, she is seen with Jeremy trying to find the Anchor. Unfortunately, they fail and Bonnie remains optimistic about coming back and assures Jeremy.

In Death and the Maiden, Jeremy is worried about the fate of the Other Side because Amara is human. Bonnie is dwelling on what would happen if the Other Side were destroyed- if it would be painful or cliche like going through a white light. She says that it would "suck if it hurts". Jeremy then says that he has three things to tell her. He tells her it's not a good bye and she would always be there and then he thanks her for giving up her life for him. Bonnie tells him to stop from saying the last because if she waits until another time, it would mean that there would be another time. Later on, Bonnie and Jeremy meet Amara, who starts asking questions about how he was brought back to life. She then asks Bonnie if it is her who did the spell because she is a witch. Bonnie realizes that Amara is able to see ghosts and she also discovers that she can feel physical contact as a result of being the Anchor to the Other Side. The group quickly realize that in order for Bonnie to be brought back, she has to become the Anchor. Later, they ask for Qetsiyah's help in performing the spell that would accomplish this. This requires the blood of doppelgängers - Amara, Katherine and Elena - poured on Bonnie's grimoire which is used as a Talisman since Bonnie cannot be physically there. During the performing of the spell Silas shows up and it is halted. Later on, Amara is dying and Tessa is finishing the spell. Bonnie is shown saying goodbye to Jeremy, as she does not believe it is going to work. He tells her what he was going to say earlier- that he loves her. When Jeremy puts his hand on Bonnie's neck, they both can feel it and realize the spell has worked and Bonnie has become the Anchor. Caroline and Elena arrive, realizing that she's back and hug her. Bonnie and Jeremy are seen talking in private again. Bonnie is relishing the warmth of the fire and they finally kiss. When Tessa dies (after self mutilation), she strolls up to Bonnie and tells her that, as the new anchor, every ghost has to pass through her to go on the Other Side, and as a result; she would feel the pain of not only her death, but every supernatural being crossing to the Other Side. Bonnie then cries out in pain when Qetsiyah touches her.

In Dead Man on Campus, Bonnie is filming a video message for her mother,showing her dorm room at Whitmore College and she tells her that she loves her. Then Elena and Caroline walk in, telling Bonnie about a big party they are throwing because she is finally back. Bonnie sees a message from Jeremy and tells Elena and Caroline that she has to "register for classes". She starts laughing when she sees them kissing and hugging bottles, pretending to be her and Jeremy. Bonnie and Jeremy are situated on a bench kissing, when Jeremy breaks apart, mocking Bonnie's excuse to Elena that she was "registering for classes" to instead come and see him. Bonnie says she doesn't want to rub it in Elena's face in their first day in the dorm room and Jeremy then offers to take her back to his place. Bonnie laughs that it is Damon's house and sarcastically adds they should just have sex in the bathtub and let Katherine watch. They kiss and Jeremy compliments her new hair style, and she turns away smiling however stops when she sees an elderly woman staring directly at her from ahead. Jeremy asks if she's okay and Bonnie quickly excuses herself to go to class, saying she will meet him later on. She tries to run away but old lady stands in front of her and says "I'm ready." She touches Bonnie's arm and vanishes and Bonnie screams in pain.

At the dorm party, Bonnie sees the old woman she helped over before. The woman was a witch, but is doing fine on the other side since Bonnie helped her transition over.Jeremy approaches Bonnie at her welcome back party in the dorm and touches her shoulder, bringing her back to the living. He tells her she needs to come with him, and that they are going to "register for classes."

In a hotel room some time later, Bonnie is trying to light candles unsuccessfully with a lighter when Jeremy appears and tells her to step away from the candles. She admits she misses her magic. He grabs her and kisses her, lifting her onto the bed. Bonnie rips off his shirt but stops in horror, seeing Jesse standing behind them. She stops Jeremy, saying that she thinks Jesse is dead. He touches her and she starts screaming. Once the pain stops, Jeremy demands to know what that was and how often it happens and she reveals she is the Anchor, every supernatural being passes through her although doesn't respond how often. He asks why she didn't tell him, but she says they knew there would be consequences, but they are here now touching each other, before telling him to kiss her. She says any consequence is worth it, before they have sex for the first time.

In Total Eclipse of the Heart, Bonnie is in college with Elena (Katherine) and Caroline who are planning to go to the Bitter Ball. In the class she sees one girl next to her moving her pen and she realizes that she must be a witch. She asks Jeremy to be her date, but Jeremy would like to just skip this event and spend time with her. They are happy and kissing until Damon arrives and kidnaps Jeremy and forces Bonnie to find a witch who would do locator spell for him or Jeremy dies. She seeks out the girl Liv and begs for her help, but soon discovers that she has no practice or control over her magic making her task more complicated. She tries to teach her the locator spell, but she is not very co-operative and it takes a long time to perform this spell until they succeed.

In Gone Girl, she is seen with Jeremy talking about her birthday. She is also shown trying to convince Katherine to come to the Salvatore House so they can kill her with the knife. She and Jeremy ask Liv to help them to find Katherine. She later gets jealous because Liv is flirting with Jeremy. She later sees Katherine die and goes to a church to honor her father by lighting candles. She later sees Katherine as a ghost and Katherine tells her what she did to Elena before being killed. Katherine puts her hands on Bonnie, but nothing happens. Bonnie tells her that she doesn't decide who crosses over or not and witnesses Katherine being sucked into the darkness.

In While You Were Sleeping, Bonnie is seen helping Liv with her magic. She tries to get her to light salt on fire, but Liv doesn't succeed. She soon is with Liv trying to help Elena, but unfortunately Elena stabs Liv in the stomach as to get her to break the seal on the building. She is seen with Bonnie again and they promise to try more spells. She walks in her room and lights all the candles. She is talking to her brother, Luke, and admits that it's cute with what she's doing with Bonnie.

In

Rescue Me

, Bonnie is first seen at the campus, in the living room, studying and talking to Elena about Damon. Eventually, Luke also arrives and Bonnie immediately thinks of him and Elena hooking up only for Elena to say he's gay which in turn, Bonnie says Damon'd be cute with him too. Eventually, after a couple of stares from Luke, Bonnie gets curious and stands up as she asks him if he has anything to say to her. He explains that he's just studying when suddenly a red-haired witch from Luke's coven,

Hazel

, who Enzo killed moments ago appears in front of a surprised Bonnie. Hazel tells her to deliver Luke a message that she failed and that "they" found them. She then goes on to pass through Bonnie to the Other Side. Luke asks her if she's okay after she moans in pain and she tells him what Hazel said to her. He then proceeds to explain to her that he's a witch and Liv's twin brother who is also a talented witch. He also explains about his coven's mission to stop whatever the Traveler witches are doing. Bonnie is creeped out by all of this and then gets a call from Jeremy who starts wondering about

Elena's whereabouts as he's afraid Liv will do something to her. Bonnie wonders about Jeremy and Liv,and by the time she ends the call, Luke is already gone. She's again seen at the end of the episode, calling Jeremy with him not picking up. She admits she's confused about where they stand and tells him to call her. At the same time, Sloan and the Travelers are performing a spell to bring Markos back from the Other Side-through Bonnie. Eventually, all of them commit suicide by burning themselves alive. Suddenly, dozens of chanting Travelers appear around Bonnie as they all go towards her to pass to the Other Side. She screams in pain as she tries to run away from them only to be surprised by even more. Eventually, all of them pass through her simultaneously which leaves her screaming and eventually, the pain takes her down. As she faints, her shadow suddenly crawls away from her and from it is formed Markos' figure as he rises from her body. He then proceeds to walks away from Bonnie's unconscious figure, leaving her lying on the floor.

In Resident Evil, Bonnie is first seen taking a walk through the park as she obviously recovered from the pain of the various Travelers that passed through her last night, and seems unaware that Markos tore his way out of her being. She is calling Jeremy, upset that he hasn't been talking to her at all in the last few days as suddenly, everything slows down and she transports herself to the other side,in time to greet Grams, who is upset because of what the Travelers did, and then reveals that because someone tore his way out of the other side, it is now falling apart.

Bonnie later goes to see Jeremy at the Lockwood mansion, only to get turned down by him when he tells her he has everything in control and wants her to trust him. As he begins explaining to her, Liv appears and Bonnie is obviously upset and angry with her, due to the way Liv manipulated her. As she leaves the mansion, Matt appears, obviously dead and apologizes as he passes through her on his way to the other side. She later discovers his body at the sheriff's office together with Jeremy and as they wait for Matt to awake,Jeremy apologizes for his ignorance to Bonnie and they reconcile just as Matt wakes up, and worriedly asks Bonnie about the events that are destroying the other side.

In Man on Fire, Bonnie is first seen with Elena and Stefan in the morning in the bar as the three study together. Elena notices Bonnie's quiet mood and wonders what is up with her. She then realizes Bonnie is worried about the other side,and tells Stefan that Bonnie is in denial which Stefan too has noticed. Bonnie explains that she just has to deal with it, considering there's nothing she can do about her impending death, though then reveals that she plans on asking Liv for help or if anything can be done. As she awkwardly starts looking at Liv, the blonde finally gets tired and asks what she wants. Just then, Enzo walks in, and Bonnie notices Liv's dislike of him. He calls to Liv to use her magic on Elena and Stefan, and Bonnie tries to stop her and then finds out Enzo is using Luke to threaten Liv. She is later seen trying to call Damon for help, only so Enzo notices and takes away her cellphone before she can call him. He instead calls Damon. Later, when Stefan says he didn't kill Maggie, Enzo grabs Bonnie and threatens her, wondering what would happen if she were to die, or if she could even die.Stefan, in order to protect her from a furious Enzo, decides to lie and after all, says he killed Maggie. Enzo then sends Bonnie upstairs with Liv, who wonders if Bonnie is okay, to which she responds rather angrily,due to the fact that Liv manipulated her. Liv then explains how she was the easiest to get to.Bonnie suddenly asks if anything can be done about the other side to which Liv responds rather cruelly, referring to Bonnie's impending destruction. Bonnie says that she doesn't care about herself, but the ones close to her who are over there. Later, as Enzo compels everyone to leave, he attacks Liv by biting her and then kidnaps Elena and runs off.Damon runs after him while Stefan stays to, on Bonnie's request, heal Liv.

Later, Bonnie and Liv are seen in the bar as they joke about Liv probably getting fired to the mess caused by the fight in the bar. Liv finally thanks Bonnie and returns to the question about the other side. Then, all of Bonnie's hopes disappear when Liv explains that she should do all of her goodbyes in the time she has left. Bonnie starts crying, aware that there is nothing she can do and Liv comforts her, telling her that she should tell Jeremy. She is later seen with him, explaining, and lying both to herself as well as him that Liv can in fact help her through a spell. Then, Stefan calls, telling her that Enzo died and is about to pass on through her at any given moment. He then proceeds to ask Bonnie not to tell anyone,especially Damon about Enzo's demise. Just then, Enzo appears,ready to pass through Bonnie as she lies to Jeremy, telling him it's a werewolf. Enzo threatens that he will get his revenge and then passes through her,leaving her screaming in pain.

In What Lies Beneath, Bonnie is first seen with Jeremy,making out on the bed as she claims they have the dorm for themselves for the entire week,due to Elena and Caroline going off on a trip to escape the Travelers. Jeremy then finds out that Tyler finally returned home and goes off to get ready as Bonnie sits on the bed, wondering when to tell him about the events on the other side. Just then,Grams appears, angry with Bonnie due to her lying to her friends and giving herself false hope about the life she will never have due to the end of the other side. Just then Grams accidentally knocks over a lamp from the desk, and Bonnie is more than confused as how she did that, only to figure out that the state of the other side is worsening, meaning the end of it, as well as Bonnie's is approaching. She later goes off with Jeremy to Mystic Falls to greet Tyler and is with him, Jeremy and Matt when they devise a plan to torture the Traveler inside of him, Julian, to get answers. Bonnie, due to being the only girl there, gives Tyler a sad smile which he returns as she goes up from the basement, unable to watch the torturing session. Later, she gets a call from an upset Stefan, as she wonders why she didn't go with them instead.He asks her about the other side and she reveals that it's getting worse,saying that the dead can now move objects from over there. Later, in order to find Julian's body before the Travelers,she and Jeremy go down to the caves where they discover dozens of bodies of the Travelers,while trying to find Julian's body with an eagle tattoo, Jeremy apologizes for the bad date they're on,to which she replies positively, claiming it can't get any worse. And then it does. Maria, one of the Travelers and Julian's wife comes for his body and blocks Jeremy's air pipes in the process to which Bonnie begs her to stop while she rolls her eyes and goes off with his body.She later,together with Jeremy confesses to Tyler that they lost Julian's body and just then,the Travelers begin the spell to make Julian permanent in Tyler's body by burning Julian's body.Bonnie is the first one to connect the dots as she realizes they're doing the same thing they did with Katherine and Elena.

In Promised Land, Bonnie is first seen with Damon as he gave her a call to speak to Enzo through her. She delivers Enzo's words to Damon and is obviously annoyed because of constantly being followed by him since he found out about the destruction of the other side. Damon then, in panic due to the mess that is slowly ensuing tells Enzo that Bonnie too can bring him back, giving him false hope for now. Just as Bonnie is about to reveal to Damon there is no spell to save her or The Other Side,Jeremy arrives before she can say anything. She is later seen with Caroline back in Whitmore, who in a desperate state thinks that the only way to save Tyler from Julian is to kill him.

Bonnie, who is obviously angry because of everything that's happening, after a few comments from Caroline, finally cracks and reveals that she lied and that there is no salvation for the other side. Later, as she's hastily packing, Enzo approaches her, angry that she didn't tell him anything about the fact that she lied and that there's no spell. He later explains how they need to fight for their life until the last moment and just as Bonnie is about pick up the stuff he knocked out of her hands,Maria, one of the Travelers Bonnie met recently, appears in front of her as Bonnie realizes the witch died. As she passes through Bonnie,she gives her a message,to give to Julian. Later, as Caroline gets back from Mystic Falls, she packs, panicking about how all of them are going to die, seeing as The Travelers started the spell to break the curse placed upon them. She then starts yelling at Bonnie to start packing while she,deep in thoughts figures out a way to save herself as well as Enzo. She gets up and goes to find him.

Later, as Stefan and Elena get back,together with Matt and arrive at Whitmore, Jeremy and Damon arrive too. They then devise a plan to get out of Mystic Falls and escape. It is decided that Jeremy and Matt should go back to Mystic Falls, seeing as they're human and the spell won't affect them,while Damon and Elena will go in one car and Stefan, Bonnie and Caroline should follow.Then, just as Bonnie leaves the dorm with a sad look on her face, Enzo appears, revealing that Maria, the only one who knew the spell Bonnie planned to use for her and Enzo got sucked into oblivion, meaning their plan failed.

Meanwhile,on the parking lot of Whitmore, as Stefan and Caroline wait, Caroline starts wondering where Bonnie is and just as Stefan is about to go find her,Julian appears. Once he finds out Maria's dead, in a flash of rage, he rips out Stefan's heart. Just then, as Bonnie talks to Enzo, Stefan appears and she realizes he died. He pleads for her to tell him she knows how to bring them back but she tells she lost it. Then, as she starts crying he passes through, leaving her in pain as Enzo watches while Caroline screams in the parking lot next to Stefan's dead body.

In Home, Bonnie is first seen in her dorm room,affected by Stefan's recent death like the rest of the group.Damon though immediately attacks her and threatens her to find a way to bring his dead brother back from the other side before it collapses fully.Enzo soon appears,claiming he found a Traveler that can help them come back from the other side.Later on,in order to get Liv to help them, Caroline kills Luke who quickly after shows up to Bonnie and passes through her much to Enzo's dismay, due to the fact that Luke is just one more person that they need to bring back. Bonnie is obviously annoyed by the growing list too but is interrupted when Tyler, who was killed moments ago by Markos passes through her, though she promises him they found a way to bring them all back.

Later on, as Bonnie and Enzo get ready to head on back to Mystic Falls,the Traveler Enzo spoke about finally shows up.At first,Bonnie is under the impression it's Stefan but is shocked when she figures out it's actually Silas, her father's murderer. Eventually, though she agrees to let him help them and in turn, she needs to bring him back too. Soon after,the three of them arrive to Mystic Falls, where Bonnie and Silas are throwing witty remarks and insults at each other, while studying the anchor overwhelming spell. Liv and Elena show up soon, though Bonnie chooses not to tell them that it's Silas who's teaching her the spell. Instead, she lies it's just some old lady. After Silas teaches her the spell, she teaches it to Liv and as she walks out to let Enzo in on everything, Silas comes quickly from behind. Just then,the oblivion arrives and Enzo and Silas are suddenly pulled towards it. Bonnie keeps Enzo grounded while she decides not to help Silas, which gets him sucked into the oblivion. Thus, she gets her revenge on Silas for all the torment, manipulation and pain he caused in her life.

Soon after, Bonnie is seen standing in the cemetery on the other side, trying to contact her Grams. Finally,she shows up and Bonnie claims they found a way for all of them to come back,including Grams. She though says Bonnie won't be able to survive all of those people passing through her.In the end,Grams said she'll stay on the other side,claiming she found her peace by making sure Bonnie finds hers.Bonnie doesn't understand at first but then the two embrace as Grams says her final goodbye to Bonnie, telling her to be strong. Both start crying as Grams walks off into the light, finding her peace and leaving the crumbling dimension behind. Night comes soon and Damon and Elena set off the explosion in the Grill, therefore, killing dozens of Travelers. Bonnie meanwhile is standing in the cemetery,awaiting for them.Suddenly,dozens of them appear with Markos in front. He claims he'll just rip his way out of her again and then passes through Bonnie painfully as the other Travelers do so too. Later on,Elena and Damon finally run up to Bonnie,ready to pass through. As they do,Bonnie warns them to get back to her as soon as possible.

The spell has begun and Bonnie is seen standing in the cemetery, with Enzo,Lexi, Stefan and Tyler waiting for the others. Luke though,unable to watch Liv struggle with the spell decides not to wait for the others and forcefully passes through Bonnie and comes back to life. Meanwhile, Bonnie continues telling them to come through because they are running out of time. Enzo quickly grabs her and returns to the living plane. He immediately walks off. Tyler is the next to come back through Bonnie. As she starts telling the rest of the group to pass through,Elena arrives,claiming she won't go back until Damon's there too.Stefan though eye-contacts Bonnie and she under his request grabs Elena and brings her back to life,much to her dismay. As Elena starts yelling, Bonnie starts coughing up blood, signaling the group that she is dying together with the other side. As she falls over, Stefan accidentally grabs her and comes back too. Bonnie, who stands up claims she will see it all through and then walks out.

Outside, Lexi is waiting on Bonnie, who immediately starts telling her to come through. Lexi though figures out that Bonnie is in fact dying so she decides not to pass through because then Bonnie would die before Stefan could get his brother back. Markos suddenly appears and tries to get to Bonnie, but Lexi fights him off into the oblivion and so finds peace, with Bonnie watching her. Damon and Alaric arrive quickly after and Alaric is the first to pass through Bonnie. At the same time, Luke stops Liv's spell due to it killing her which leaves Damon trapped in death. As Bonnie tells Elena that Damon is dead for good,she breaks down. Later, Bonnie is seen finally calling Jeremy and telling him the truth about the other side as well as her death.He starts running towards the woods, yelling her name out loud. As the gang all come together in front of the cemetery, they hear Jeremy and then all of them see Bonnie in the distance realizing she is about to die with the other side. Just then, Bonnie looses her foothold in the physical world and flashes to the other side, where the dimension is in it's final seconds. White lights begin poking through the dimension's walls and Damon walks up from behind her. They hold hands together as the other side collapses fully and the afterlife surrounds them, leaving their final fate unknown.
In I'll Remember, Bonnie doesn't appear until the final moments of the episode, where she is joined by Damon eating breakfast in a kitchen, leaving it unknown where they are.

In Yellow Ledbetter, Bonnie is first seen with Damon as we are shown flashbacks of what happened upon the other side's collapse. They both appear in the cemetery again, only without anyone of their friends and family around them. Bonnie immediately wonders about where they are and runs off with Damon following her. Later on, they walk through the empty Mystic Falls wondering where everyone is.

They are later seen walking down the road, only to discover that Elena's burned house is still there. Damon then quickly grabs a newsletter and the two of them are shocked when they see the date - May 10th, 1994. Both are suddenly even more surprised by the eclipse that follows. They then sit down on Elena's porch with Damon on the swing chair and Bonnie on the stairs. After a little bickering and a few jokes in-between, Bonnie explains how Grams made a sacrifice for her and that they should use magic to get back home. Much to their dismay, Bonnie is still powerless after trying to light a candle on the table. It's later been a day since they arrived in this dimension and Bonnie first appears at the Salvatore's Boarding House in the morning with her childhood teddy bear which she lost when she was 9, and with her Grams' grimoire. Damon meanwhile is drinking under the belief that they're stuck in hell. Bonnie believes she can teach herself magic again and after a little yelling at each other, she starts eating the pancakes he made and doing crossword puzzles in the newspaper. Soon, an eclipse follows yet again and Bonnie and Damon discover that the date is still May 10th, 1994 much to their shock. That is when they figure out that they're constantly reliving the same day.

Two months have since passed and Damon and Bonnie have developed a routine where he makes pancakes every morning for breakfast. Bonnie however is still trying to solve one word in the crossword puzzle she's never managed to solve, much to her annoyance. Damon on the other hand is annoyed because she still hasn't regained her magic. After calling her useless, they fight and Bonnie storms off. Later, Bonnie makes dinner as Damon comes downstairs. They eat together and Bonnie comforts Damon, claiming she misses their friends and family too. Damon gives her a smile and compliments her on solving the puzzle. Much to both her and his shock, it turns out neither of them solved it and they figure out that someone else is stuck with them in this dimension.

In Welcome To Paradise, Bonnie is first seen with Damon in store in the Other Dimension. Bonnie tells Damon that they need "strawberries, eggs, milk and - ooh, candles" and Damon asks her what makes her think she can do magic again and Bonnie answers that when "this all started, you couldn't make pancakes" and that they're now edible. She also mentions that she has hope because there's someone else in town. Damon reveals that he truly has lost hope before a toddler-ferry starts playing outside. When they see it moving, Bonnie says that's the sound of hope, implying that someone turned it on on purpose.

Damon refuses, saying it must have something to do with the wiring, but Bonnie argues that someone put a quarter in it. Damon tries to be reasonable; even if someone is there, that doesn't guarantee a way out. But Bonnie says that he calls the dimension "his hell", but if there's someone else, then its not, and if its not and her Grams put them there, that means there's a way out. Bonnie asks what's the first thing Damon will say to Elena when they get out, to which Damon answers, "Sorry I killed Bonnie" and that she was useless and couldn't do magic. Bonnie then shows him his Mustang in the parking-lot and asks if he still thinks she's "useless". Damon then starts making car-engine sounds as he is excited to have his car back. Then Bonnie notices a shadow move nearby and asks Damon if he saw it and Damon admits it and they go check it out to no avail. When they return, Damon's car's gone and the fair starts to play again, this time with Damon and Bonnie there as witnesses and Damon loses his new-found hope and says there's no hope. Bonnie — pushed to the limit of Damon's hopelessness — tells Damon to give her his Daylight Ring and tries to force it off as Damon refuses and Bonnie says that all Damon ever says is that it is his hell and if its so bad why doesn't he just end it, then, after being pushes away by Damon "Hope is the only thing that keeps me going, Damon. So if you're really done, if you have none, then BE done ..." and leaves Damon alone in the parking-lot.

Damon enters the store once more to get a drink and hears chips crunching somewhere, Damon follows his ears to a guy sitting on a chair inside the store, eating Pork Rinds. He introduces himself as "Kai". Kai tells him that his "bickering" with Bonnie's boring and reveals that he's been following them and he's seen Damon drive Bonnie away 13 times in an argument. After a couple of typical threats and sarcasm, Damon takes a drink out of a bottle of bourbon from one of the shelves and finds himself swallowing vervain. Kai intends on killing Damon. Meanwhile, Bonnie cools down and goes looking for Damon at the store and intervenes before Kai can kill him, saying "stay away from him!" and Kai simply says, "the useless one is here. I've watched you try to do magic for months now. What're you gonna do? - Fail at me? It's embarrassing, I'm embarrassed for you." Bonnie then stares at a couple of candles on a shelf after being encouraged by a look from Damon, she shocks herself by lighting the candle with her magic. She then smiles at Damon and tells him to "Run". He obliges and she chants a spell - "Phesmatos-Incendia" and the floors ignite into flames that Bonnie manipulates to encircle Kai. He raises his hands in surrender and Bonnie says, "Giving up so soon? I'm embarrassed for you?" Damon then knocks Kai out from behind, saying that he's sorry for calling her the most annoying person in the world because she isn't, Kai is.

When Kai awakens tied up, he says he is on the same side as them, but Bonnie says that is doubtful as allies don't kill each other. He says the only important thing is that Bonnie has her magic back and that he wouldn't try to kill Damon as that would be killing one third (1/3) of the population of the Unknown Dimension. Kai claims that he knew Bonnie would come back as she always does "all thirteen times" and that he knew with the right motivation Bonnie would be able to reactivate her magic powers, though he admits that he did worry that Damon had pushed her too far this time round, but he guesses that's how Bonnie and Damon show their love. Kai tells her that her magic is the key to getting out of the dimension.

In Black Hole Sun, Bonnie appears just in time to stop Kai and Damon's bickering when she brings all of the stuff Kai's asked for her to get. After more pointless arguing between the two men,Kai finally reveals that the spell to get them out requires a mystical relic called the Ascendant. He gives some of his blood to Bonnie and she starts working on a locator spell. After some discouraging words from Damon, Kai, after some mild flirting with Bonnie convinces her to just tune Damon out and concentrate. The spell eventually succeeds with Bonnie figuring out that Kai has had the Ascendant all along. He then says they're ready to go home, but after finding out that Kai is a mass murderer who slaughtered his entire family and in fact a witch who has been trapped in this dimension by the Gemini Coven, Bonnie refuses to do the spell. When Kai is about to grab her, Damon attacks him. Later on, while Damon starts plotting with Bonnie to get out of the dimension without Kai, he shows up and claims that despite them believing he is powerless, that his one power is to drain the power of other witches,as he then demonstrates upon grabbing Bonnie and draining her power by giving Damon an aneurysm. He then says that he'll either kill them both or that they can all go back as friends.

In The World Has Turned and Left Me Here, Bonnie and Damon are seen walking through the woods to meet up with Kai,with Bonnie still skeptical about their return due to Kai's refusal to show her the spell.He after appearing suddenly still refuses to do so and storms off,saying that he's going to get some important supplies while ordering Damon to start digging a hole in the ground.After Damon digs up a hole and breaks into a cave, Kai comes back and it turns out the important supplies he needed to get was majorly a bunch of stuff from 1994 that he wants to take with him to the present.Bonnie however refuses to do the spell until Kai shows it to her.He however refuses to show her the spell which pushes her to challenge him to take all of her magic and do the spell himself.He,feeling challenged grabs Bonnie and starts draining her magic in front of Damon while she tries to fight back. After finally releasing her,Bonnie figures out that he doesn't know the spell otherwise he would have killed her,so she figures that they don't need him and uses her magic to kill him by shoving a pick axe into his chest, much to Damon's dismay. She later figures out that Kai didn't want to kill her because she was a Bennett witch.As it turns out,a Bennett created the place in which Kai was trapped,so that means only a Bennett can cast the spell to get out. Bonnie and Damon then proceed to set everything up,and just when Bonnie performs the spell, the two get separated when she gets shot by an arrow.Turns out that Kai is in-fact alive as the prison they're trapped in doesn't allow death to stick. Damon tries to heal Bonnie but then tries to stop Kai from getting to the Ascendant.After a bit of a fight between the two, Bonnie uses her magic to separate the two by throwing Kai off of Damon and pushing Damon towards the eclipse's light. She gives him the Ascendant,claiming it's already too late for her. As Damon is fighting back taken into the light, Bonnie sacrifices her chance of getting back for him. She then cries, happy for Damon but sad for herself and then passes out from the wound, onto the ground, seemingly dying.

In The More You Ignore Me, The Closer I Get, Bonnie is not seen, but she is heard when Damon calls her cell phone to leave a voice message, stating that he misses her and thanking her for getting him back to present time.

In Do You Remember the First Time?, Bonnie is seen when she awakens on a couch at the Salvatore Boarding House. Kai has brought her back to the house, where he threatens to hurt her by taking her magic if she doesn't help put the Ascendant back together and do the spell to get them out of 1994. Bonnie in retaliation stabs him in the neck, takes the pieces of the Ascendant, and flees the boarding house. She is next seen getting out of Damon's car at the Mystic Falls Medical Center, where she takes pain pills and antibiotics while treating her arrow wound. Bonnie puts the Ascendant back together, only to realize that she's missing a piece. The lights go out at the medical center, and Bonnie finds Kai waiting for her in the hallway. She uses her magic on him then flees with the pieces of the Ascendant. Bonnie climbs back in Damon's car, where she tries to start the car, but it has been sabotaged by Kai. He appears behind her seat, where he wraps his hands around her throat and threatens her again. They are next seen in the cave, where Kai gives Bonnie Ms. Cuddles and admits that he wants to be a better person like her. Bonnie doesn't buy his act and instead of sending them to present time, she places her magic in Ms. Cuddles and sends her to present time with it. Bonnie is last seen telling Kai they're stuck forever and sarcastically apologizing, while Kai stares at her angrily.

In Fade Into You, Bonnie is seen when Kai opens the trunk of a car to reveal her inside. She has been drugged and tied up by Kai, who has flown them from Mystic Falls to Portland, where his family home is located. Kai tells her today is Thanksgiving in present time and offers to make Thanksgiving dinner for them. The two make a deal that she will have dinner with him then they will go their separate ways with Kai letting her take the car. Kai reveals his history to Bonnie, including why he killed his family and how he ended up trapped in the prison world. After dinner, Bonnie follows Kai outside to a tree stump in the front yard. Kai reveals that he has always wondered what happened to Jo's magic when they tried to merge and realizes that she put her magic away for safety like Bonnie did with Ms. Cuddles. He removes the knife that he used to stab his siblings from the tree stump and absorbs the magic from it. Kai tells Bonnie that he has watched her cast the spell to get them out of 1994 twice and has realized that he doesn't need her magic, just her blood. Bonnie is stabbed in the stomach by Kai with the same knife that he used on his siblings. She passes out from the pain of the stab wound and awakens hours later to find both Kai and the car gone. Bonnie picks up Kai's pager when it begins to beep and finds a message that reads: I LIED. The episode ends with Bonnie cursing Kai for taking the car and leaving her trapped alone in Portland.

In I Alone, Bonnie is seen when she calls Damon and Elena from a payphone. They have left a message on Kai's pager, thinking that he has Bonnie with him somewhere. She reveals to them what has happened since Damon was sent back to present time. Damon and Elena reveal that they're here to bring her back to present time if she can make it back to Mystic Falls from Muncie, Indiana in seven hours. Bonnie has spent the last couple of days driving from Portland, Oregon back to Mystic Falls. She is only 6 1/2 hours away, which means that she can make it to Mystic Falls with half an hour to spare if she doesn't stop to make restroom breaks. Bonnie is not seen again until near the end of the episode, when she is seen running up to the Gilbert House. She stopped at the Salvatore Boarding House, where she found a note from Damon that they were waiting for her on the porch of the Gilbert House. Bonnie frantically checks the porch, the foyer of the house, and finally realizes that she is alone. Damon and Elena aren't waiting for her because Liv ended her spell early, meaning that Bonnie is once again trapped alone in the prison world. Bonnie tries to be brave, smiling slightly for a moment before finally breaking down, sinking to her knees as she sobs.

In Christmas Through Your Eyes, Bonnie tries to make the best of her situation by recreating her favorite time of the year. She drags a Christmas tree out of Damon's car into the parking lot of Mystic Falls High School, where the yearly town celebration takes place. Bonnie is also seen in flashbacks to 2007 and 2009, where she is celebrating the holidays with Elena and Caroline. In the 2007 flashback, Bonnie is first seen throwing a snowball at Elena, who declares war on her. She is next seen stringing popcorn into garland with Elena, while telling her that Rudy is taking her out of town for the holidays due to a business conference. Elena offers to talk to her parents about Bonnie staying with them because the girls have never celebrated Christmas apart. In the prison world, Bonnie has strung her popcorn garland and lights, which she lights with an extension cord that she drags to her tree. In the 2009 flashback, Elena, Caroline, and Bonnie watch the tree lighting. Bonnie has received a beautiful bracelet from Caroline after the group had a Secret Santa Exchange. Back in the prison world, Bonnie admits that she misses her friends then sets her Christmas tree on fire. Bonnie is last seen walking away from her burning Christmas tree with an empty expression on her face.

In The Day I Tried To Live, Bonnie fixes herself breakfast at the Salvatore Boarding House. She sits at the table in the kitchen, where she crosses out February 5 on a calendar that she has modified to correspond with current dates. Bonnie then wishes herself happy birthday, revealing that February 5 is her birthday. After a moment, she angrily shoves the calendar off the table into the fireplace. Bonnie is next seen in the dining room of the Salvatore Boarding House, completely unaware that Damon, Elena, Jeremy, and Kai are standing behind her due to a spell cast by Kai. None of them can touch anything or interact with her due to the broken Ascendant and Kai not having enough power to allow them all to be corporeal. A birthday cake, pitcher of water, and bottle of bourbon are visible on the dining room table in front of Bonnie. She is watching a video on the camcorder where Damon calls this world his personal hell. Bonnie smiles, laughing slightly, and calls Damon a Drama Queen then fast forwards to a video of her and Damon, where she is acting as a reporter who interviews him. She abruptly ends the video as she smiles at the memories then reaches for the bottle of bourbon and pours herself a glass. Damon is visibly horrified at this and reveals to the others that he made a suicide pact with Bonnie when they believed it was just the two of them in this world. They agreed that if they couldn't take being trapped there alone for one more day, they'd kill the oldest bottle of bourbon in the house then kill themselves. Damon, Elena, Jeremy, and Kai abruptly disappear after this reveal because Kai isn't strong enough to sustain the spell, leaving Bonnie alone to continue to sip her glass of bourbon. Kai later sends Jeremy and himself back to the Prison World, where he finds Bonnie continuing to drink the bourbon. She now has a sliced piece of cake in front of her, but she hasn't touched it. Bonnie cheers herself for having made it this far alone then starts to cry as she tries to finish her glass. She decides that it's time to cut herself off from drinking after finishing the glass. Bonnie stands up from the table, where she grabs the bottle of bourbon and tosses it to the floor angrily. Bonnie grabs the camcorder from the table and stalks out of the room. Unbeknownst to her, Jeremy has followed her, after telling Kai to stay in the dining room. Bonnie is next seen entering the garage of the Salvatore Boarding house with Jeremy behind her, where Damon's car is parked. She closes the garage door then starts up Damon's car, revealing her plan to commit suicide from carbon monoxide poisoning. Bonnie sits down next to the car, where she begins to record a suicide video to Damon, Elena, or whoever else may find the camcorder. She apologizes for her suicide, revealing that she tried to make it work, but she couldn't. Bonnie tells them that she misses too much. She misses telling strangers hi, ordering dinner in a restaurant, and laughing with her friends. She further reveals that she hates spending everyday alone without anyone to talk to and going weeks without speaking. Bonnie finally admits that it's the loneliness that she can't take anymore, and she only knows one way to turn it off: suicide. She apologizes again, not knowing that Jeremy is sitting next to her and has placed a hand on her arm. Bonnie leaves one last message for Jeremy, where she admits that she hopes that he's living his life with no regrets and wants him to fight for the life he wants. She tells him to never give up on himself and stay strong. Bonnie looks away from the camcorder abruptly as she remembers her Grams telling her to stay strong before she found peace. She snaps the camcorder closed then tries to get up as she coughs from the car exhaust fumes. Bonnie tells herself that she's going to stay strong and not die in this place as she continues to struggle to get up, but she's weakened too much. She crawls nearly to the garage door before she collapses to the ground, where she continues to cough. Unbeknownst to her, Jeremy has been desperately telling her to get up and trying to hit the garage door opener. When she collapses, seemingly about to die, Jeremy succeeds in becoming corporeal again and hits the button for the garage door to raise up. Bonnie gasps in relief, staring at the rising door and revealed sunlight. We next see Bonnie as she drinks from a glass of water in the kitchen and finds the atlas that Jeremy has opened to Nova Scotia. This is the location of Silas' Tombstone, which contains the calcified blood of Qetsiyah. This should be a large enough power source that Bonnie can create a portal back to the real world and current time. Damon had planned a trip to The Island when he was still trapped in 1994 to get away from the scenery of Mystic Falls. This is the message that Damon, Elena, Jeremy, and Kai wanted to leave for her during their initial visit. Bonnie calls Damon a genius, while smiling brightly at the atlas. Next, we see Bonnie throwing a packed backpack in the backseat of Damon's car then climbing inside. She grabs her sunglasses off the dash, places them on her face, and starts the car. Bonnie is last seen speeding away from the Salvatore Boarding House and toward the key to her freedom in Nova Scotia.

In Let Her Go, Bonnie has returned from Nova Scotia and goes to the Salvatore Boarding House. She turns on the camera and says that she found Silas' tombstone and used it reacquire her magic. Before she can channel the power of the eclipse to power the Ascendant and return home, Kai's sickness affects the various prison worlds and sends Bonnie to another one that is snowy. While there, she sees the Aurora Borealis in the sky and finds a cabin in the woods that has been recently inhabited. A diary tells her that the prison is set in the year 1903 and she also finds photographs of Stefan and Damon. When she gets transported back to the 1994 prison world, she sees the eclipse going on and hurries back to the cave while flickering back and forth between the two worlds. In the cave, she realizes that both the eclipse and the Aurora Borealis are recurring events that can send her home. As she opens the doorway, she sees a woman in old-fashioned clothing standing before her. The woman asks who Bonnie, Bonnie asks her the same. Before Bonnie can get an answer, she enveloped in while light. Back in Mystic Falls, Damon walks into the Salvatore kitchen and finds Bonnie there. They happily hug and Bonnie then shows him video of the mysterious woman. Damon recognizes her as his mother who died years ago.

In The Downward Spiral, Bonnie is seen adjusting to her old life back in the real world, however she seems to be Extremely sensitive to loud sounds. In her dorm room, her and Elena make a toast of Bonnie's return. Caroline then walks through the door carrying shopping bags, claiming that she wants to start over. She acknowledges that Bonnie is back, however she doesn't care do to the fact that her humanity is turned off. Bonnie responds with "it's like she's Caroline, but not Caroline". Later, at the rave, Bonnie and Elena split up to look for Caroline. Bonnie ends us getting dragged by a man and being forced to dance. The man tries it on with her so Bonnie burns his hand with her magic and responds with "sorry, I'm hot". Bonnie then, calls Damon about her encounter and that she just wanted to hear his voice. Damon asks her is she can talk to Kai because he wants to apologize to her for what he did to her in the Prison World. Bonnie refuses and says that she never wants to see Kai again and that she doesn't believe that he can ever change. Further on in the episode, Damon approaches Bonnie at the rave. Bonnie seems thrilled that he is there, however, Kai walks around the corner and stars to apologize to her. She then switches off to what Kai is saying and remembers what he had done to her like it had just happened. She then stormed out of the back door bursting it open with her magic. Bonnie is later seen slamming her door in her dorm and waving her hand at the fireplace making it lite. Damon opens the door showing that he was following her and tries to apologize for what he just put her through. Bonnie replies with making him feel everything that Kai had done to her back in the prison world by inflicting all of the wounds by means of magic showing that she is much stronger than she was. She stops when she realizes that she can't make Damon feel the worst part. The fact that he left her alone.

In A Bird in a Gilded Cage, Damon goes to Bonnie for help with traveling to the 1903 prison world. At first she refuses but then later changes her mind. At some point, Damon must of told her that Kai was going with them, so Bonnie must have come up with a plan to get rid of him and leave him behind in the prison world. At the Salvatore boarding house. Her, Kai, Damon and Elena prepare to go to the prison world. Bonnie slices open her hand and sprinkles her blood onto the ascendant and her and Kai cast the spell. Once in the prison world, Elena and Damon split up to go and get Lily while Kai and Bonnie search for the ascendant. Bonnie gets a locator spell going while Kai explains to Bonnie that he has changed and he's sorry even though she's not listening. Kai in his rage, grabs Bonnie's arms making her jump. Bonnie recovers and responds with "the ascendant's this way", and walks off. Later, Kai and Bonnie start talking again and end up with Bonnie stabbing Kai in the back saying that's for what he did to her. Back to where they first entered the prison world, Bonnie again slices her palm of her hand on the ascendant and casts the spell to send herself, Elena, Damon and Lily back to the boarding house.

In Because, Bonnie is walking down the campus hallway flipping through the book when Damon shows up and gives her coffee. She tells him that Elena called and said they found Caroline, but didn't mention anything about a cure for vampirism. Damon is worried she said something, but she didn't and asks her about April Lyrids. He tells her it's a comet thing that his mom thinks she's going to use to break her companions out of the prison world. Bonnie is concerned and says they're not letting them out, but he says he might've reinforced that possibility as he already gave Lily the Ascendant for safe keeping. She's angry at this since her companions are vampires that can do magic and he tells her that if she dodges Lily long enough, she will leave Bonnie alone. She is more furious and tells her to fix the problem before it becomes hers and told him to stop pretending to care about her. She gets a call from Matt and asks if the woman who looks like she's never been in a restaurant before is her lunch date and Bonnie says she's early. She tells him to tell Lily that she's running late and to stall her until she finds the Ascendant. Matt later on calls her again and he tells her that Lily is gone and left with Enzo. She then hears Lily's voice and she begins to panic as they walk toward the living room. When Lily and Enzo enter, Bonnie is gone and Lily is frozen where she stands as the dresser drawer she put the Ascendant in is open and it gone. Bonnie is sitting in on the floor surrounded by a circle of lit white candles and chants a spell. She senses Damon and tells him not to take another step, but he does. He promises he won't let Kai out, but he just wants the Ascendant. She tells him that it isn't about Kai, but the others that are in the prison are a million times stronger than him and them, and how they would have fun with a newly turned human Elena. He tells her his mom has the cure and if she doesn't get the Ascendant from Damon, she's going to destroy it. She chants again and the circle around the Ascendant catches fire. He tells her to stop and speeds over to her and puts her in a choke-hold, but she magically throws him off before she puts the fire out. She tells him that he really wanted to be human with Elena, he would've told her about the cure by now. She picks the Ascendant up and holds it out to him, but he doesn't take it and turns back to her spell after he leaves.

In I'd Leave My Happy Home For You, she and Elena throw Jo a bachelorette party at the diner. After Jo gets up to get some ketchup, Bonnie asks Elena about the cure. She tells Elena that Damon called her about it and how he's going to take it with her. Elena tells her she wanted to process about the cure and tells her she wants to be a human again but it's just complicated right now. Bonnie tells Elena that she should take it and asks her if the human her doesn't love Damon anymore and Jo says that despite being supernatural or not, it doesn't change how you are. After Elena leaves to meet Damon, Bonnie and Jo decide to end the party, but before they can go, Lily enters the diner. Lily wants her to get her companions out of the prison world, but Bonnie says that there is no other way, and even if there was she wouldn't. Lily lunges at her and Bonnie causes pain infliction on her and Lily then throws a piece of tableware and it embeds in Bonnie's neck. She gasps and puts Jo into a choke-hold into the wall and before she feeds on her, Jo tells her she's pregnant and then she leaves. After she is gone, Jo goes to Bonnie and examines her, telling her to stay calm and she'll help her. Jo tells her to squeeze her hand if she has trouble breathing and she doesn't when she takes the tableware out. She tries to talk, but Jo tells her not to and and reassures that there's no way out of the prison world. She then takes Bonnie to the hospital and it is revealed that Bonnie is fine after Damon gave her some blood.

In I'll Wed You in the Golden Summertime, she is dreaming of Lily and Kai and she couldn't use magic, but Elena wakes her up from the nightmare saying they need to get ready for Jo and Alaric's wedding. Elena and Bonnie try to help Jo look for her shoes and get her organized, but nothing seems to go entirely right. Caroline shows up and makes up with them all and afterwards she tells Bonnie about the wedding dress and Jo that her shoes are under the couch. Bonnie goes to the door and Enzo is there. She tries to shut the door in his face a few times, but he tells her he wants to visit Lily and give her an MP3 player. He gives it to her and she goes down to where the cells are and hears Lily say crazy things and about her companions. Bonnie looks in the cell and doesn't see Lily and when she turns around, Lily grabs her and she breaks out of her hold. She and Matt talk and they decide to take Lily out so she won't get the chance to get her companions out and before she goes all Ripper crazy. They go down to the cells and they see the door is open, and Matt feels like he can't breath and Bonnie soon has the same problem. They both fall to the ground and pass out. Matt wakes up and notices Bonnie's hand is cut and bleeding, and she tells him she knows who it is.

In I'm Thinking Of You All The While, Bonnie is on the phone with Damon, who tells her that Kai was at the wedding and killed Jo. He tells her that Elena got knocked out and that nothing is wrong with her, and Bonnie tells him that she's coming. In the meantime, she finds the video camera from Kai in the kitchen. She shows Matt the video, which is of Kai, who tells her that he is upset that she left him in the 1903 Prison World and that he linked her life to Elena's. Matt tells her that she needs to leave town, but she refuses, saying that she can't let Kai win. Matt tells her that Elena is the only thing Damon cares about and that he'll kill her. Later on, Bonnie arrived at the altar. She greets Kai and tells him a bad joke, to which he responds by telling her that if she was actually funny, her friends might be cool with letting her live instead of Elena. Bonnie then uses her magic and tries to take down Kai, but he siphons magic from his werewolf bite to lift her off the ground and slam her against the wall, injuring her. Damon arrives, finding her laying on the ground, hurt with a collapsed lung. Bonnie says Damon's name, as she's about to die. Kai tells Damon that he needs to act quick, either let Bonnie die so Elena can wake up, or save Bonnie. Damon tells Bonnie that he's sorry and kisses her on the forehead, and then gets up and walks away. Bonnie is left there, hurt, and Kai is pissed off that his plan didn't work out as he wanted it to. Suddenly, Damon decapitates Kai and rushes to Bonnie, giving her his blood to heal her and asks her if she really thought he would leave her alone, and that he hasn't run out of nicknames for her yet. He carries her out. Later on, Bonnie and Caroline arrive at the Salvatore Boarding House to say their goodbyes to Elena. Caroline tells Bonnie that it's easy and that all she needs to do is take Elena's hand, close her eyes, and let her into her thoughts. When they say their goodbyes, Bonnie tells Elena that she's sorry. Elena responds by telling her that it's not her fault, and that they will both get everything they want- just not at the same time. Elena then brings out a bag of feathers and asks Bonnie if she could do her trick one last time. Bonnie smiles and tearfully raises the feathers up in the air, and they both laugh and enjoy their last memory together.
In Day One of Twenty-Two Thousand, Give or Take, Bonnie is seen in Amsterdam with Damon and Alaric, who're both drunk on "a funky tasting whiskey" which Bonnie soon figures out to be tea. She writes in her journal to Elena Gilbert that she's there to make sure that Alaric does not die of over drinking. Soon, she decides to go site-seeing.

Later, while talking to Damon about how they're stuck together because she's linked to Elena and has been given a task to look after him, Bonnie is nearly hit by a car which Damon saves her from. After thanking him, she realizes that he had hesitated to save her life because of Elena and is disappointed in him. After Ric receives a phone call about "making a bomb" from Stefan, they decide to head back home only to learn that Caroline and Stefan had bargained away their home (all of Mystic Falls) to Lily and her children, the Heretics, leaving the town a ghost town as they had to evacuate everyone in town to save them from the Heretics - making anyone human in the town boarder fair game for them.

Having returned to Whitmore, Bonnie finds Damon in her room and he explains that since Stefan bargained away their home, he might as well be free to move in with her as she is his friend. Bonnie is surprised by this as he had hesitated to let her die in Amsterdam. Damon explains in a heartfelt manner that he had only hesitated because of Elena and that in those three seconds, he saw her, he held her and in the last he kissed her, but he decided to save Bonnie because she's his friend and she's "stuck with me, too." Bonnie comments that she just wanted to be sure and, reconciled, they decide they want to fight for their home back and will not let the Heretics win.

Bonnie and Matt have a conversation in which Matt accuses her of being at fault for the current situation as she is responsible for Kai's anger which eventually lead to the return of the Heretics and Kai's spell on Elena.

Malcolm, Lily's favorite Heretic, spots a human hobo who has not abandoned Mystic Falls and attacks him, draining him of blood. Bonnie arrives and uses her magic to inflict him with aneurysms which he overpowers and starts to siphon her powerful magic, agonizing Bonnie. But this is revealed to be a distraction for Damon to rip out the vampire-witch hybrid's heart.

In Never Let Me Go, Alaric approaches her with The Phoenix Stone after a class session where he teaches about death and warns the students to stay away from Mystic Falls, telling Bonnie that he got it from a contact in Duke, asking her if its magic is legit.

Bonnie senses no magic in the stone but reveals that some witches use their power to hide magic in objects to keep them secret from others, so she does a spell which unlocks the Phoenix Stone's immense power, overwhelming her as brief visions of random individuals being killed and screaming fill her mind. Convinced it's "evil", Bonnie tells Alaric she sees people dying and realizes that Alaric's contact had already warned him about the darkness in it, which is why he went to her last about it and urges Ric to destroy it.

Later, Bonnie tells Damon about Alaric's intentions to raise the dead and reassures him that she convinced him to drown it in acid. Damon then informs her that he needs her help saving Caroline after what they did the day before, thinking quickly — after learning that Matt now owns the Salvatore Mansion due to the Heretics compelling him to do so thus keeping uninvited vampires from entering the house — Bonnie approaches Matt with a plan to stop his heart so that Damon may have access to the Salvatore Mansion as Matt dying would break the seal permanently, but Bonnie assures Matt that she will also use magic to restart his heart. Matt is angered that he must die so that Damon's mess may be cleaned, prompting Bonnie to give a choice: "We don't have time for a debate, Matt. Caroline needs us. Are you in or are you out?"

Having convinced Matt, Bonnie tells him six minutes is how long it takes for Matt's heart to be stopped without anything bad happening to him, but he tells her it won't matter because she's only going to stop it for ten seconds. When Bonnie asks him if he's sure, he says it's for Caroline they should get it over with. Bonnie begins her spell and he falls unconscious as his heart begins to stop.

Once the spell is done, Bonnie texts Damon to inform him the seal is down and begins to use her power to restart Matt's heart when, suddenly, she senses the dark magic of the Phoenix Stone again and is consumed by the dark visions of death again, but this time, they reveal more, including people marked with X injuries that are emphasized in her visions. Overwhelmed by the Black Magic, Bonnie falls unconscious before she can resurrect Matt.

When Bonnie finally awakes, she has but 19 seconds resuscitate Matt and rushes to do so before she runs out of time, Matt awakens at the last minute. When Matt sees the time he is astonished that it is way longer that ten seconds.

Bonnie apologizes to Matt for the time delay and admits Matt was right the day before — it was her fault, she helped kill Malcolm and it was her idea to stop his heart. Matt then explains that he drives up and down the streets of Mystic Falls where there used to be kids playing, people in the street, etc. and now all he can think of when he sees these places is wish he sees no one because of the safety of the citizens and he hates it and he hates them to which Bonnie answers that maybe then they should stop fighting and do something about it.

Returning home to Whitmore, Bonnie calls Alaric, asking him if drowning the stone in acid worked and he confirms that it has been destroyed.

In Age of Innocence,

This article needs your help! You can edit it!


In I Carry Your Heart With Me,

In Best Served Cold,

In Mommie Dearest,

In Cold as Ice,
Personality
At the beginning of the series, Bonnie was a good-hearted, bubbly, sweet, fun-loving, spirited and optimistic individual. With regards to other people, Bonnie is described to be kind, warm, sympathetic, caring, compassionate, empathetic, selfless, and self-sacrificing. Bonnie has shown that she makes a very loving, devoted, loyal and caring friend. Bonnie could be considered to be a very spiritual person and she originally identifies herself as a psychic before discovering her identity as a witch as well as her witch heritage.
In the beginning, Bonnie was an optimistic person who always chose to see the positive in things. However, as the series goes on and Bonnie begins to suffer immense grief, loss, pain and tragedy as well as the losses of people close to her (most notably, her Grams and Jeremy), she begins to become a much more serious and even depressive person. Although she has shown that she is generally a positive and optimistic person, she has also shown that she is capable of being depressive, withdrawn, martyring, and apathetic. After her Grams dies in season one, she distanced herself from Elena and her friends in Mystic Falls. Her grief was shown to be so bad that Bonnie had even left town for a few weeks in order to escape.
Despite all the pain, loss and suffering that she has endured, Bonnie still remains rather strong, especially in the face of danger and adversity. She has shown that she is willing to put her own personal pain on the back burner in order to pay attention to the needs of her loved ones. It could be argued that Bonnie is much too emotionally invested or involved in the lives of her friends and this is probably the reason why Bonnie never seems to find a long period of contentment or happiness. Bonnie remains the person who is deeply loyal to her friends even through all of the challenges that they have faced.
While Bonnie has become friends with and likes Stefan, she remains cordial with his older brother, Damon, despite Damon's actions that have affected deeply including turning her mother into a vampire. Bonnie also sees the good in Damon and believes that he has the potential to be a good person and that there is hope for him if he makes the right choices.
Bonnie's most defining trait, as well as her greatest weakness, is her compassion, her selflessness, and her undying devotion and loyalty to her friends and her willingness to constantly sacrifice or martyr herself for them and for the greater good. Multiple times throughout the series, Bonnie uses her powers and abilities as a witch to save the people she cares for as well as innocents, despite knowing the consequences. Although every single member of her family has warned her about the consequences of some of the spells that she has performed, Bonnie's belief is that it is her duty to protect, save and help her friends at all costs.
Despite her strength in the face of loss, all of the tragic events that have happened to her and her friends has taken their emotional, mental and spiritual toll on her, particularly with Jeremy's death. Although Bonnie puts on a facade of strength and courage, she has proven that deep down, she is very emotionally vulnerable and she is in need of love, comfort and support. Bonnie's grief over the loss of Jeremy allowed her to be manipulated by Silas into agreeing to destroy the Veil between the realm of the living and the supernatural purgatory (the Other Side) just to bring Jeremy back knowing that it would also bring back every dead supernatural being.
Since finding herself in a "pocket reality" or an otherworldly dimension with Damon after seemingly being destroyed along with the imploding Other Side, Bonnie has been trying her best to keep it together despite the stress and frustration of having to live through the same day over and over again with the one person she is fond of the least (or so she says), believing that her Grams made sure that she would find her way back to the physical plane.
However, despite having to deal with that and Damon's sarcastic quips, she continues to stand tall in the face of adversity, managing to regain her magic at the possibility of the one companion or friend (and someone she cares for much deeper than she realizes) she had with her. Bonnie had no qualms when she telekinetically drove a pick axe through Kai's heart, knowing that he is of no use to her and Damon and also knowing that Kai is a psychotic murderer who has no moral or guilty conscience. However, Bonnie played the hero yet again when she sacrificed her chance to come back and let Damon go home instead, ensuring that Kai doesn't get to come back either.
Unfortunately, Kai's return to the real world set off a chain of events that put Bonnie in a most unbearable predicament - she is now stuck in the prison world meant for Kai and can only rely on her friends to get her back since she relinquished her magic and placed it in her teddy bear, which is also in the real world. Bonnie fell into a morose state as she tried to recreate a holiday tradition all by herself. She did her best to keep her spirits up but she ended up setting the Christmas tree she put up alight, showing that she is losing hope that she'll ever get out.
Not long after, Bonnie had reached her breaking point, as she found the suicide Bourbon she and Damon made a pact on and began drinking it profusely. She then decided to lock herself in the garage with the engine of Damon's car running, trying to suffocate herself to death. However, as she was recording her final moments, Bonnie was reminded of what her Grams told her and she willfully pushed through the pain of being alone and tried to escape the garage. Through Jeremy's timely intervention, she was able to get back up again and she found the atlas where Damon left notes about Nova Scotia, giving Bonnie the idea of going there to access the power of Qetsiyah's blood in Silas's headstone to bring herself back. Filled with a new determination, Bonnie takes Damon's car and journeys to Silas's tomb, hoping to finally return home.
Despite the injuries she sustained in acquiring the headstone, she nevertheless pushed through the pain and accomplished her objective. Even the erratic nature of the Prison Worlds did not stop her from fighting her way back home. When she did, she had a heartfelt reunion with Damon, who was overjoyed to have Bonnie back in the mortal plane. Despite the struggles Bonnie's faced, it appeared that they picked up where they left off and acted like not a day has passed since they got separated.
Bonnie is having a hard time reintegrating herself into life on the mortal plane, as she was very uncomfortable being in crowded places and scorched a man's skin because he was getting too close to her. However, she finds comfort in Damon, who somewhat reassures her that it's definitely going to take time for her to get herself together. However, things came to a head when she saw Kai again, threatening to melt his face off the next time she sees him, and she snapped at Damon for making her relive all the pain she felt in the Prison World. In a display of sheer power, Bonnie made Damon feel all of that pain so that her feelings about Kai would be made perfectly clear.
Bonnie has developed a more reserved, yet assertive and authoritarian demeanor after escaping the Prison World, even leading Damon (who is rather cocky and aggressive) to concede to her wishes. She acknowledges that her time in the Prison World changed her and is unsure if she is scared of what she may have turned into or likes this new version of herself. However, she is more than willing to pull through and figure herself out. After returning from the prison world, she is struggling to adapt to the real world and hide all the pain and loneliness she felt with angry and hate. But she is very happy to be reunited with her best friend Elena.
She is unable to let go of the past, as she refused forgiven Malachai Parker for what he did to her in the Prison World, despite the fact that he was no longer the evil psychopath he once was.
She even tried to kill him, even when he did not try to defend himself, Bonnie left him in 1903 as revenge for what he did to her, and she destroyed the Ascendant (off-screen) to permanently trappe him in Lillian Salvatore's Prison World, these actions of hers, not only backfired, but she also got a kick in the face, as Kai got out of the prison world (off-screen), linked Bonnie's life to Elena, he put her best friend in a mystical slumber and stop her from aging until Bonnie dies, partly as revenge for trying to permanently trappe him in Lillian's prison world, and mainly to teach her a lesson once and for all; if she keeps on double-crossing people in general, there is going to be consequences.
As the anchor to the Other Side, Bonnie seemed to have lost her abilities as a witch. Bonnie would experience pain of a dead supernatural being passing through her. She would try to keep her pain of being the anchor a secret from everyone so that they would not have to worry about her. In the beginning, Bonnie suffered that pain without anyone being aware but Jeremy discovered it when Jesse passed through Bonnie. Unlike the previous Anchor who was Amara, Bonnie had the support of her friends and beings on the Other Side. If Bonnie did not have her friends to help her through the experience, it is mostly likely that Bonnie would have lost her sanity and had gone crazy just like Amara. As the anchor, Bonnie has the ability to exist in both the physical world and on the Other Side, giving her insight on things that not every living or undead friend/ally of hers may know of. Bonnie's fate is tied to the existence of the Other Side. When Markos was brought back by The Travelers from the Other Side, it started to collapse and fall apart. The fate of the beings on the Other Side were tied into some being sucked away to a Dark Dimension (also known as being sucked into oblivion) like Silas and Katherine, while others including Grams and Lexi found true peace. The destruction of the Other Side was sped up with Bonnie helping her friends (such as Stefan, Alaric, Damon, Elena, etc) and others escape before it completely collapsed. In the end, Bonnie and Damon "died" together as they stared into a rising bright white light as the Other Side collapsed with Bonnie asking, "Do you think it will hurt?".
Physical Appearance
Physically, Bonnie is a very beautiful and attractive young woman. She is rather exotic and has an "ethereal" beauty with an air of feminine mystery. Bonnie has a very soulful and magical beauty and she is almost uniformly feminine, in which she possesses somewhat of a fragile and enigmatic aura. Bonnie has soft and gentle facial features and she has somewhat of a delicate appearance. There is also something rather dreamy about her physical appearance. Bonnie has a heart-shaped face, with full cheeks and a pointed chin. Bonnie has very expressive, soulful, dreamy and beautiful eyes; they are large, round and almond-shaped which are seen to be olive green in coloring. Her eyes almost have a feeling of a boundless ocean; an ethereal quality that is very hard to pinpoint. She has perfectly shaped arched eyebrows which frame over her limpid and soulful eyes. She has a nice, slender and straight nose. Bonnie has well-shaped, full and sensuous lips, with straight white teeth and a warm and generous smile. She has clear and soft light brown skin or complexion with long, luxurious dark brown or soft black wavy hair. Having been a cheerleader, Bonnie has a slim yet athletic figure. Bonnie is also rather petite at about 5'2" and she is the shortest between herself, Elena and Caroline (with Caroline being the tallest). Bonnie regularly changes her hairstyle, in the early seasons, she had her hair regularly styled in very tight curls and sometimes soft waves, however in the later seasons, her hair is much straighter and the length is somewhat shorter. Her fashion sense or style is described as being gypsy chic with a bit of a hippie trend and she dresses in a casual manner with nice tops and jeans, but on special occasions, she will dress up in trendier and fancier clothing. As shown by several dances and parties, she likes to dress up in costume. In early part of the first season, her style was very much "normal", regular denim, blue jeans with colored t-shirts. However in later seasons, she began to wear a more "unique" style, with floral, flared cardigans, dark jackets and matching accessories such as long necklaces and pendants with small earrings, which Bonnie is regularly seen wearing. In season four, her style matured and she began to wear more somewhat darker clothing and shoes, such as dark greens and black. She regularly wears cardigans and tops with some type of floral pattern with jeans or leggings, and occasionally; such as for Graduation, wore a floral print dress with her trinkets underneath her red gown. In the early parts of season five, her appearance and outfit when she died remains unchanged. However, when she returned to the physical plane, she had her hair cut into a short bob. Her style is much more relaxed and she's seen in more sleeveless tops than she did before. Bonnie occasionally wears make-up, only usually for special occasions such as parties in which she will use accessories and makeup to compliment her choice of outfit, however daily, she wears little to no makeup and Bonnie is more of a natural beauty.
After being resurrected as the Anchor, she cut her hair to chin length, in a straight bob cut style. In Season 7, her hair has grown to shoulder length and she wears it in loose curls. Three years later, she is seen with chin length, straight, bob cut style hair again.
Powers and Abilities
Bonnie is a very powerful witch, as well as one of the most powerful witches of her family lineage seen. Having discovered her heritage in a relatively short time prior, her powers have developed exponentially throughout the series. Within the span of at least two years, she transformed from a simple novice in the art of witchcraft to a nearly unstoppable force capable of taking down the oldest and most powerful supernatural creatures as well as controlling nature to a great extent. This could be attributed to the fact that she descended from a line of witches that begun with Qetsiyah, an extremely powerful witch responsible for creating the Immortality Spell.
As a Bennett witch, a direct descendant of Qetsiyah and the member of an extremely powerful bloodline of witches, there are a few spells limited to her bloodline. Due to being related to Qetsiyah, the creator of the Other Side, only a Bennett Witch such as herself can drop the Veil to the Other Side. The same applied to the tomb in which Silas was buried, as only a Bennett witch could open it. Malachai's prison too was created by a Bennett witch, therefore, Bonnie was the only one who could give him an escape.
After returning from the Other Side with Qetsiyah's help, Bonnie had the ability to interact with those in the mortal plane and the supernatural purgatory. However, she was stuck with having to deal with the recently deceased supernatural creatures that have to pass through her to get to the Other Side. Through a powerful and complex spell, she was capable of bringing the denizens of the Other Side back into the mortal plane through physical contact. However, when the spell is interrupted and stopped entirely, she loses this ability.
Weaknesses
Bonnie has the typical weaknesses of a human/witch.
Relationships
In the beginning, we hear Bonnie mention numerous times that her Grams says she' a witch. At first she thinks her Grams is Crazy, but Bonnie then starts to experience inexpiable and supernatural things. She finally believes that she's a witch. When Bonnie was in the initial stages of learning magic, she would visit her grandmother on the weekends. When Bonnie didn't know what was happening with her abilities she went to her for help. Grams explained the Bennett family history and also taught her spells. When Bonnie and Elena were kidnapped, Grams got Stefan to save them both. Grams also helped open the tomb, so that Damon would leave town. After Grams and Bonnie opened the tomb, Grams lied down in exhaustion. However, the spell ended up being too much for her body to handle and she died. Bonnie was devastated and took a few weeks off from school after her funeral. Since then, Bonnie has taken witchcraft much more seriously. After the veil between the living and the dead is broken, a vast group of spirits return to Mystic Falls, including Sheila Bennett. After she reveals to Bonnie that the balance of Nature has been offset, together Bonnie and Sheila perform a spell that destroyed The Original Witch's Talisman. Before her departure, Sheila gives words of encouragement to Bonnie, reminding her of her strength, and how proud she is of how far Bonnie has come. When Elena was transitioning into a vampire, Bonnie tried to pull her human spirit from the Other Side but she was stopped by Sheila, who warned her of the dark magic she was using and to stop messing with Nature. When she continued to do so, Bonnie watched her grandmother die right in front of her. Now that Bonnie is also on the Other Side, they can now presumably stay together after she told Jeremy that she "has the witches" and she left holding Sheila's hand.
Lucy seemed to be Katherine's friend. She appeared in Masquerade. She is a witch and also Bonnie's cousin. She performed a spell that linked Elena to Katherine, in order to protect her. After Bonnie learned that she can trust Lucy, she handed over the moonstone. Lucy suffocated Katherine and afterwards gave Bonnie the moonstone and left town.
However, before she left she told Bonnie that she was a good witch and that she needed to continue to fight. She also reassured Bonnie that she would see her again however this has yet to be seen on-screen.
The friendship between Bonnie and Caroline is one that has become stronger after Bonnie honed her witchcraft and Caroline became a vampire. Before they were cheerleaders in high school and they were also best friends with Elena Gilbert. Caroline was a shallow girl who envied Elena and usually talked to Bonnie about it. After Caroline transitioned into a vampire, Bonnie was angry over this and lashed out at Damon but eventually Bonnie's love for her friend overcame her natural dislike for vampires and the two were best friends again. After the Salvatore brothers killed Bonnie's mother, she kept the body at Caroline's house and it was Caroline who explained to Elena the strain it put on Bonnie being Elena's friend.
Elena is one of  Bonnie's best friend since childhood. She is the first person that Bonnie tells she is a witch. Bonnie has said that she "loves Elena like a sister" and has said that she would "die for her". They are very close and would do anything for each other. After Elena and the Salvatore brothers indirectly cause Sheila Bennett's death, their friendship goes through a temporary rough patch. Their friendship is later rekindled, and they remained best friends. After Jeremy's death, Elena turns off her humanity, and later attacks Bonnie at prom in an attempt to kill her, causing another strain on their friendship. After Elena turns her humanity back on, they make amends and Elena apologizes for her actions, to which Bonnie replies, "You weren't you. I know what that's like. I wasn't me for a long time", in reference to (expression) having an effect on her mind.
Jeremy was the first to develop romantic feelings for Bonnie and the first to express desire for a more romantic relationship between the two of them. However, Bonnie was reluctant, thinking of him as Elena's 'kid brother', but eventually gave into her feelings for him. Jeremy and Bonnie then started a relationship after they got Elena's blessing to go ahead. Jeremy is overprotective of Bonnie; probably because he doesn't want to lose her like his past two girlfriends. Bonnie has proven her love for Jeremy when she willing brought him back to life, no matter the consequence. However, after Bonnie brought him back to life he started seeing and talking to the ghost of his ex-girlfriend, much to Bonnie's displeasure. Elena caught Jeremy kissing Anna, she then informed Caroline who in turn relayed this information to Bonnie. A heartbroken Bonnie then ends their relationship. In Death and the Maiden, they confess their love for each other and kiss. In Home, Bonnie gets trapped on the other side with Damon, thus ending their relationship. However, in Season Six, the two rekindle their friendship and decide to breakup. Jeremy is currently away from Mystic Falls and would rather pursue his life chasing vampires than being with her in Mystic Falls
Matt and Bonnie are great friends that have been close since childhood. In the pilot Bonnie is seen talking and trying to comfort him about Elena. In season 3, Matt mentioned he and Bonnie were lifeguards last summer. Matt also has a lot of trust in Bonnie that he trust her with his life in The Reckoning. Even though Matt is feeling lonely, Bonnie reassures Matt; "You're the only one of us who actually gets to live their life like a normal person, no matter how lost you feel. Don't forget that".
Damon and Bonnie first started out as enemies who usually worked together to save their friends and loved ones. However at the end of Season 5, they get stuck on The Other Side together, and hold hands as they get sucked into a white light. They later discover that they are stuck in a 1994 Prison World. They work together to find a way out and form an alliance to take down Kai. During this time, they are able to move on from their past and become best friends. Damon is shown to be protective of Bonnie by threatening Kai: "We may be having a bit of a disagreement, but don't ever lay a hand on her." Bonnie also sacrifices herself to let Damon go home. They later reunite in Let Her Go and Damon happily states, "You made it."
Other Relationships
Novels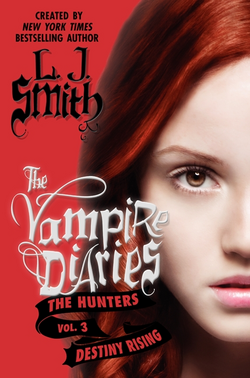 Bonnie MacCullough is a main female character of The Vampire Diaries book series. She is an eighteen year old young witch who originally started off as a human psychic. Bonnie is from the small town of Fells Church, Virginia. Bonnie is best friends with Elena Gilbert, Meredith Sulez, Matt Honeycutt and Stefan Salvatore. Bonnie is the only person within the entire series to develop a deep, strong, tender and genuine relationship with Damon Salvatore (while Bonnie has a love hate relationship with Damon in the television adaptation, although as of the sixth season, this has dramatically changed). Bonnie was born on March 9, 1992, in Fells Church, Virginia. She is of Scottish American descent and she is descended from ancient Celtic Druids (pronounced Droo-ids). She has witch ancestry and she possesses psychic powers, which developed and became immensely powerful and strong over a period of time throughout the course of the series. Bonnie has a Scottish grandmother from Edinburgh, Scotland, who is a psychic witch (like herself) and whom she was very close to. She has one older sister named Mary McCullough, who is a nurse and who is two to three years older than her. It has been mentioned in the novels that Bonnie might possibly have another sister other than Mary, although this is not certain and has not been confirmed so it is assumed that Bonnie only has one sibling. Bonnie has slowly learned to control her strong abilities as a psychic, although her powers often become much too overwhelming for her to handle at times. Bonnie's psychic abilities are hereditary according to Bonnie, and she says that the psychic powers always skip a generation. Bonnie's grandmother has the psychic (witch) abilities, but she says that her mother doesn't possess them. Bonnie has also dabbled in the art of witchcraft successfully and she had done this when trying to help Elena find Stefan when he had gone missing in The Struggle. Physically, Bonnie is described to be a small, petite girl (while Bonnie Bennett is tall) with deep, large brown eyes, a heart shaped face, long strawberry red-gold hair (which is curly permed and while Bonnie Bennett has black hair) and very fair skin or complexion (while Bonnie Bennett has dark skin), which is said to be highly translucent and opaque. Bonnie's physical appearance is often described to be innocent, dainty and childlike like a pixie, while Bonnie Bennett's appearance is harder, serious and tougher. Initially, in the very beginning of the series, Bonnie comes off as kind-hearted and caring, but she is not seen to be very bright, scholarly and intelligent at all. In Dark Reunion, Bonnie begins to dabble in the art of witchcraft, and successfully pulls off a summoning ritual to call Stefan back to Fell's Church, then successfully manages to help Stefan communicate with a ghost! Elena by various means. At the end of Dark Reunion, Bonnie is the one who screams about the unfairness of their tragic fate, which triggers Elena's return from the afterlife. It is unknown if Bonnie's strong and powerful powers played any significant role in making this happen, or if it was just a matter of lucky timing (it was the night of the summer solstice, when ghosts were said to be prone to returning to Earth anyway). She slowly realizes that she isn't as dumb as she believes herself to be (and, as a result, as she's convinced everyone else she is), and that she's actually rather resourceful, useful, needed and loved by all of her friends. Although Bonnie's characterization generally appears to be light-hearted, bubbly and sweet, Bonnie is deeply fascinated with and drawn to darkness and unconventionality, especially with death. Bonnie frequently talks about, fantasizes about and romanticizes death, especially her own; constantly talking about her Scottish grandmother's prophecy that she would be young and beautiful in her grave, and she is going to die romantically. She is fickle, idealistic and flighty when it comes to the opposite sex, while Bonnie in the TV series barely has a boyfriend. Bonnie is described to be highly flirtatious and coy. She has a habit of chasing boys, therefore, this has made her look somewhat flighty, ditzy, unstable and even promiscuous when it comes to the opposite sex. She has had numerous boyfriends, crushes and infatuations whom she doesn't seem to take seriously at all due to her fickleness, flightiness and her inability to commit to a stable, long-term romantic relationship. Bonnie has shown some interest in Matt Honeycutt. She begins to develop a relationship with Matt (especially in Dark Reunion), although Matt is still very much in love with Elena. Matt has been seen to be very protective over Bonnie, especially where Damon is concerned, and he appears to have a brother-sister, best friend or platonic connection with her. She has a pleasant and easy-going connection with Matt. Bonnie has a very deep, strong, indescribable and undeniable attraction and connection with Damon Salvatore. She deeply and strongly cares about him (unconditionally) and is indescribably and undeniably drawn to him. Damon has saved her life on various occasions throughout the course of the series and because of it, Damon is seen as Bonnie's hero and protector (in the series, Bonnie and Damon hate each other and will only work together if they have to). Damon has shown to be fiercely protective (sometimes overly protective) of Bonnie even though he won't and can't admit it to himself (for whatever unexplained reasons) and he is always there for her whenever she is in trouble of any kind. Bonnie is Damon's "weak spot" although Damon constantly and repeatedly tries to deny it throughout the series. By the end of the original series, Bonnie had become significantly more mature, grounded and serious; focusing on the more important issues and problems at hand rather than about the opposite sex and chasing boys. She even surprises herself a few times with her own insightful, helpful contributions to the fight against Klaus. Bonnie, who is a powerful psychic with supposed witch ancestry, is often greatly overwhelmed by her powers, and attempts to repress the true extent of them without very much success.
Appearances
| | | |
| --- | --- | --- |
| Part 2 (archive footage, uncredited) | | |
Episode Absence
In Season 1, Bonnie doesn't appear in 6 episodes:

In Season 2, Bonnie doesn't appear in 5 episodes:

In Season 3, Bonnie doesn't appear in 5 episodes:

In Season 4, Bonnie doesn't appear in 5 episodes:

| | |
| --- | --- |
| In Season 5, Bonnie doesn't appear in 5 episodes so far: | In Season 6, Bonnie doesn't appear in 4 episodes: |

In Season 7, Bonnie doesn't appear in 1 episode so far:
Name
Bonnie is a feminine first name of Scottish or Scots-Irish origin which means "pretty", "beautiful", "charming" or "attractive". It is pronounced BAHN-ee or BON-ee.

Other spellings and variations of Bonnie include Bonea, Bonee, Boney, Boni, Bonia, Boniah, Bonie, Bonne, Bonnea, Bonnee, Bonnell, Bonney, Bonni, Bonnia, Bonniah, Bonnin, Bonnie-Bell, Bonnie-Belle, Bonnebell, Bonnebelle, Bonnibela, Bonnibelah, Bonnibele, Bonnibell, Bonnibella, Bonnibellah, Bonnibelle, Bonniebell, Bonniebelle, Bonnybell, Bonnybelle, Bonita, Bonesha, Bonetta, Bonitah, Bonitta, Bonittah, Bonnetta, Bonnita, Bonnitah, Bonnitta, Bonnyta, Bonnytta, Bonyta, Bonytta.
Sheila is a feminine anglicized form the Irish name Síle. It is an English version of the name and the Irish form of Cecilia. The name means "blind" "one who is blind" or sixth". It is pronounced SHEE-la.

Other spellings and variations of Sheila include Sheilah, Sheelagh, Shelagh, Shiela, Shyla, Selia, Sighle, Sheiletta, Sheilette, Sheilett, Sheileta, Sheyla, Sheala, Sheela, Sheelah, Sheilagh, Sheileen, Sheilia, Sheillia, Sheilliah, Sheillynn, Sheilya, Shela, Shelah, Shiela, Shielah.

Bennett is an uncommon unisex name, which could be Latin or Hebrew in origin. The meaning of the name is "blessed".
Behind The Scenes
The casting call was: Seventeen years old, bubbly, adorable, loyal and bighearted, she is Elena's best friend who is developing her psychic abilities and senses that Stefan is dangerous. She also "sees" the black crow of death that seems to be following Elena...
Trivia
Bonnie was dead during all episodes of Season Five.

Bonnie is the only main character that after her death never left the main cast. Later she was resurrected.

Bonnie's birthday is February 5, and her astrological sign is Aquarius.
In Welcome to Paradise, it is revealed by Damon that she talks in her sleep.
Bonnie apparently hates pancakes.
Bonnie is one of the most powerful main characters and general character shown in the series. She succeeded in going against the will of Nature and revived Jeremy Gilbert from the dead.
Bonnie is a very distant descendant of arguably one of the most powerful witches of all time, Qetsiyah.
Bonnie is the only one that has handled the three talismans of the most powerful witches.
Bonnie Bennett's character is loosely based off Bonnie McCullough from the novels.
Bonnie stated she was a psychic in Pilot, and that she was a witch in 162 Candles.
Bonnie is the first one to see Stefan Salvatore before Elena.
Bonnie is the first witch to be seen in the series.
Because of her powers, Bonnie is considered one of the most powerful main characters.
Bonnie is the only witch to live the longest amount of time throughout the series.
Bonnie has been possessed by her ancestor Emily twice.
The Bennett line of witches has been in Mystic Falls dating all the way back to the Middle Ages with Ayana. However, Sheila tells Bonnie that their family was originally from Salem, Massachusetts and first came to Mystic Falls after the Salem witch trials, which hadn't taken place until the late 17th century.
Along with Bonnie, all main female characters have died at some point, Bonnie's death occurring during the 60's dance which she managed to revive from later that night with a spell, Bonnie, Caroline, and Elena are the only ones to escape permanent death and Bonnie is the only one to retain her humanity.
Bonnie's ancestors have been betrayed by Elena's ancestors.
On the television show Heroes, a character named Claire Bennett went back in time and used the alias Bonnie to interact with her mom, also Claire Bennett's father Noah Bennett is played by Jack Coleman, the same actor who played Caroline's late father Bill Forbes.
Bonnie, Alaric, Rebekah, Tyler and Elena, are the only characters who had their body used by another character. Bonnie was first who was possessed, and she was possessed by her ancestor Emily Bennett.
Until Tyler during season two, Bonnie was the only main character who was absent for a period of four episodes in a row.
Bonnie is the best friend of Elena, just like their mothers Abby (Bonnie's mother) and Miranda (Elena's adoptive mother).
Her car is a blue ribbon metallic Toyota Prius registered JR7-5183.
The Toyota Prius that Bonnie drives is also Katerina Graham's personal car.
Bonnie is the only witch who has been possessed by another witch in the series.
Bonnie is also the only witch who revived a human with no other human connect.
Bonnie once stated that she can't cook, like her friend Elena.
Bonnie's house number is 2136.
Bonnie is the only character and witch shown using expression magic so far and on another character.
Bonnie is the only witch that used three types of magic at the same time: Spirit Magic, Dark Magic, Expression Magic.
Bonnie is the only character shown to actually use Expression on camera. Bonnie is also assumed to be the only witch who has ever been able to combine three kinds of magic, this making Bonnie one of the most powerful witches shown in the series.
As the Anchor to the Other Side, Bonnie now existed on both sides and could have physical contact/interaction with the living and the dead. However, Bonnie found out that each time a supernatural creature dies, she felt the pain of their death as they passed through her to the Other Side.
In the movie Honey 2 , Kat Graham played a character named Maria Bennett.
Bonnie received her middle name "Sheila" from her grandmother, Sheila Bennett.
Bonnie was the only immortal character like Silas and Amara as she couldn't be killed but unlike them she didn't drink blood.
Bonnie was mentioned in The Originals episode A Closer Walk With Thee by Niklaus Mikaelson.
Bonnie had the chance to save Silas in the finale, but chose not to. Thus getting her revenge for her father's death.
Bonnie and Tyler are the only two main characters that Silas never disguised himself on the show.
Bonnie and Vicki are the only main characters not to be killed by the known antagonists of the show: Damon, Katherine, Klaus, Silas and Markos.
Bonnie as a witch has practiced four types of magic so far: Traditional Magic, Spirit Magic, Dark Magic and Expression. She currently practices Traditional Magic.
Bonnie has mentioned to Damon that she doesn't like pancakes. However, during their time in the Prison World, both Bonnie and Damon ate pancakes everyday.
Bonnie spend 278 days inside the 1904 prison world.
In A Bird in a Gilded Cage, Bonnie is proven to be significantly stronger than Kai who has absorbed the power of two witches and is currently The Gemini Coven's leader. Whereas Bonnie has absorbed the magic from one of the most powerful witches in the Vampire Diaries Universe.

However, this is proven to be false, in I'm Thinking Of You All The While, Kai used his telekinesis on Bonnie, she was not able to break free from his magic before he through her across the room, this proves that Kai was more powerful then Bonnie.

In I'm Thinking Of You All The While, Elena recognized Damon as one of Bonnie's best friends.
Bonnie is the second witch after Freya to have resurrected several dead supernaturals whose spirits were previously not on the Other Side, as it no longer exists. She resurrected the corpses of Oscar, one of the Heretics and Josette Laughlin, a former witch and member of the Gemini Coven by permanently binding unknown vampire spirits into their bodies.

Like Freya, who used her talisman to bind Finn's soul, ensuring that it would not pass on, Bonnie managed to do this by using the Phoenix Stone to create a permanent connection between the bodies of Jo & Oscar and several unknown spirits in belief that she was resurrecting Jo & Oscar. It is later revealed that she resurrected their corpses by inhabiting them with unknown people whose spirits were previously preserved in the Phoenix Stone.

In a flash forward in Live Through This, Bonnie and Enzo are shown kissing passionately implying that they are gonna be in a romantic relationship some time in the future.
Bonnie's status as a witch makes her the only regular character in The Vampire Diaries that has never been compelled by a vampire.
Tropes
Bonnie went through an Adaptation Race Lift, as the character was Scottish in the books. To follow TV quotas she is the Token Minority and is Elena's African-American Best Friend.
Like many characters in the show, she suffers from Parental Abandonment: her mother left home when she was just 5 years old and she was raised by a frequently absent father.
I must Scream: Due to being the anchor to The Other Side, Bonnie must feel the death of every supernatural being. And since the majority of those deaths are violent, the process is extremely painful.
Quotes
---
---
---
Season Four



(To Jeremy) : "If the witches won't help me save Elena, then maybe I can go to the Other Side and bring her back myself."

(To Jeremy) : "She's still in transition. Not fully dead, not fully alive. What if her spirit still exists on both sides?"

---

(To Stefan) : "My Grams, it was like she was dying all over again. Just because I didn't listen to her about not doing black magic."

(To Stefan) : "Well, it worked. I tried to do a basic nature spell this morning just to clear my head and it just brought it all back. Like it was happening all over again. Sorry, I'm a mess, I've been holed up in here avoiding everyone. I've completely blown off Jamie. You came here because you needed something, right?"

(To Stefan) : "No, come on. Stefan, I'm okay. You're not exactly a drop by kind of guy, just...if something's wrong, tell me."

- Memorial

---

(To Elena) : "If I could spell you out of wanting blood, I would, but I can't, so better you learn this now than at freshmen orientation."

(To Damon) : "You're disgusting."

(To Damon) : "His name is Professor Shane. And he's not creepy. I'm gonna go talk to him."

(To Shane) : "No, I – I don't practice. Not anymore. I lost control of myself and there were consequences."

(To Elena) : "Because you listened to Damon and Damon makes everything he wants sound like a good idea."

- The Five

---

(To Shane) : "Maybe. I don't think hypnosis would work. Witches are naturally immune to any sort of manipulation."

---

(To Damon) : "The spirits won't let me do the magic I'd need to break the curse. But I can ask Shane for help, he knows everything about everything."

(To Shane) : "Shane, this is my friend, Damon. He's kind of an expert on this stuff too."

(To Jeremy) : "We figured out how to help her. You need to kill a vampire."

---

---
---
Season Five



(To Elena in voiceover) : "Hey Elena, what's up? You guys have no idea how much I miss you. I've been emailing with Jeremy...he says it's been surreal to be alive."

(To Elena in voiceover) : "If Katherine ingesting the only cure on this earth and having to live as a human isn't justice, I don't know what is. I miss you guys. I'm glad you're having a great summer."

(To Jeremy) : "How many postcards have I sent him? How many times has he called? I've done enough, he's clearly not missing me."

(To Jeremy) : "I just saw her at college. She seemed genuinely happy. I am not taking that away from her. We're lucky, Jer. How many people die and still get to talk to their best friends?"

---

(To Jeremy) : "It was supposed to be a nice family event. Just stopped in to see my dad. Then Silas showed up...said he was testing how powerful his mind-control had become."

(To Jeremy) : "The entire town did exactly what he said. He didn't want any witnesses, so he told them to forget what he did. They watched my dad die...they couldn't do anything, or tell anyone. What are you gonna do? You gonna hug me?"

(To Jeremy) : "Well, you can't. You can't touch me, and I can't touch you, because I'm dead. Just like my dad, except he's not supernatural, so I don't get to see him on the other side. He's just dead. Silas is using his mind-control to find Katherine. He told everyone in the town square to keep an eye out for anyone that looks like Elena. Whatever he wants with Katherine, we can't let him have it."

(To Matt) : "The Other Side. The Gilbert ring brought you here when you died. That's how it works — temporarily brings your spirit here. To go back, you have to reconnect to your body."

(To Matt) : "That's because each time you die, you wake up farther and farther away from it...and you wander the Other Side until you find it."

(To Matt) : "It actually hasn't been so bad. I have Jeremy, and I see Grams sometimes. Last night with my dad was the first really hard time...I'll be okay, I just have to get past these next few days."

(To Jeremy) : "I'm not ready to be dead yet, Jeremy. I'm just not. Maybe I will be one day, but it's not today. And I don't know what to do about my dad, or what to do when the sheriff calls, because she's gonna call me—"

---

(To Jeremy) : "It's not like there's Netflix where I am. You working out is my main source of entertainment."

(To Jeremy) : "And every girl on the Other Side thanks you for it."

(To Jeremy) : "Say that I'm not going anywhere, say that even though they couldn't see me I've been there the whole time."

(To Elena) : "Everyone will find their way, so you are gonna repack your things, you're gonna go back to college, and you're gonna live it up. [to Matt] You didn't do anything wrong, Matt. You know I would have sent you three hundred e-mails back if I could. I miss you."

(To Caroline) : "I watched you decorate that dorm room like your life depended on it. [They laugh.] And I know that college isn't everything you expected and that you feel like something's missing, but...Tyler..."

(To Jeremy) : "This is good. This is all I wanted. I'll be okay. We'll all be okay."

---

(To Jeremy) : "Powerful spells are bound by something even more powerful-- the moon, a comet, a doppelgänger. The Other Side was made 2,000 years ago, and it still exists. That means she must have bound it to something that could exist just as long."

---

(To Jeremy) : "I'm not jinxing it. I'm being realistic. It's not a dime store spell, Jer. When I brought you back, it killed me. Remember? What I meant was it's just-- It's not something I'm going to count on, okay?"

(To Jeremy) : "Jer, just so we're clear, I would die a hundred times over just to have you standing here alive, in front of me."

(To Jeremy) : "Jeremy Gilbert, do you not know me at all? Is there a part of you that thinks for one minute that I'd let one of my friends die just so that I could come back to life? I'm dead, Jer, and as much as I want to come back, maybe i'm just supposed to accept that."

---

(To Jeremy) : "I wonder what will happen if she dies and the Other Side gets destroyed. Do you think there will be, like, a white light and then nothing? It won't hurt, will it? That would suck if it hurt."

(To Jeremy) : " Don't you dare give me a goodbye speech."

(To Jeremy) : "Wait. Don't tell me. If you don't tell me, we'll have to wait until another time, which means there will be another time."

Bonnie : "I'm here. I'm back."

(To Jeremy) : "I miss this. I miss feeling warm. I never felt warm on the Other Side."

---

(To Abby) : "Hi, Mom. I know we haven't seen each other, or talked in a while...so I wanted to make you a video update. I finally finished my whirlwind summer tour, got a new 'do and, I'm in college at Whitmore, where Grams taught. And this is my dorm! It's huge, right? It even has a fireplace! I mean, what dorm has a fireplace? Oh, here they are. Hey, guys! Say hi to my mom! They're planning me a welcome party. Just something, just low-key. I miss you. Please come visit when you get a chance. I'll, um, talk to you soon. Bye!"

(To Jeremy) : "I know. I-- She's-- I know I have Elena's blessing. I still don't need to rub it in her face the first day in the triple dorm room."

(To Jeremy) : "You mean, Damon's house? [Teasing Jeremy] While we're at it, why don't we just have sex in his bathtub. Maybe Katherine could watch?"

(To Old Woman) : "The Anchor to the Other Side. Every supernatural being that dies passes through me."

(To Jeremy) : "You and me. This, this is worth it. Any consequence is worth this."

---

(About Katherine) : "My Grams died trying to close a tomb she wasn't in."

(To Matt) : "I think so...I mean, she's human, but she's also a doppelgänger...and a traveler, apparently."

(To Matt) : "I see lots of people: my grams, the other witches, Vicki...I just don't talk about it you know...because it's just..."

---

(To Liv) : "Hey, do you mind if I share?.......Great. Thanks. Appreciate it."

(To Damon) : "Liv Parker. She's in one of my classes and she's not my friend. I looked her up, found out she works events catering. This is a total shot in the dark."

(To Liv) : "Look, under normal circumstances, I'd probably try to warm up to you, be your friend, or something, but I'm kind of under a time crunch, and I need your help."

(To Liv) : "Concentrate. Forget about the vampires. Focus on tapping into your power, listen to the sound of your heart beating, the sound of your lungs filling with air."

---

(To Jeremy) : "A surprise party? Seriously? I wanted a spa day. You try feeling the death of every supernatural creature who passes through you on their way to the Other Side."

(To Katherine) : "Yeah, I had to pull an all-nighter for my sociology exam, and then I woke up to a coven of dead Russian witches passsing through me on the way to the Other Side. Sorry, self-pity. So not cute."

---

(To Liv) : "Okay, hot shot. Set it on fire."

(To Liv) : "That's weird..I guess your resume still needs a little padding?"

(To Elena) : "Elena! Stop. This is the virus.. It's in your head. Katherine wanted to destroy you and it's working! You have to fight it."

(To Liv) : "Look, if you don't want any part of this, I get it. Magic isn't for everyone. I won't be offended."

---

(To Luke) : "You just keep looking over there. I thought maybe you wanted to say something."

(To Luke) : "So, you're Liv's twin brother and a witch? Anything else I should know?"

(To Luke) : "I'm not mad. I'm creeped out. Why have you been watching me all day? "

(To Jeremy in voicemail) : "Hey Jer, um, I haven't heard back and I have a million questions, so... I miss you, and... I'm confused, that's all. Call me? "

---

(To Jeremy in voicemail) : "Hey, Jeremy. It's me Bonnie Bennett, your girlfriend, just in case you need reminding, which I'm happy to keep doing until you call me back. So call me."

(To Grams) : "Did you read that in the other side newsletter? Grams, you don't look right."

(To Jeremy) : "Surprise. Actually not really. I left you a voicemail, and I texted."

(To Jeremy) : "Right. All your stuff. Anyway, I need your help. I think something's going on on the other side."

(To Jeremy) : "Ok. Here's what's not ok. Do what you want to protect me, but don't fall off the face of the earth, especially with someone who was caught lying to me and who tried to kill Elena. Don't put me in a position where I have to question you because I--Listen. I was gonna say because I choose to trust you, and I want to be right."

---

(To Stefan and Elena) : "I'm not in denial. The other side is disintegrating. As the anchor to the other side, I'm only alive as long as there is an other side. I'm perfectly aware of the threat of my impending death. There is nothing I can do about it. It's called acceptance, fifth stage of grief. Look it up, tutor guy."

(To Liv) : "Nothing. Not really nothing. More like a rhetorical question about how to fix an imploding supernatural purgatory."

(To Liv) : "Enzo may be using you as his little pocket witch, but if he kills either of them, the Travelers can't do whatever they need to do with the doppelgänger blood, and the witches win."

---

(To Jeremy) : "We have the dorm to ourselves for an entire weekend, and you want to talk logistics?"

(To Jeremy) : "Oh. Another secret bro meeting?"

(To Grams) : "How did you do that? How did you move that? You can't move things from the other side. That doesn't happen."

(To Jeremy) : "When we planned our romantic day together, I wasn't picturing you, me, and two other guys."

(To Stefan) : "Stefan, hey. Remind me why I passed on the cloaking spell party again."

(To Stefan) : "Actually, yeah. My grams knocked a lamp right off my desk today. I doubt it's easy, but if someone were emotional enough..."

(To Jeremy) : "We're together... in a cave of semiconscious Travelers who want to take over our town, but it could be worse, right?"

---

(To Caroline) : "'We have to be out of here right after finals, which I might skip, due to the potential extinction of magic in the place where I was spending my summer break."

(To Caroline) : "'There is no spell.. I made it up. The other side is collapsing and everyone in it, including me, is going away for good.....So no. I don't think you should kill Tyler."

(To Enzo) : "The travelers used doppelgänger blood in that spell to bring Markos back, which means, they basically destroyed the magic that holds the other side together. It's unraveling and there's nothing anyone can do to stop it. It's over, Enzo. You're not coming back. Accept it."

---

(To Damon) : "It's more than just knowing the spell. Markos was able to come back because dozens of Travelers were willing to sacrifice themselves in order to overwhelm me. I doubt they'll be willing to do that for a bunch of supernatural strangers."

(To Damon) : "I know that. Do you think I want to die?"

(To Enzo) : "Tell me about it, but with Liv doing the spell, not bring her brothe back would be just--"

(To Enzo) : "Cruel. It would be cruel, but none of it matters if your mysterious Traveler doesn't show."

(To Tyler Lockwood) : "You're dead, and you're you. Caroline was right. Dying eliminated your passenger."

(To Jeremy on phone) : "You need to go be a younger, hotter Bruce Willis, and if I take one step into Mystic Falls, good-bye magic, good-bye anchor, good-bye me."

(To Jeremy on phone) : "Being an anchor is like being a gateway. Usually, it's one way, but when the Travelers die, Liv will do the spell, and her magic combined with all those Travelers opening the gate at once will allow the people on the Other Side to push their way through me like Markos did."

(To Enzo) : "My plan is my job... just like the spell is yours, which apparently you suck at. Should already be on the road."

(To Silas) : "I'm sorry. I'm a little nervous about unleashing a plague onto humanity."

(To Enzo) : "Yeah. We're good, but Silas is a crappy mentor, FYI."

(To Jeremy) : "I lied. There was never any way for me to stop being the anchor. When the other side goes, I go with it."

(To Jeremy) : "If I told you the truth, it would have changed our last days together and I didn't want it to change. We were happy."

(To Jeremy) : "I died Jer, the day before graduation. And the rest of this has been a gift. I choose to be thankful that I didn't waste a second of it. So, take care of Elena."

(To Damon) : "It is. I'm sure there are a million people we'd rather be with right now, but..."

(To Damon) : " Do you think it'll hurt?"

- Home
---
Season Six



(To Damon) : "Every day I tell you I hate that."

---

(To Damon) : "Why don't we see any people? If we're still on the Other Side we should at least be able to see the living."

(To Damon) : "How many times are you going to ask me questions I don't have the answers to? Huh? There's something weird about these cars."

(To Damon) : " Rare solar eclipse expected to be seen across 12 states?"

(To Damon) : "May 10th, 1994. Is that--? Are we--? But that's impossible."

(To Damon) : "It feels so weird to be back here, I practically grew up on this porch."

(To Damon) : "Before the Other Side collapsed, my Grams said that she made a sacrifice so that I could find peace."

(To Damon) : "Well, this clearly isn't peace, otherwise I wouldn't be stuck here with you."

(To Damon) : "She must have--I don't know, sent me somewhere. And when I held your hand...it took you with me."

(To Damon) : "Oh, Ms. Cuddles, I lost her when I was nine. But I went into my house last night and...here she was. I also found this at my Grams's house. Her old grimoire."

(To Damon) : "Everything that existed in 1994, still exists."

(To Damon) : "Listen, there was a time when I couldn't practice magic. This grimoire taught me alot, maybe...I can reteach myself."

(To Damon) : "Would a little support kill you?"

(To Damon) : " Oh, gee, thanks---breakfast with my least favorite person, and a crossword puzzle, from 1994. Alright, what's a seven letter word for--"

(To Damon) : "It says, May 10th, 1994. It's the same day as yesterday. We're living the same day all over again."

(To Damon) : "What's a seven letter word for kill me now?"

(To Damon) : "And so did this crossword puzzle. Everyday for two months I've done this stupid thing and I still can't figure out 27 across. Old tongue twister, Eddie turned top 40? I hate pancakes!"

(To Damon) : "You know what? You think we're trapped in your hell? I have to spend everyday on repeat with the person I like least on this earth--! Maybe we're trapped in mine."

(To Damon) : " I miss them too, you know."

(To Damon) : "I wish, 27 across is a rock I am pushing up an endless mountain."

(To Damon) : "There's someone else here."

---

(To Damon) : "Eggs, milk and--ooh candles."

(To Damon) : "You know, when all this started, you sucked at making pancakes but now they're somewhat edible...Milk....There's no reason to be Peter Pessimist. We have proof we're not alone."

(To Damon) : "You refuse to have hope that you'll see Elena again so you don't have to be disappointed."

(To Damon) : "No, day-mon-a. There were pork rinds on this shelf, There have been pork rinds here on every shopping trip we've had for the past 4 months. You hear that? Hmm, you hear that, Damon? That's what hope sounds like."

(To Damon) : "Well, you say that this is your hell right? If there's someone else here, that means it's not your hell, and if it's not your hell that means Grams put us here, and if Grams put us here there's a way out."

(To Damon) : "Thank you. So now that we have properly placed our hope, let's play a game. When we get out, what's the first thing you're gonna tell Elena?"

(To Damon) : "Give me your ring. All I've heard you say is that you have no hope and that this is your hell, so if it's so bad, why don't you just end it? Hope is the only thing keeping me going, Damon, so if you're really done, if you have none, then be done because this isn't helping."

(To Kai) : "Giving up so soon? I'm embarrassed for you."

---

(To Damon) : "Tell me you didn't kill a pregnant woman."

(To Kai) : "Mm-mm, the spell's working. It's showing me Mystic Falls. It feels so... close....It's right here."

(To Kai) : "You know you could have just shown us the Ascendant to begin with."

(To Damon) : "I read this paper like a thousand times, and there's something in it about Oregon."

(To Damon) : "Family massacred in Portland. The only one missing was the oldest boy, a 22-year-old named Malachi."

(To Kai) : "This place is a prison. (to Kai) They created it for you."

(To Damon) : "No. 'Cause you're punishing yourself. You call this place your hell, and it means you feel remorse. That makes you different from Kai. Maybe there is hope for you."

---

(To Damon) : "Look, I want to go home more than anything but Kai's a sociopath, who's to say he won't screw us over?"

(To Damon) : "Hey. You know there's a very probable chance you're digging your own grave, and... not bothered?"

(To Kai) : "I'm serious Kai! This was your big threat, wasn't it? If I do the spell and let us out of here, you'll just take my magic, leave me for dead, and do the spell yourself. So go ahead. Take all of it."

(To Damon) : "Think about it, Damon. What prison gives an inmate a key?"

(To Damon) : "I think the Gemini coven used a Bennett spell to create this place, what if that's why my Grams sent me here?"

(To Damon) : "You know the last thing my Grams said to me... was to stay strong. What if that was her way of telling me I have the power to get out? I have the ascendant, a massive celestial event to draw from, plus a burning desire to get away from you. That's why Kai wouldn't kill me. He needed a Bennett... I was his only way out of here."

(To Damon) : "I'm not going to make it. But you are."

---

(To Kai) : "I don't want to help. You're a psychopath. This place is your prison. I'm not letting you out. Besides, you'll just kill me the minute we get out."

(To Kai) : "You said you wanted to get out of here... And I quote... 'To give the rest of the Gemini coven an excruciating death.'"

(To Kai) : "It's so strange. I wonder if I accidentally put it somewhere. Oh, I remember now. I put it somewhere safe."

(To Kai) : "It's so strange. I wonder if I accidentally put it somewhere. Oh, I remember now. I put it somewhere safe."

(To Kai) : "Do you remember saying you wanted to be more like me... Brave, loyal, patient?"

(To Kai) : "Oh, it's gone. I guess we're stuck here forever. Sorry."

---

(To Kai) : "Listen, Kai. My magic's gone, which means we will be stuck here forever. Why don't we just divide the world in half and go our separate ways?"

(To Kai) : "I will never trust you or like you or enjoy your company for so much as one second, so just quit trying. Just let me leave here unharmed."

(To Kai) : "I had Thanksgiving dinner with you. Now you keep up your end of the deal and give me your car keys."

---

(To Elena) : "I can't believe I'm hearing your voice right now. How are you here?"

(To Elena) : "After cooking me Thanksgiving spaghetti and stealing my blood. It's been a strange few days."

- I Alone

---

Bonnie : "Heh. Nope. I'm not noticing you. Today's not May 10, 1994. Today's the tree decorating ceremony, and you are not telling me otherwise."

(To Elena) : "Oh! I love you. Almost as much as I love torturing Jeremy."

Bonnie : "Ok, tree. Let's do this."

---

Bonnie : "Happy Birthday, Bonnie."

Bonnie : "Cheers to making it this far....Ok. Think it's time I cut myself off. Agh!"

Bonnie : "It's probably a waste of time even recording anything, but, Damon, Elena, whoever, you find this and you figure out how to work this stupid thing, please tell everyone that I'm sorry."

Bonnie : "Tell them that I tried. I really tried to make it work. Um... You know, I just miss too much. I miss saying hi to strangers... ordering dinner in a restaurant, laughing with my friends... But, um, spending every day here alone with no one to talk to, going weeks without speaking, it's just the loneliness. It's--I can't take it. And I only know one way to turn it off. I'm sorry. Jeremy. I... I hope you're living your life with no regrets. I hope you fight for the life you want, and don't ever give up on yourself and stay strong. Something my grams said. Stay... Strong."

Bonnie : "Gonna stay strong. I'm not gonna die in this place!"

Bonnie : "Nova Scotia? Damon, you're a genius."

---

Bonnie : "It's day 278 inside this stupid prison world. I have two broken toes, nine blisters, and an ear infection, but I don't care. I have phesmatosed the crap out of this magic Canadian rock, and I have my magic again. And when that eclipse hits 12:28, I'm going home. You hear that, me? Home."

Bonnie : "Okay. Clearly, I've been dropped into a snowy tundra hell dimension. Either that or I finally had a psychotic break."

Bonnie : "I can do this. The Northern Lights, the eclipse, they're both recurring events. I can get out of here. Come on, come on."

(To Damon) : "One and only."

---

(To Elena) : "My not-flannel blouse, my not-flannel t-shirts, and ooh! Ooh! I really missed my not-flannel V-neck."

(To Elena) : "It's so weird. It's like she's Caroline, but she's not."

(To some guy) : "Can't help it-- I'm hot."

(To Damon) : "Gloating in one of my best friend's times of need? It's weird that I miss you."

(To Damon) : "Well, if scorching some douchebag with my magic is okay, then, yeah! Peachy. When you came back, did you just slide right back into your old life?"

(To Kai) : "If I see your face again, I will melt it off."

(To Damon) : "You were there the first time he hurt me, an arrow through the stomach. But you weren't there for what happened next, when he chased me through the hospital. When he strangled me. He drugged me, he tied me up, and he stuck me in a trunk. And then suddenly, he wants to be nice, huh? Start over. "

(To Damon) : "Then came the worst part, because when it was all over, he left me. Alone. And I wish I could share what that feels like, but I can't. I want you to get out."

(To Jeremy) : "Hey, Jeremy, it's Bonnie. It's a really long story, but I'm back. Uh, I had this whole plan to drive out to New Mexico and surprise you... I don't know, show up as one of the models in your drawing class or something. Um...Listen, Jer. I'm not sure I'm still the same Bonnie you want to be with. That place changed me, and I don't know if I'm scared of myself or actually kind of like the new me. If it's okay with you, I think I'm gonna figure me out, and then I promise to come visit you. I hope you're well. Okay. Bye, Jer."

---

(To Kai) : "I would rather die of cholera than spend an afternoon with you."

(To Kai) : "Hell no. But Damon and Elena need to meet his mom alone. So shut up and let's find the ascendant."

(To Kai) : "But you did it anyway. Because even if you're telling the truth, the old you is still inside of you."

(To Kai) : "Because maybe you're right. Maybe, deep down, there's a part of me that believes there's a sliver of good in you."

(To Kai) : "Don't what? Don't-don't leave you here? All alone? Drive you to the point of wanting to end your own life? I almost killed myself because of you!"

(To Damon) : "Good. Because I have something for you. A gift from 1994. I was gonna give it to you yesterday, but then you acted like an ass and you didn't deserve it."

(To Damon) : "If it wasn't for your notes on the map of Nova Scotia, I would have never remembered there was magic on that island. There's a good chance that I wouldn't be here today. So, for my 1994 road trip, I got you a li'l something."

(To Damon) : "Because my mom's surprisingly happy as a vampire, and because I have full faith that we'll get Caroline back to normal the old-fashioned way. But mostly, because I knew you wanted it for Elena."

(To Damon) : "That's none of my business. I'm just finishing what you started. You can give it to her, or not. It's up to you."

---

(To Damon) : "Clearly. So Elena told me that you guys found Caroline, which is great. Funny enough, she didn't mention anything about a cure for vampirism?"

(To Damon) : "The term is 'freaks we've never dealt with before.'"

(To Damon) : "No, eventually they shut your power off! You better fix this before she becomes my problem. And don't ever show up here pretending to care about me again!"

(To Matt) : "Do you know how many places there are to hide things in this house?"

(To Damon) : "Oh. You promise me? Is that supposed to mean something? This isn't about Kai anymore. The people that that this would free are a million times stronger than him and us, and don't get me started on the fun they would have with a newly-human Elena."

(To Damon) : "If I hand this over to you, I am sacrificing myself. Again. I'm risking my life, again. I could end up dead, again!"

(To Damon) : "What do you want? For Elena to have a human life, to be happy, to grow old without you? If that's what you really wanted, you would have given her the cure by now. Am I wrong? I said, "Am I wrong?" I know you, Damon. I spent four months with you, day in and day out. We went to hell and back again-- literally-- and you're more scared now than I have ever seen you before. It's not about what happens if you don't give Elena the cure. You're scared about what happens if you do. If you think you can handle it-- free a bunch of people who will want to kill me and anyone else who tries to stand in their way-- then you can spend the next 70 years watching Elena grow old and die. If that's what you want, take it."

- Because

---

(To Elena) : "Seriously? You're gonna make your best friend have to pry it out of you? I know about the cure, Elena."

(To Elena) : "Damon called me last night and he told me everything, including his insane plan to take it with you."

(To Elena) : "And I quote, 'She stared at me like I was an alien, and then basically teleported out of the room.'"

---

(To Enzo) : "If you think, I'm gonna let you-- a ruiner-- in here to see another ruiner on the day of Jo's wedding, you got another thing coming."

(To Matt) : "She's gonna kill us.....Not Lilly, Caroline. The wedding starts in an hour."

---

(To Matt) : "I'm not letting Kai win!"

(To Elena) : "I'm so sorry, Elena. Really, I'm so sorry"



---
Season Seven



(To Damon) : "Elena told me to keep a journal of everything she's missing! When she wakes up in sixty-odd years and finds out that Ric died from alcohol poisoning, she's gonna want to know what happened."

(To Damon) : "Did you just hesitate to save my life?"

(To Damon) : "I'm so sorry this happened, but I lost Elena too, Damon. And you're one of the few reminders I have to hold onto, so you can resent me or love me... but you're stuck with me."

---

(To Alaric) : "It's okay if you're not, Ric. Heck, I'm a little offended you didn't come to me first!"

(To Alaric) : "I don't know. I saw something... People dying. There's something wrong with that stone, Ric. Something evil...But your friend from Duke told you that, didn't she? Which is why you waited until you were flat-out desperate before you told me about it...You can't mess with that magic, Ric. We have to destroy it."

(To Matt) : "It's pretty brilliant, really. They drain the vervain from your blood, compel you to sign the deed, compel you not to let Stefan and Damon in, and compel you to forget any of it ever happened. And bingo, the house is an impenetrable fortress, and vampires can't rescue Caroline."

(To Matt) : "What you said yesterday? You were right. The Heretics are here because of me, and when I saw our town-- our home-- like this, I helped Damon kill Malcolm. When I found out they took Caroline, it was my idea to stop your heart. I refuse to stand by and let them do whatever they want."

---

Bonnie : "Dear Elena... Not to dive into the bad news first, but there's a severe drought of good news lately. And, well... this sort of concerns you. Lily's hiding your coffin somewhere. She promised to keep you safe as long as Damon stays out of Mystic--"

(To Alaric) : "That Phoenix Stone that I touched yesterday... you did destroy it like you promised me, correct?"

(To Alaric) : "I just had another vision-- a flash of horrified people with x-shaped wounds on their skin. And, when I opened my eyes, ten minutes had gone by."

(To Damon) : "Well, the visions are magic. He's a Siphon. It's worth a shot, right?"

(To Alaric) : "So the visions, the lost time, the crippling headaches... they don't mean anything? Doesn't it matter to you?"

(To Alaric) : "Are you sure you understand what you're trying to do? It's not like Jo's spirit is behind a veil that we lift and she magically appears. This is necromancy."

---

(To Caroline) : "Kind of worrying about magic already. Alaric think we can reunite Jo's spirit with her body by using some sketchy Native American resurrection stone. My job is to crush his dreams in the most gentle way possible."

(To Caroline) : "I don't think it should. The Other Side is gone, there's no more Gemini prison world, which means Jo's spirit... is probably at peace."

(To Alaric) : "Well, why would I want to go to some stupid Halloween party like a normal student? Maybe meet a nice guy, or not-so-nice guy, have a fun, drunk Halloween hook-up when I can be here, struggling to raise the dead?"




(To Alaric) : "Don't look at me! I barely understand how the guy's alive. If hunger is the worst consequence of the stone spell, then we got off easy."

---

Bonnie(in Flashforward) : "I guess, um... I've been thinking a lot about the past lately. How one stupid decision can...Can turn your life into something that you don't recognize. Like it belongs to someone else. I made a mistake, and I lost someone I loved... And I'd do anything to take it back, but I can't. All I can do is...Try and find a way to live with it."

(To Alaric) : "Term papers. They were jamming up your inbox. You are still employed as a professor here."

(To Alaric) : "Because in less than 24 hours, I raised two people from the dead with a sketchy spell and something called a Phoenix stone... No research, no rehearsal time, and no contingency plan. And now that I have a little breathing room, I want to figure out what kind of magic I was dealing with just in case I opened up Pandora's rock. So, can I have it back, please?"

(To Caroline) : "Please! At least your bed has seen a half-naked male all semester. I think Ms. Cuddles is starting to feel sorry for me. I mean, look at her! Do you see how she's judging me? I need man-help."

(To Caroline) : "Valerie? The Heretic who turned your skin to vervain so you and Stefan couldn't touch?"

(To Caroline) : "Wow. You're either completely insane, or the most secure woman in the world."

(To Caroline) : "Most secure woman it is. I'm officially inspired!"

(To Caroline) : "No. I'm going to Mystic Falls to discuss magic with a Heretic I just brought back to life. And then maybe I'll meet a guy."

(To Enzo) : "I didn't, but it's sweet of you to be concerned about my love life."

(To Enzo) : "See, now I think you're projecting. You're the one sleeping at Lily Salvatore's feet, hoping for some of her good table scraps."

(To Enzo) : "Witch business. Super boring."

(To Damon) : "Is this you doing right by Elena, or you not wanting to break your best friend's heart? Fine, but you owe me."

(To Enzo) : "Let's just say you were right-- Oscar's not himself today."

(To Enzo) : "You watch too much Scooby-Doo."

(To Enzo) : "It's some kind of trap for a bunch of souls. If Lily wants it, someone she cares about must be inside."

(To Enzo) : "Then you definitely don't need it. Do you really want to hand her the means to bring the dead boyfriend back into the picture? Have some dignity!"

(To Enzo) : "I'm just saying-- maybe you deserve better."

(To Alaric) : "It's not her, Ric. It's not Jo."

(To Alaric) : "We made a mistake. The stone doesn't bring people back from the dead. It is just an old relic full of souls."

(To Alaric) : "No. It's not her. Jo was never in that stone, Ric. I put someone else in her body. I'm so sorry. Where are you? I'm meeting up with Damon. We can come by and figure this out together."

(To Damon) : "So Lily is the reason I'll never see Elena again."

(To Damon) : "So much for that new leaf, huh?"

(To Damon) : "You're doing right by Elena."

---

(To Alaric) : "Hey. Remember when we used an ancient relic to raise your wife from the dead and ended up imbuing her with someone else's soul?"

(To Alaric) : "Because I'm at Scull Bar, where faux-Jo is currently---Holding her laptop like it's a book. You promised me you would help her figure out who she was before she did anything crazy."

(To Alaric) : " I can't. I have to go to Mystic Falls. Lily Salvatore is having some peace-party mixer... Which'll probably result in half my friends nearly dying if I don't attend. So, get here now, preferably before someone asks Jo to perform surgery, okay?"

(To Enzo) : "Oh, did whatever animal they're serving for dinner get a plus-one?"

(To Lily) : "You're the reason I'm never gonna see my best friend again, so I hope you're joking."

(To Enzo) : "It's called dignity. Have some! It's free."

(To Enzo) : "Lily is watching. I am fixing your tie. Making her jealous like any good date. That's what you wanted, right? Make her a little jealous?"

(To Matt) : "It's not gonna work, Matt. Someone compelled them to be here."

---

(To Enzo) : "Why would a centuries-old vampire with a bunch of witch groupies be so desperate to find anything collecting dust in the Midlothian County impound? Seems a little beneath him."

(To Enzo) : "Are we talking about Oscar's car, or Lily? You're not doing this to stop a psychopath. You just want the girl."

(To Enzo) : "Let me give you some advice. Stop treating Lily like some prize to be won."

(To Enzo) : "It's not the turn-on you think it is. Try flowers. A quiet dinner. Listening."

(To Enzo) : "I think I've seen that before... when I was doing research on the stone. Let me see what I can dig up."

(To Enzo) : "If he wants to kill someone with it, or he's worried about being killed by it."

(To Enzo) : "I know what's not gonna happen-- Lily falling hopelessly in love with the person who murdered her sweetheart."

(To Enzo) : "Good idea! Go pick a fight with an extremely powerful, unhinged ancient vampire! Should work out great."

(To Enzo) : "Now that I think about it... Go ahead and kill each other. Win-win for me!"

(To Alaric) : "kay. I just came to get a book that I left here. This one...Uh, actually, I'm just gonna do my research here if that's okay with you?"

(To Alaric) : "So, uh, Enzo found some sword in Oscar's car and is under the impression it will kill Julian. Found it. This is it. Except it's...Does that look like the Phoenix Stone to you?"

(To Alaric) : "'The stone gives the sword its power against immortal foes. Without it, the blade is merely a blade.'"

(To Matt) : "Sorry. I got waylaid at an impound lot with Enzo, which is somehow not even the worst part of my day."

---

(To Caroline) : "'Hey, Stefan. Did I mention Bonnie saw me mix a blood bag with a jar of mayonnaise at 2:00 in the morning?'"

(To Caroline) : "If you can handle all of this while pregnant, I can handle a fraction of it while not. Go to your class."

(To Nora) : "Okay. You delivered it. Yay! That's the end."

(To Nora) : "I'll tell them....And you're still not leaving..."

(To Nora) : "Not from an evil Heretic who kidnapped my friend."

(To Nora) : "Collection booth. The far one, like, way over there. Yeah. You see it? See?"

(To Damon) : "What a lovely way to be greeted. 'Hi, Bonnie. I need something.'"

(To Nora) : "You're taking freshman English, right? Who's your professor? Please tell me it's Dowling and not Marcus."

(To Nora) : "Oh, I know you can. Which is why I'm saying take Dowling. I don't want Professor Marcus to end up dead. I'm joking... sort of."

(To Nora) : "Close. Bourbon. I'm sorry I was harsh earlier. I heard you listened to Valerie and that you sided with Lily against Julian. I mean, you must be attempting to turn over a new leaf, and you clearly don't have anyone else..."

(To Nora) : "A pity friend is still a friend."

(To Nora) : "You and Mary Louise broke up. She made her choice. It was a bad one."

(To Nora) : "No "buts," okay? You need to move on and become your own person. You can only do that if you're living in the present, not the past, which means you need to stop thinking about her and talking about her, okay? She's dead to you."

(To Nora) : "Can I ask you what might seem like a mean question?"

(To Nora) : "What do you see in her? Aside from the fact that she looks like a blonde Angelina Jolie?"

(To Nora) : "I don't need someone to tell me I'm pretty."



Videos
Gallery
References
See also