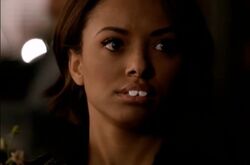 Bloopers are a short sequence of a film or video production, usually containing a deleted scene or a mistake made by a member of the cast or crew being heard or visible onscreen.
Continuity errors are production errors that don't match storyline or timeline from other parts of the same episode or other episodes. Bloopers can be caused by anyone, including the producer. Such errors can range from subtle, such as changes in the level of drink to more noticeable, such as sudden drastic changes in appearance of a character which can ruin the illusion of realism in a series.
Throughout The Vampire Diaries Series
Throughout The Originals Series
See also
Ad blocker interference detected!
Wikia is a free-to-use site that makes money from advertising. We have a modified experience for viewers using ad blockers

Wikia is not accessible if you've made further modifications. Remove the custom ad blocker rule(s) and the page will load as expected.