Rebekah and April
Comments

55
1,781pages on
this wiki
Rebekah and April

General Information

Nickname(s)

Repril, Abekah

Intimacy Levels

Good Friends, Rebekah saved her life, April was a little wary of her

First Met
Status

Good Friends
"
Picking up trash is a hell of a lot better than sitting at home alone thinking about the family you no longer have.
"

The relationship between the Human April Young and the Original Vampire Rebekah Mikaelson. After finding she's alone, Rebekah turns to April.
Season Four
Edit
April and Rebekah meet at Rebekah's anti-curfew party. April and Rebekah are first seen together when Rebekah interrupts April's conversation with Elena. Later, April finds Rebekah in her bedroom while cleaning up after the party. Rebekah asks her why she is still there and April said that it was better than being home alone because she has no family left. Rebekah then offers to help her find out what happened to her father.
Rebekah and April hang out at the Mystic Grill together. Matt finds it hard to believe that April and Rebekah are friends. As Matt walks away, April eyes him, but Rebekah tells her she already has dibs on him. Stefan comes to talk with Rebekah and compels April to forget the conversation she's about to hear.

After Rebekah is daggered and April doesn't know where she is, she asks Matt if he's seen her and that she's worried about her. After a while of not knowing where Rebekah is, April overhears Caroline's conversation with Stefan about Rebekah being in the Lockwood cellar. April later finds Rebekah's body with a dagger in it and frees her.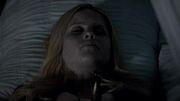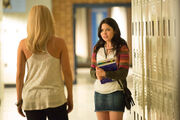 At 
Carol Lockwood's Memorial
, Elena briefly spots Rebekah in the crowd and goes to look for her. She sees April standing in the hall and asks if she's all right. April tells her that she knows that she's a vampire. Then, Rebekah comes up behind Elena and snaps her neck. April asks Rebekah if snapping her neck was necessary; Rebekah remarks that it wasn't, but it was fun. Rebekah compels Elena, Stefan, and Caroline to sit in the school library, not to run, and to answer her questions truthfully. She tells April to take notes, because this is the only way to get answers in Mystic Falls. April takes her seriously and looks through her purse for something to write on. Rebekah tells her she wasn't being literal but that a flow chart would be nice and sends April to get some index cards and pushpins. Later, when
Bonnie
 shows up looking for 
Atticus Shane
, April tells her that Rebekah has her friends in the library and that Rebekah is getting them all to tell the truth for a change. Later, April tells Mayor
Rudy Hopkins
 and Sheriff
Elizabeth Forbes
that Shane was responsible for orchestrating the explosion that killed her father and the other council members.
When Shane is brought in for questioning, Rudy tells Bonnie what April told them and that Rebekah confirmed April's story.
During the prom, Rebekah asks April if she can make her prom queen. However, April politely refuses and tells Rebekah spitefully that she can't be compelled because she now drinks vervain tea. Rebekah seems slightly hurt by the insinuation. When Elena threatens to hurt April head and feeds off her. Matt convinces Rebekah to give April her blood, even though it means she will lose out on getting the cure.
Season Four
---
---
---
---
---
---
---
---
---
April is the first friend Rebekah makes in the series.
After April hears Caroline saying where Rebekah is, she goes to the Lockwood Cellar and un-daggers Rebekah.