* April Young
Biographical information
Born
Status
Species
Gender
Family information
Family members
Played by
First seen
Last seen
.
April Young is the daughter of Pastor Young. She was born and she spent her childhood in Mystic Falls. After her mother's death, her father sent her to boarding school. Following his death in Season 4's episode Growing Pains, April returns to attend the memorial of Town Council, which included her father's memorial. Afterwards, she decides to stay in Mystic Falls.
April is a member of the Young Family.
Early life
As a young girl, Elena was April's babysitter, and would often read April the short stories she had written. Pastor Young mentions that April loves writing because of Elena's influence. April was childhood friends with Elena's brother Jeremy, and acquaintances with Elena's ex-boyfriend, Matt. After April's mother died of cancer, her father sent her to boarding school.  While away at boarding school, he father mysteriously died due to a gas leak. After his death, April then returns to her hometown.
Season Four
Pastor Young had taken Elena to his ranch to draw out Damon and the rest of the vampires who hadn't been captured yet, unaware that Elena was in transition. While making Elena lunch, he mentions April. He tells Elena that April loved writing, and that Elena had been her inspiration. The next day, after the vampires escape, Pastor Young unhooks the gas line to his gas stove. He lights a match, blowing up himself along with the eleven other Founder's Council members inside his home.
After her father's death, April comes home for the funeral. She see's Jeremy and Matt at school and tells them she will be enrolling at Mystic Falls High School. They give her their sympathies about her father's death, but she's not sure how to reply, and appears to be struggling with the mystery surrounding his death. At the memorial, Elena and Jeremy try to console her as she struggles to write a speech for her dad. Connor, a vampire hunter, discovers April alone on the balcony of the church, stabs her, and causing her to bleed profusely. He then ties her up to bait the vampires at the memorial service. He places her so that her blood would drip through the balcony to further taunt the vampires at the service. From the empty balcony, Connor shoots Tyler as he gives his memorial speech, ending the memorial service abruptly with all of the attendees running out of the church. Elena takes the opportunity rescue April. Elena finds April on the balcony, and despite wanting to help her, she is struggling to resist the sight and smell of April's blood. Her vampire face emerges and she lunges to feed on her. Caroline intervenes before Elena can reach her and pulls her away. Caroline calms down Elena and reminds her that April is an orphan just like Elena is. She explains that April is not a warm body to feed on, and that she's a friend who needs her help. Caroline feeds April her blood to heal her and instructs Elena to compel her to forget what happened.
April goes to Rebekah's Anti-Curfew Party and voices her suspicions to Elena about her father's death. She explains that when she last visited home from boarding school, her dad could smell cigarette smoke on her clothes, and states that there was no way that he didn't smell a gas leak in the house. Rebekah teases April about the town being cursed. The next morning, April talks to Rebekah who was sympathetic towards her for being an orphan, and grateful that she stayed behind to help clean up when everyone else left. Rebekah offers to help her find out the truth about her father's death.
Matt comes across April alone at The Grill and talks to her. She insists that she wasn't sitting there alone "like the sad new girl", and that she was waiting for a friend. Rebekah appears seconds later, to Matt's surprise. April gives Matt flirty looks as he turns to leave, but Rebekah mentions she already has "dibs" on him. Stefan shows up later to talk to Rebekah and compeles April to forget their conversation.
After Rebekah is daggered by her brother Klaus, April becomes curious about her whereabouts. She asks Matt if he knows where Rebekah is, and confides in him that she is concerned about her. Matt replies that Rebekah tends to "disappear" sometimes. That day, Connor takes Matt, Jeremy, and April as hostages to draw out the vampires in town. April and Matt try to find an escape route before Stefan saves them. Later, following a visit to
Caroline's house
, April converses with Matt and Jeremy with no memory of what happened, hinting that she was compelled to forget. Jeremy gives her his
vervain
bracelet to protect her, as he can no longer be compelled as one of
the Five
, and Matt tells her it looks good on her. April gives Matt and Jeremy some vital information on her father and
Professor Shane
.
April and Shane approach Matt and Jeremy at school, and when Shane walks away, April says that there was something familiar about him. She observes during Shane's lecture on artifacts, and remembers she knows him because her dad guest-lectured for one of his classes.
At the
Miss Mystic Falls Pageant
April is with Elena and Caroline, who are giving her last minute advice on which dress to wear, as she was a last-minute contestant. Elena, Caroline and Damon debate over which dress April should wear, but April decides on the red dress after Damon tells her Elena wore a blue dress last year and lost. When Caroline is being presented at the Mystic Court, April is the last to be presented, and her escort, Jeremy is no where to be found. Matt realizes this just in time to take Jeremy's place, which made April happy. The two do the traditional dance together. Later, April catches up with Jeremy and questions why he wasn't there for the debut and the dance. He apologizes and tells her that he got caught up at work, but that he had been looking forward to it and worked on the dance for some time. April seems surprised and grateful for what Jeremy tried to do. When Jeremy saw Shane, he asks April why Shane is there. April explains that he was a judge and that she had spoken with him earlier about her father's death. Apparently, Shane promised to look into any leads regarding the explosion. Staring intensely at Elena, Jeremy tells April that her father died a hero and quickly leaves. Later, April is chosen as the new
Miss Mystic Falls
and crowned by Caroline.
At the Winter Wonderland fundraiser, April discovers Caroline on the floor of the bathroom after Hayley snapped her neck. April feels for her carotid artery and realizes Caroline doesn't have a pulse. As she leaves to get help, Caroline wakes up and blocks the door, preventing April from leaving. Caroline quickly called Stefan to tell him what Hayley did, right in front of April, who hears her mention that Rebekah's body is in the Lockwood cellar. Caroline compels April to forget everything that just happened and tells her to leave. Matt later reminds Caroline that April can't be compelled because has been wearing Jeremy's vervain bracelet. Caroline looks everywhere to find April to fix the situation, but April has gone missing and no one can find her. It was later shown that she went to the Lockwood Cellar to find a daggered Rebekah, and was clearly distraught over the death of her friend.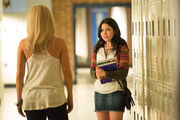 During the memorial for Carol Lockwood at Mystic Falls High School, Elena finds April crying in the hallway. April tells Elena coldly that she knows Elena is a vampire. She turns out to be a distraction so that Rebekah can come behind Elena and snap her neck, incapacitating her. When Elena awakens in the library, April tells her that the memorial assembly is over and that the school will soon be empty. April admits her knowledge of everything. When Elena tries to get April to leave with her, Rebekah compels Elena to stay. Later, April sits in the school library with Elena, Stefan, and Caroline, who Rebekah has compelled to answer her questions truthfully. Later, Bonnie shows up to help Shane, who Kol kidnapped for Rebekah. While casting a protection spell to protect Shane, Bonnie accidentally links Shane to April and causes April to experience Shane being held underwater and being stabbed with a copper pipe. Stefan saves April by feeding her his blood and having Bonnie get her to safety. Later, April is seen sitting at a table in the Grill with Sheriff Forbes and the new mayor Rudy Hopkins. She explains that Shane was responsible for the fire that killed her father and the 11 council members at her farm. She tells them that it is time for the town to start telling the truth.
In Catch Me If You Can, when Rudy and Sheriff Forbes bring in Shane for questioning, he tells Bonnie that April was the one who told them about Shane's involvement.
In Stand By Me, April calls Elena looking for Jeremy, only to be informed that he is dead. This spurred Elena's acceptance of Jeremy's death.    
In Pictures of You, April is on the prom committee and is helping with the elections for prom king and queen. Rebekah asks if April can make her prom queen as a favor to a friend, but she politely refuses. Elena then comes up and threatens to kill April if she doesn't make Rebekah prom queen. Later, after Elena fails to kill Bonnie, Elena bangs Aprils head on a table and feeds on her. Matt convinces Rebekah to heal her using her blood. Matt then takes April home.
It is unknown if we will see her again.
Personality
At first, April appears sweet, quirky and likable. In later episodes after she discovers the supernatural world, she realizes she had been compelled and lied to, and feels personally invaded. This sparks some attitude on her part towards her peers, with the exception of Rebekah, who offered her the truth. Despite the horrifying circumstances surrounding her, April keeps a brave face. 
Physical Appearance
April is described as being beautiful with long, dark, wavy brown hair and blue eyes. She has very high cheek bones and a fair complexion. She also has a very petite and curvy figure. When she was younger, she said that she had an "emo pixie cut" and braces.
Relationships
Appearances
Name
From the Latin "April" which means to open. It's a reference to Spring, so this character brings some freshness to the show.
Often used to symbolize spring, the time when buds open and flowers appear.
Trivia
Julie Plec said April brings a "new spirit, a new energy, and a youthful quality" to the show. [1]
Elena used to babysit her.
April wants to be a writer when she's older.
In her youth, she had a "emo pixie haircut" and braces.
April becomes Rebekah's first friend.
She is the new Miss Mystic Falls, replacing Caroline.
Her personality is the opposite of her father's.
Tropes
Gallery
References
See also