It's the next day. Elena complains that John avoided her questions "last night"
Tyler questions Caroline about Mason's death and is infuriated that she kept Mason's death a secret from him.
Elena and John argue because John won't reveal what he knows. Jenna becomes upset over the revelation that John is Elena's biological father. John tries to gain some authority over Elena, but she resents that.
Jules meets her wolf-lover Brady in the woods and tells him she wants to take Tyler with them and leave town.
Caroline asks Stefan to try and reason with Tyler, while Jules takes Caroline hostage. Jules calls Stefan and tells him to bring Tyler to her in exchange for Caroline. Stefan calls Elena to inform Damon of the situation and tells John to make sure Elena doesn't get involved. Damon and Stefan both approach Jules with Tyler. Stefan tries to make peace, but when that fails Damon offers his "bloodier" method.

Caroline captured by the Wolf Pack

Stefan and Damon fight the werewolf pack, and when they are about to get staked, Jonas, on Elijah's behalf, shows up and incapacitates Jules and Brady and gives Tyler a message: "Tell your friends to get the hell out of town." Tyler tries to apologize to Caroline, but she furiously declines and tells him they are no longer friends.
Matt rings Caroline, asking why she didn't show up as promised. Caroline is still tending to her wounds, she tells him that she was with Bonnie, but Bonnie and Jeremy are in the Grill having a good time.
John gives Damon a silver dagger and a vial with ashes, a weapon that can "kill" an original. He also says that Isobel has a plan to neutralize Klaus.
Tyler tells Jules and Brady about the Moonstone, now they want it.
Later Elena and Bonnie spent the night at Caroline's house for a girls sleep-over.
Damon starts his relationship with Andie Starr.
John visits Katherine in the tomb, and reveals he and Isobel are trying to get her out of the tomb. ("

Daddy Issues

")
It's the next day, Jules and Brady are burning the bodies.
Stevie deduces that someone is getting all the ingredients together to break the Sun and the Moon curse. So they decide they must stay and stop it.

Gilbert's Lake House

In Caroline's house, Elena, Bonnie and Caroline are sleeping following last night's girls night, Stefan calls Elena, she tells him that, since her dad is in town, she wants to go as far away as possible. They go to the Lake House . (Note: since its Good Friday, it makes sense why none of the characters are seen going to school)
In the Salvatore Boarding House, Damon compels Andie not to reveal any of his secrets. Alaric asks Damon not to kill Andie, and to beware of Elijah.
In the grill, Caroline and Bonnie have a plan to take down Luka. She gets into his mind and forces him to tell the plan to kill Klaus. They are all horrified to learn that Elena still dies during the ritual.
At the lake house, Stefan and Elena are making out in the lake house. They discover a hollow wall that hides a secret door. In the room, they see a lot of vampire-hunter's weapons and the rest of Johnathan Gilbert's journals.
At the Historical Society Tea Party, Damon tries to pressure Elijah to reveal more of the plan, but Elijah easily overpowers him. John tells Alaric that he wants his ring back soon.
The werewolves break into Damon's house, kill Alaric and inject Damon with vervain. They chain Damon to a chair and torture him to find out where is the Moonstone . Elijah appears and saves Damon, again, ripping the hearts from three werewolves. Jules escapes.
Tyler and Brady go the lake house, shoot Stefan and try to capture Elena. Elena fights back, and Stefan tells Tyler what the werewolves have not told him: that to break the curse, Elena has to die.
Tyler leaves a letter to his mom, tells Matt to be good to Caroline and goes to Caroline's house, just to see her. Then he leaves town with Jules. ("

Crying Wolf

")
Its the next day. Damon tells Stefan that Tyler ran away "last night".
Still at her family cabin, Elena reads Johnathan Gilbert's old journals about vampires. Stefan explains that when he first became a vampire, he was out of control from guilt and fear, leading him to turn off his emotions and behave recklessly.
Damon goes to visit Katherine's tomb. Katherine reveals that it is possible to kill an Original, but begs Damon to not kill Elijah until she figures out a way to get out of the tomb. She explains that if Elijah dies, she'll be compelled to stay in the tomb forever.
At the party, Alaric stops Damon just in time and surprises everyone by stabbing Elijah. Elijah appears dead, and they put his body in the cellar before Jenna comes back. Unfortunately, the dagger must stay in the body for the Original to stay dead. Elijah flees to the Martin household. Jonas learns that Bonnie knows about Luka's sister.

Elijah

Added by

Fredrico 2011

The seeds of suspicion that John planted in Jenna's mind are growing - probably because Alaric is actually hiding a whole lot of things from her. She breaks up with him, and Alaric gives the ring to John.
Jonas heads over to the Gilbert's where Bonnie and Jeremy are practicing spells. Jonas threatens them both and strips Bonnie of her powers.
Elijah shows up at the lake house and tells Elena that their deal is off, and demands that Elena come with him. Elena threatens to turn herself into a vampire. After Elijah renews the deal with her, Elena moves towards him and stabs him with the white oak dagger.
Back at the Salvatore's, Damon sees someone in the shower and assumes it's Andie; however, Katherine steps out from the shower, smugly explaining that when an Original dies, the compulsion wears off. She tells Damon that she wants to help Elena and the brothers. ("

The Dinner Party

")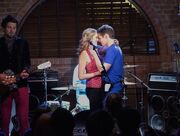 Since Elena and Stefan have already returned from the lake house, its assumed some time has passed. Katherine has been hiding in the boarding house for sometime since Damon has not told Stefan that Katherine is out.
Katherine playing with Stefan and Damon's minds by impersonating Elena. When Elena discovers that Katherine is out of the tomb, she is furious and tells Katherine to leave. Katherine insists that they all need her to help them kill Klaus.
Stefan and Bonnie try to win the Martin's trust, with no success.
Alaric broke up with Jenna because he can't tell him about Isobel.
Damon tries to find out where the witches were burned.
Caroline, Elena, Bonnie and Jenna have a girl's night. They go to the Grill, where a band is playing. Caroline sings her love for Matt and they kiss on stage.
Dr Martin sends Luka's spirit to the Salvatore hose to pull the dagger out of Elijah. When Damon sees it he uses the flamethrower - and Luka burns on his house and dies. Jonas goes to the grill to take down Elena.
Matt is hurt in the fight, and Caroline gives him her blood to heal him. He freaks out when he finds out she is a vampire, and he understands that Vicki was really bitten by a vampire.
They replace Elena with Katherine and she kills Jonas. Before he dies, he restores Bonnie's powers, and gives her "instructions" on how to kill Klaus.
Isobel returns to town and arrives at Gilbert's House, and says that it is nice to see Elena again. Elena does not let Jenna invite her in, but is devastated by finding out that Elena knew that Isobel was alive all along. Jenna refuses to hear explanations and decides to leave the house and live on campus.("

The House Guest

") ("

Know Thy Enemy

")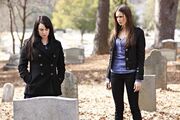 It's the next day after the events from ("

The House Guest

")
Caroline calls Stefan and tells him Matt now knows about vampires, but she can't find him anywhere. He is talking with Sheriff Forbes.
John invites Isobel into the Gilbert House to speak with Stefan and Elena. She heard that there are rumors that the doppelgänger is alive, so Klaus should be coming any minute now. She offers Elena a safe house - a house in her name where she can control which vampires can get in.
Damon, Bonnie and Jeremy go the Martin's house. Luka's body is still in the room. They are looking for the grimoire that has the spell to harness ancient dead-witch power. They then go to the witches burial ground. Damon is not welcome inside, but Bonnie does the spell and harness the witches power - she is locked and loaded.
Elena meets with Isobel. Isobel is working on a deal with Klaus to spare Katherine if she delivers the moonstone and the doppelgänger - they are both double crossing Damon and Stefan.
Katherine finds the moonstone hidden in the soap bowl.
Isobel delivers Alaric to Maddox, after telling him that she loved him. She then kills John at the Historical Society meeting, and Katherine changes place with Elena and vervains Stefan.
Isobel delivers Katherine to Maddox.
Isobel brings Elena to the Grove Hill Cemetery where they stand at her grave. The grave was put there by Elena's grandparents when it became clear to them that the police were never going to find Isobel's body. Isobel received a phone call from Maddox who told her that she has finished what Klaus compelled her to do and is free to let Elena go, she then she removed her lapis lazuli necklace and burned to death.
Matt asks Caroline to tell him all about vampires, then asks her to erase his memories. But he is on vervain and working with Sheriff Forbes, who does not know what to do about this information.
Klaus takes possession of Alaric's body. ("

Know Thy Enemy

")
The 60's Decade Dance takes place.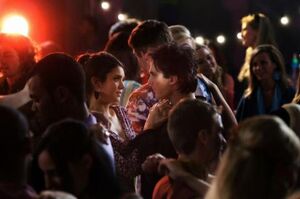 Klaus/Alaric has Katherine imprisoned and is learning about Elena's life from her.
Damon and Stefan transfer the deeds of the house to Elena, creating her personal safe house. But Elena makes Damon promise they will do things her way from now on before she invites him in.
Jeremy is divided. If Bonnie uses her whole power to defeat Klaus she might die. If she doesn't it could be Elena.
Klaus sends message that he is around, inviting Elena to the dance, asking her to save the last dance for him and dedicating a song for her.
After Klaus/Alaric finds out that Bonnie is fully loaded, he and Maddox make a plan to goad Bonnie into killing Alaric - this would kill her too, but the Klaus persona would be safe and could use another body.
Bonnie fights Klaus/Alaric and dies. It was part of her plan with Damon, and she wakes later at the Witches Burial place. She is going to hide in there with Jeremy.
Damon tells Stefan that he will be the bad guy, take all the life and death decisions and save her life while Stefan is worried about collateral.
Elena is decided to find another way, where her friends don't have to die and removes the dagger from Elijah.("

The Last Dance

")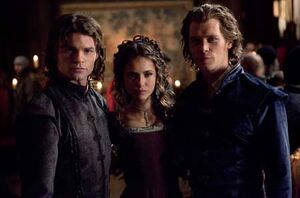 its the next day after ("The Last Dance")
Elena sits as Elijah suddenly comes back to life and mistakes Elena for Katherine. He can't breath because he is not invited in the house.She gives Elijah the dagger back to show that he can trust her.
Stefan realizes both Elena and Elijah are gone. On the phone and she tells him that she needs time alone with Elijah and Stefan needs to respect her decision.
Elijah tells Elena that Klaus is his half brother, and a werewolf / vampire hybrid. Also that the Sun and the Moon curse is false and has been planted by them. It was a ruse to get both vampires and werewolves looking for the Moonstone and the doppelgänger. The curse was placed on Klaus to make is werewolf side dormant, and when he manages to break it, he will be a true hybrid, and almost invincible.
Klaus/Alaric tells Jenna about vampires, and tricks Stefan to reveal himself to Jenna.
Elena leaves Elijah briefly to comfort her aunt and admit that not only do vampires exist, but basically everyone around her has known but her.
Damon admits that he loves Elena, and that he is using Andie as a distraction.
Elena renegotiates with Elijah, but Damon does not accept the new deal.
Greta and Maddox cast a spell to release Klaus from Alaric's body. They open up a life-size box and out walks present-day Klaus. "Now that's more like it," he says. ("

Klaus (episode)

")
It's the full moon.
Maddox pushes Carol Lockwood down the stairs to lure Tyler back home. He comes with Jules, and both are captured, as well as Caroline.
Alaric is back on his own body. Klaus sent him with the message that the ritual happens tonight.

Damon does not accept Elena's decision to trust Elijah and go on with the ritual. He feeds her his blood, but regrets it immediately and does his best to delay the ritual by rescuing Caroline and Tyler. He has a run against Maddox and is saved by Matt. They don't have enough time to arrive in the cellar and lock Tyler up, who begins to transform. In the fight Tyler bites Damon.
Stefan takes Elena on a hike, for her to enjoy her last day as human and come to terms with her emotions. And she is very emotional about not wanting to be a vampire.
Although Damon risks his life to rescue Caroline and Tyler and postpone the ritual, Klaus has back ups: Jules the werewolf and Jenna, who is in transition to become a vampire.
Elena watches in horror as Greta feeds blood to Jenna to complete the transition.
Caroline and Matt hide inside the Lockwood's house, while Tyler in wolf form stakes them. Matt admits that he was in vervain when Caroline compelled him, and that her mother also knows.
Stefan offers himself for sacrifice instead of Jenna, but Klaus has other plans for him.
John finds a spell that can save Elena, at the cost of this own life.

Greta and Elena

Added by

PrueForever

Bonnie makes a spell that traps Jeremy and Alaric in the abandoned house. She goes with Elijah and Damon to the quarry where the ritual is taking place. They wait until Elena is dead before they make their move. Bonnie attacks Klaus while Damon kills Greta. Stefan asks Damon to take Elena away.
As Elijah has his hand inside his chest, Klaus tells Elijah that their family is in a safe location and that he can reunite them. Elijah superspeeds out of there before Bonnie has a chance to take them both.
The hybrid curse is broken. ("

The Last Day

") ("

The Sun Also Rises

")
Damon goes to Elena's house and asks for her forgiveness, then tries to commit suicide burning in the sun. Stefan saves him and locks him in the cellar.
Klaus wakes up after spending 2 days as a wolf, proving that he can change at will. He also remembers all the kills.

Added by

Fredrico 2011

Elena takes Jeremy and Caroline to the screening of "Gone with the Wind" as an attempt to distract them from their problems, but Stefan shows up and tells her that Damon's been bitten.
Bonnie contacts Emily and Stefan asks for help. The answer he gets is "Klaus", so he goes to Klaus to ask for a cure. He offers Klaus "anything he wants". Klaus says he wants the "Ripper" back and feeds him blood until Stefan breaks.
Klaus daggers Elijah, thus "reuniting him with the family", who we presume are all daggered.
Carol Forbes tells the Sheriff she must do something about the vampires, now, or she will find somebody to do it. The Sheriff goes to the Salvatore house, arrests Elena and accidentally free a crazy Damon.
Sheriff Forbes shoots at Damon, but he moves at superspeed, and the bullet takes Jeremy, who dies. Caroline tries to give him blood to heal him, but he is already dead. Bonnie makes a spell to bring him back to life, despite warnings that "there will be consequences".
Elena breaks free and finds Damon in the square. In his crazy state he mistakes Elena for Katherine and bites her. In his flashback we see that Katherine never compelled Damon, he fed on her of his free will.

Damon and Elena

Added by

Liino

Elena is by Damon as he suffers from the poisoning. He tells her that she would have liked him in 1864, but she tells him that she loves him now, just the way he is.
The cure for the werewolf bite is Klaus' blood. He puts it in a vial and gives to Katherine to take to Damon. Although Stefan thinks she will just skip town, she does actually take the vial to Damon, because "she owed him one". As she leaves, she tells Elena that "It's okay to love them both. I know I did."
Alaric stays with Jeremy at the Gilbert's house. Jeremy sees the ghosts of Anna and Vicki.("

As I Lay Dying

")