Alaric Saltzman
Comments

1k
1,299pages on
this wiki
Alaric Saltzman
Biographical information
Born
Status
Occupation
Species
Gender
Family information
Family members
Supernatural information
Significant kills
Cause of death

Staked (as a human)
Elena's Death (as a vampire)

Killed by
Appearance
Played by
First seen
Last seen
.
"
This is my bar, pal. Nobody's gonna blow it up.
"
Alaric J.[1] "Ric" Saltzman was a vampire hunter and a history teacher at Mystic Falls High School. He originally came to Mystic Falls to find the vampire that killed his wife, but learned that she voluntarily became a vampire and left him. He also learned that his wife had a child when she was in her teens, a daughter named Elena Gilbert, who is now his student. Alaric began a relationship with her adoptive aunt Jenna. Ironically, he was technically Elena's step-father due to his marriage to Isobel. Following Jenna's tragic death, he seemed to step into his step-father role to Elena and a father figure to her brother Jeremy. He was also Damon's best friend.
As a vampire hunter he designed several weapons to fight vampires which include vervain tranquilizers and arm vest stakes.
Alaric was a relative of Elena Gilbert, Jeremy Gilbert, Petrova Family and the Gilbert Family.
History
Early life
The Saltzmans are descendants of German immigrants who arrived in Texas in 1755. He was born and raised in Boston, Massachusetts. He mentions to Jenna Sommers that during high school, he wore eyeglasses and had a skin condition. While attending Duke University, he met and then married Isobel Flemming, a parapsychologist (it's revealed by Meredith that Isobel filed restraining order against him twice) who had an interest in vampires, a topic he would regularly tease her about.
He said that she was "Like Mulder, except hotter, and a girl." At some point, Isobel gave him a ring and told him to always wear it. One night, he returned home late to find a vampire in his bedroom drinking Isobel's blood. Her body was never found and she was assumed to be dead. Alaric took over her research and found out about Mystic Falls and the rumors about vampires being alive in the town. He went there to find out the truth and discover what had happened to his wife.
He also created a number of anti-vampire weapons, so as to protect himself and others from them.
Throughout The Vampire Diaries Series
Relationships
These are the relationships that Alaric has had during his life as a human and a vampire. He is dead due to Rebekah driving Matt and Elena off Wickery Bridge to save her own family from immediate death, he is buried at Mystic Falls Cemetery. 
Isobel Flemming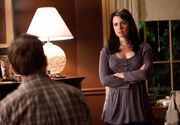 Isobel Flemming is Elena's birth mother and a descendant of Katherine. She is a vampire who was turned by Damon at her own request, and claims to be a messenger from Katherine. She was married to Alaric Saltzman, the history teacher at the high school, but left him when she became a vampire. She dated John Gilbert, Elena's biological father, in high school. Although Isobel tells Elena not to look for any redeeming qualities in her, she regrets that Elena has been drawn into the supernatural world and that Elena is involved with both Salvatore brothers. Because of her desire to keep Elena from staying involved with the Salvatore brothers, she tells John Gilbert to insure both Stefan and Damon are killed along with the tomb vampires and she agrees with John that this isn't the life they want for their daughter. Before she leaves Mystic Falls, she confronts Alaric, telling him she regrets her decision to become a vampire. Isobel than compels him to move on from her.
She returns in season two allegedly to help protect Elena from Klaus but she really was compelled by him to kidnap Alaric to use him as a host. In their final conversation she apologizes for everything she put him through and that she will always love him just before she was forced to let Maddox kidnap him for Klaus. Isobel was also responsible for breaking up Alaric and Jenna as she said to Katherine. It was she who asked John to poison their relationship about the truth surrounding her death. John, who wanted his ring back since Alaric had it, agreed to use this to blackmail Alaric out of his ring. She later commits suicide.
Damon Salvatore
Main article: Damon and Alaric
Damon is Alaric's best friend.
It started out antagonistic towards each other since Alaric knew that it had been Damon who had killed his wife but it later turned out that she wasn't dead and that she had, in fact, been turned into a
vampire
by Damon. From that point on, they have been shown as becoming closer as they first worked together to rescue
Stefan
from the tomb vampires' occupied house, then they often team up to fight the usual threats to the town. Alaric is the only one (other than
Elena
) to call Damon a friend. They are seen often drinking together; it's often seen that they do taunt each other as well though. Throughout the series, they become like brothers. Towards the end of
season 3
, Alaric was turned into an
Original Vampire
by
Esther
and fed on
Bonnie Bennett
to complete his transition and then took the White Oak Stake from Bonnie. Alaric died in Damon's arms in season 3 finale, moments after Elena's death causing Damon to break down having lost his first real best friend since him and
Stefan
became vampires. But when Alaric appears as a ghost we learn that he will always be watching over Damon.
See also
Tools and Weapons
As a proficient vampire hunter, Alaric used many weapons and tools to aid in his one man war. These weapons were kept in his apartment, car, and even at the school; always close-by and ready for use. He would often loan his vampire slaying weapons to his friends and allies when they were in need of them. As a form of protection against supernatural creatures, Isobel Flemming gift to Alaric a magic ring of resurrection.
Powers and Abilities
Once he was turned into an Enhanced Original by Esther, Alaric gained many abilities.
Weaknesses
Appearances
Name
Trivia
Episode Count
Gallery
References
See also